Paley Center & the Peabodys: Finding Excellence in Media
Thursday, May 16, 2013
6:30 pm ET
New York
In Person
Charlayne Hunter-Gault, The NewsHour with Jim Lehrer
Amy Poehler, Saturday Night Live, Parks and Recreation
David Simon, The Wire, Treme
Horace Newcomb, Director of the Peabody Awards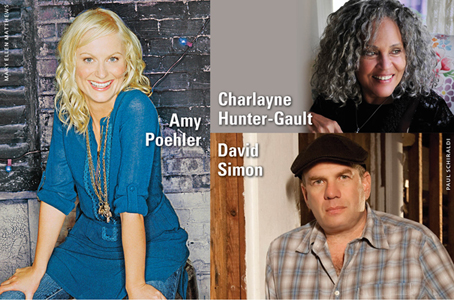 Excellence in media has always been difficult to judge, but the George Foster Peabody Awards has been doing it for more than seventy years. Our stellar panel of multiple Peabody winners will examine how the concept of excellence has evolved over the years in a variety of genres. Each of our panelists brings a special insight into creating work that is the gold standard for the industry from Amy Poehler's shrewd look at local government in Parks and Recreation to David Simon's complex investigation of urban decay in The Wire to Charlayne Hunter-Gault's incisive look at apartheid for the NewsHour. Our panel will also consider what programs have served as benchmarks over the decades, and how television can continue to create work of the highest order.
In association with the George Foster Peabody Awards
Thank You
The Robert M. Batscha University Seminar Series is generously funded by Dick Wolf.