Mind Over Media: Are You More Powerful than Propaganda?
Monday, May 21, 2012
7:00 pm ET
New York
In Person
Michael Hirschorn, Contributing Editor, The Atlantic Monthly
Robert Shrum, Speechwriter and Political Consultant, Senior Fellow at New York University's Wagner Graduate School of Public Service
Renee Hobbs, Media Literacy Expert, Professor and Founding Director of the Harrington School of Communication and Media at the University of Rhode Island
Dr. Steven Luckert, Curator of the Museum's Permanent Exhibition and of State of Deception: The Power of Nazi Propaganda
Moderator: Marvin Kalb, Journalist; Founding Director, The Shorenstein Center at Harvard and Edward R. Murrow Professor Emeritus of Press and Public Policy
How did the Nazis rise to power in one of the most highly educated nations in the world and in a democracy with a free press? They coupled sophisticated propaganda with advances in communication technology,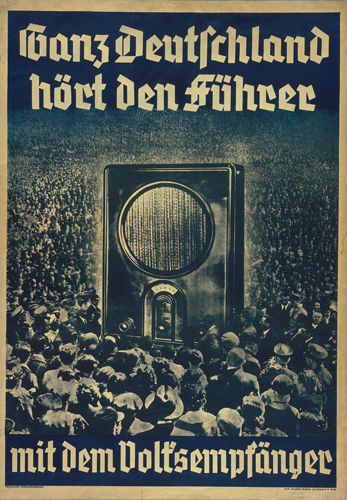 enabling their powerful ideas to reach millions. Today's technology knows far fewer boundaries. The onslaught of unfiltered messages confronting each of us daily via social media and the Web challenges us to be critical consumers of information.
Join us for an election-year discussion with distinguished journalists, speechwriters, and other newsmakers that explores what propaganda is, when we are most susceptible to it, and how we can best recognize and respond to biased information today.
Copresented with the United States Holocaust Memorial Museum
Photo caption and credit:
A 1936 poster depicting a crowd surrounding a radio, entitled "All of Germany Listens to the Führer with the People's Radio." Bundesarchiv, Koblenz, Plak 003.022.025
Thank You
The Robert M. Batscha University Seminar Series is generously funded by Dick Wolf.