Wheel of Fortune: 35 Years as America's Game
FREE Exhibit in New York
November 15 to December 3, 2017
Wednesdays to Sundays 12:00 to 6:00 pm, 12:00 to 8:00 pm on Thursdays; closed Mondays and Tuesdays.
The Paley Center is thrilled to celebrate the 35th anniversary of Wheel of Fortune, the highest rated syndicated show in television history, with an event with Pat Sajak and Vanna White in person on November 15 along with an exhibit that remains on display until December 3.
EXHIBIT: The exhibit of photos, memorabilia, and videos will be on display through Sunday, December 3, 2017. Details below.
The Paley Center for Media in New York
25 West 52 Street, New York, NY 10019
More information about visiting the Paley Center in New York.
Pat & Vanna In Person at Paley!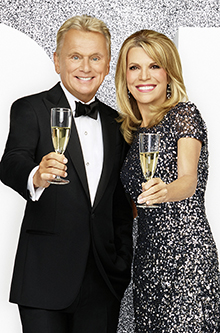 Wednesday, November 15, 2017
6:30 pm Panel with series stars Pat Sajak and Vanna White and Executive Producer Harry Friedman.
What You'll See

As part of the celebration of Wheel of Fortune's 35th anniversary, the Paley Center will offer fans a chance to immerse themselves in the world of their favorite game show, with an exciting exhibit featuring photos, memorabilia, videos, and more. On display in the Paley Center gallery will be:
 
·     Wheel memorabilia, including the popular ceramic Dalmatian from the prize shopping days.
·     One of Vanna White's actual designer gowns.
·     A video display, "Changing Lives," stories of how being a Wheel contestant has made a difference in some people's lives.
·     A photo montage of series stars Pat Sajack and Vanna White through the years.
·     Video clips from some of the more than 45 countries that have produced Wheel of Fortune locally, including Poland, Vietnam, Turkey, and Georgia.
·     Scale models, production plans, and set photos for some of the 65 times Wheel has been produced on location across the country.
·     A montage of classic clips from the show's early years, when Vanna White still turned the letters and contestants shopped for prizes.
·     A video compilation showing Vanna in some of the 6,500 different dresses she has worn over the years.
Please Note
Wheel of Fortune Exhibit will be closed during these hours:
 
·     Friday Dec. 1, 4pm–10pm
·     Saturday Dec. 2, 12pm–6pm
We apologize for any inconvenience.