Yabba-Dabba-Doo! A 70th Anniversary Salute to Hanna-Barbera
In celebration of the 70th anniversary of the groundbreaking animation studio responsible for such enduring pop-culture icons as the Flintstones and Scooby-Doo, the Paley Center in Beverly Hills gets its Magilla Gorilla on to present a multifaceted celebration, including a gallery exhibit featuring rare animation artifacts, a panel discussion gathering the studio's legendary animators, a book signing, and special screenings of Hanna-Barbera classics including The Jetsons, Hong Kong Phooey, The Banana Splits, Yogi Bear, and more.
Read curator David Bushman's history of Hanna-Barbera and read Johnny Bravo–creator/exhibit designer Van Partible's appreciation of the Hanna-Barbera studio.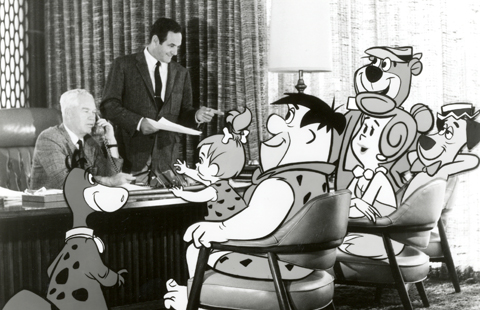 Yabba-Dabba-Doo! A 70th Anniversary Salute to Hanna-Barbera Continues...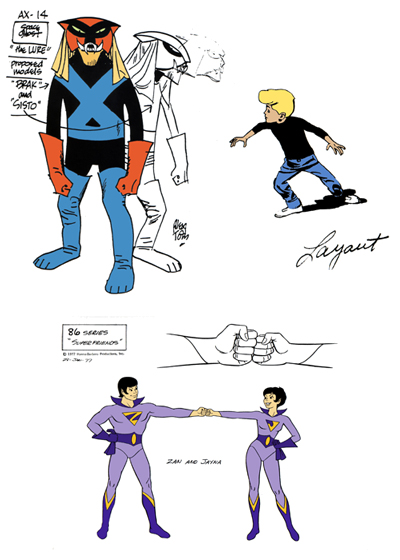 LOS ANGELES GALLERY EXHIBIT
In the Bell Family Gallery
The Paley Center in Los Angeles
August 12 to September 20, 2009
On Display
The photographs and artwork on display are a compilation of seventy years of hard work from the Hanna-Barbera Studios as the artists originally intended.
• The first doodles of the Scooby gang drawn by Iwao Takamoto that contain an extra character that was later deleted.
• A watercolor background imagining for the Smurfs created by Toby Bluth.
• Original designs for the Jetsons before the final ones were approved.
• Sketches of the Hall of Justice from Superfriends.
• Photos from voice recording sessions featuring the casts of shows, such as The Flintstones, Top Cat, The Partridge Family, 2200 A.D., and Johnny Bravo.
• Behind-the-scenes photos from Kiss Meets the Phantom of the Park, C.H.O.M.P.S., The Banana Splits, and the Legends of the Superheroes Roast.
Characters & images TM & © 2009 Cartoon Network. A Time Warner Company. All Rights Reserved.
"A Salute to Hanna-Barbera" pages: 1 | 2 | 3 | 4