March 4, 2010
Dexter
Thursday, March 4, 2010
7:00 pm PT
Saban Theatre in Beverly Hills
In Person
Michael C. Hall, "Dexter Morgan"
Jennifer Carpenter, "Debra Morgan"
Lauren Velez, "Lt. Maria Laguerta"
Julie Benz, "Rita Bennett Morgan"
David Zayas, "Angel Batista"
C.S. Lee, "Vince Masuka"
James Remar, "Harry Morgan"
Desmond Harrington, "Joey Quinn"
Clyde Phillips, Executive Producer
Sara Colleton, Executive Producer
John Goldwyn, Executive Producer
Melissa Rosenberg, Executive Producer
Scott Buck, Executive Producer
A blood-spatter forensics expert with the Miami Police Department, Dexter Morgan (Michael C. Hall) embraces death in his off-hours as well, channeling his homicidal impulses into a higher purpose, brutally disposing of murderers and miscreants who have slipped through the legal system. Having wrapped its fourth season on Showtime, Dexter continues to plunge into darker and more disturbing territory, turning its killer protagonist into a suburban family man, with horrific results. Described by the Chicago Sun Times as "fantastic, fascinating, creepy, charming, and gruesome," the show has earned two Emmy nominations as Outstanding Drama Series and continues to cultivate a fervid following, recently bringing the network its largest audience for a series episode ever.

Dexter is a Showtime presentation; John Goldwyn Productions, The Colleton Company, Clyde Phillips Productions.
Evening Sponsor
Dexter as Bonus Disc
PaleyFest2010 Dexter panel comes with the Dexter Season Four DVD set on sale Aug 17. Only at retail Target stores while supplies last.
Paley Overview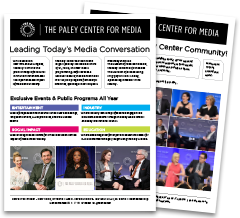 PaleyFest Tickets

Individual tickets on sale to Members 1/22, to General Public 1/24 at 9:00 am PT.

Orchestra Front:
General Public $75 / Members $60 Orchestra: $45 / $35
Mezzanine: $35 / $25
Balcony Front: $25 / $15
Balcony Rear: $25 / $15

Please note: Events and panelists are subject to change.