Lone Star: New Series World Premiere
Tuesday, July 20, 2010
7:00 pm PT
Los Angeles
In Person
James Wolk, "Robert/Bob Allen"
Eloise Mumford, "Lindsay"
Bryce Johnson, "Drew Thatcher"
David Keith, "John Allen"
Adrianne Palicki, "Cat Thatcher" (schedule permitting)
Jon Voight, "Clint Thatcher" (schedule permitting)
Mark Deklin, "Trammell"
Kyle Killen, Creator, Executive Producer
Kerry Kohansky, Executive Producer
Chris Keyser, Executive Producer
Amy Lippman, Executive Producer

The Paley Center is very happy to present the world premiere of the new Fox drama Lone Star, months in advance of its initial broadcast. From Chris Keyser and Amy Lippman, the creators of Party of Five; Marc Webb, the director of 500 Days of Summer; Peter Horton, Grey's Anatomy; and creator Kyle Killen comes this provocative new series about a sophisticated con man.
"Robert/Bob Allen" (newcomer James Wolk) is a charismatic and brilliant schemer juggling two identities and two women. As "Bob," he lives in Houston and is married to "Cat" (Adrianne Palicki, Friday Night Lights), the beautiful daughter of "Clint" (Jon Voight, 24, Midnight Cowboy), the patriarch of an ultra-wealthy Texas oil family. More than four hundred miles away in the suburban west Texas town of Midland, he's "Robert," living a second life with his naive girlfriend, "Lindsay" (Eloise Mumford, Mercy, Law & Order: SVU).
Paley Overview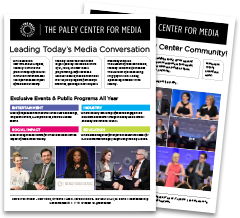 Plan Your LA Visit
Get address, directions, hours of operation, and other information about the Paley Center in Los Angeles to help you plan your visit.
Become a Member