Members Event
Free Appraisal Event Featuring the Star of Hollywood Treasure, Joseph Maddalena
Saturday, April 2, 2011
9:00 am to 5:00 pm PT
SAG Foundation Actor's Center
Paley Center Members are invited to take part in a special memorabilia appraisal event hosted by Profiles in History President/CEO, and star of the hit series Hollywood Treasure, Joseph Maddalena, at the SAG Foundation Actor's Center located at 5757 Wilshire Blvd. in Los Angeles.
Throughout the day from 9:00 am to 5:00 pm, free appraisals of your collectible memorabilia including props, scripts, costumes, autographs, and artwork will be given. Don't miss this unique opportunity to find out what your treasures might be worth. Admission to this event, which will be filmed for Hollywood Treasure, is free.
This summer, the Paley Center will announce an exciting new partnership with Profiles in History, the memorabilia auction house behind the hit series Hollywood Treasure. Since 1996 Profiles in History has established itself as one of the world's largest auctioneers of original Hollywood memorabilia. Their quarterly auctions include costumes, props, set pieces, costume designs, and production art, to name a few, from both vintage and contemporary film, television, and rock 'n' roll. As a kickoff to the partnership, this June the Paley Center in Los Angeles will host a special auction preview exhibit featuring show business legend Debbie Reynolds's priceless Hollywood memorabilia collection.
For more information about Profiles in History, visit www.profilesinhistory.com.
Not a Member? Take advantage of this benefit of Membership by becoming a Member today.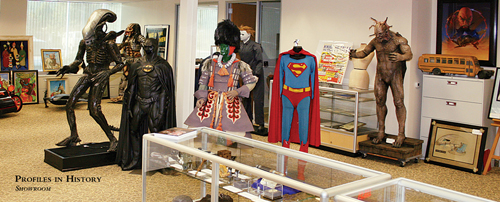 Other Events in the Series
Become a Member
Paley Overview