Through That F-in' Wall: An Evening with Bill Burr's F Is for Family
Tuesday, November 6, 2018
7:00 pm ET
New York
In Person
Bill Burr, Cocreator and Executive Producer
Michael Price, Cocreator and Executive Producer
Peter Billingsley, Executive Producer
Moderator: Alan Sepinwall
Join Netflix's F Is for Family cocreator and star Bill Burr, cocreator and executive producer Michael Price, and executive producer Peter Billingsley for an exclusive season-three premiere screening and intimate conversation about how the Murphy family continues to put the "fun" back in dysfunctional. The new season of F Is for Family, launching later this year, continues to follow the Murphy family in the 1970s, a time when you could smack your kid, smoke inside, and bring a gun to the airport. The evening is sure to bring you laugh-out-loud moments with a few surprises along the way.
This event is held in association with the New York Comedy Festival.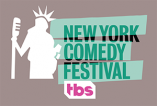 TICKETS ON SALE DATES
Paley Members get presale access and ticket discounts!
Tickets on sale to Paley Supporting, Fellow & Patron Members NOW. 
On sale to Paley Individual Members Thursday, October 25 at noon.
On sale to General Public Friday, October 26 at noon.
Paley Members get presale access and ticket discounts!
Become a Member: Join us online or contact Membership at 212.621.6780.
Events and participants are subject to change.