The Golden Age of Polaroid Advertising
By David Bushman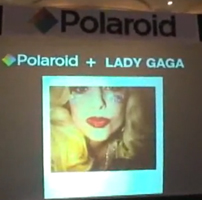 Mother of mercy, is this not the end of Polaroid? Once the Apple of its time, Polaroid created cutting-edge cameras and film adored by professionals and laymen alike, and revolutionized picture-taking with its one-step process of developing and printing, commonly known as instant photography. In the 1990s, however, Polaroid fell on hard times, and has been largely dormant ever since, much to the dismay of its many loyalists. Now comes word that an Austrian entrepreneur and a team of Dutch scientists are reinventing Polaroid analogue film for the digital age, an initiative cheekily titled The Impossible Project.
And there's more. On January 5, 2010, Polaroid announced a multiyear strategic partnership with Lady Gaga, who will serve as creative director for a specialty line of Polaroid Imaging products. It's a bold move to reclaim the mantle of being hip.

From Lady Gaga: "The Haus of Gaga has been developing prototypes in the vein of fashion/technology/photography innovation—blending the iconic history of Polaroid and instant film with the digital era—and we are excited to collaborate on these ventures with the Polaroid brand."
Let's look at some history . . .
The Golden Age of Polaroid Advertising Continues...

Laurence Olivier, John Belushi, the Muppets: Spokesmen All
Polaroid was founded in 1937 by idiosyncratic Harvard dropout Edwin Herbert Land. One day, while vacationing with his family in New Mexico, Land took a picture of his daughter, who wondered aloud why she had to wait so long to see it develop. Within four years, Polaroid had sold the world's first instant camera. From the fifties through the mideighties—Polaroid's golden age—the company pumped out pioneering cameras like the Land, the Color Pack, the Swinger, and the SX-70. During this time, Polaroid teamed with fearless ad agency Doyle Dane Bernbach to market these products with equally groundbreaking ads that drew on humor, sophistication, emotion, and an impressive array of celebrity endorsers, including Steve Allen, Jack Paar, Jerry Lewis, Ali MacGraw, Lord Laurence Olivier, Liv Ullmann, Candice Bergen, Alan Alda, Danny Kaye, John Belushi, Chevy Chase, and the Muppets. James Garner and Mariette Hartley—the most famous celebrity nonmarriage in advertising history—waged their genial battle of the sexes in our living rooms on behalf of Polaroid's OneStep cameras for more than a decade.

For generations of picture-takers, these products conjure up warm and fuzzy associations with childhood, graduations, weddings, vacations, parties—back to a time when Polaroid offered a mass-market glimpse into the future, with its magical ability to let you see images captured just seconds before. DDB's commercials helped Polaroid to not only sell phenomenal numbers of cameras, but also to create an enduring brand image and earn a permanent place in pop culture history. Guess whose cameras Andy Warhol used for his legendary flash color photographs. And isn't that a Polaroid Guy Pearce uses to put together the pieces of his life in the 2001 film Memento? Writing in Britain's Grafik in 2005, John Weich said: "Measured by the standards of big business, Polaroid's greatest moments are behind it. But measured in nostalgia, Eastman Kodak will never enjoy the cult status that Polaroid enjoys today."
The Dark Years
Due to a series of missteps—including the disastrous launch of the Polavision instant-movie system (arriving on the scene just as video-based systems were taking off) and the company's failure to capture a significant share of the digital-camera market—the Polaroid Corporation filed for bankruptcy in 2001, triggering the sale of almost all of its assets (including the "Polaroid" name) to a subsidiary of Bank One, which formed a new company with the same name. In December 2008, the new Polaroid Corporation also filed for bankruptcy. Meanwhile, the company ceased production of Polaroid cameras in 2007 and Polaroid film in 2009, to the chagrin of many, including the Telegraph, a British newspaper that ranked the latter decision among the top one hundred defining cultural moments of the decade ("Henceforth, memories will be bright, digital and amnesiac rather than faded and ghostly," the paper quipped), and the readers of the NY Times Lede blog, who left many heartfelt comments.
The Golden Future?
The good news for Polaroid fans is that Viennese businessman Florian Kaps, working with Dutch scientists and with the cooperation of Polaroid itself, is reinventing the Polaroid's analogue instant film for modern times, to "celebrate and evoke the sensational and almost mysterious power of Instant Photography in memory of Dr. Edwin Land." In December, Kaps and his Impossible Project were feted at the International Center of Photography in New York, along with designer Paul Giambarba, who spun his magic at Polaroid from 1958 to 1977, creating the widely imitated color-stripe logo and black packaging. Don't forget that Lady Gaga now has their back.
Does this mean Garner and Hartley are dusting off their act and will be returning to the airwaves to promote Polaroid instant film? We can only hope.
---
Polaroid Advertising Compilation Screening
Screening: January 13 to February 14, 2010
New York: Wednesdays to Sundays at 12:30 pm (NOTE: On Feb 4 at 3:00 pm)
Los Angeles: Wednesdays to Sundays at 1:30 pm

In 2006 Paley Center curator David Bushman, along with Polaroid's former Group VP, Worldwide Marketing, Ted Voss, produced a 75-minute compilation comprising Polaroid's most celebrated television and print ads of the time, with recent interviews with the people who conceived and produced them. Here are some of the classic Polaroid moments you'll revisit:
Jerry Lewis kibitzing frantically with Jack Paar, who tries his best to focus on the task at hand—pitching Land cameras.
A then-unknown Ali MacGraw, in a polka-dot bikini bottom and striped polo shirt, cavorting on a beach as one of advertising's catchiest jingles invites us to "Meet the Swinger."
Lord Laurence Olivier, elegantly attired in a dark blue suit and tie, sharing the stage with a vase of flowers as he touts the dazzling color of the revolutionary SX-70 camera.
Alan "Everyman" Alda—still in his Hawkeye Pierce days—hawking Polaroid's "everyman" camera, the Pronto!
A jealous Miss Piggy demanding that Kermit "explain the redheadMariette Hartley, who Kermit insists is merely a business acquaintance sent over by Polaroid to help sell Amigo cameras.
"Polaroid Advertising" pages: 1 | 2