TV Sleuth Smackdown
Elementary (Not)
Ten little-known facts about Sherlock Holmes:
1. The first actor ever to portray Holmes professionally was Charles Brookfield, in Under the Clock, an 1893 musical revue in London.
2. Thomas Edison produced the first Holmes film, in 1900, titled Sherlock Holmes Baffled.
3. Holmes's TV debut came in 1937, when Louis Hector, who had played the part on NBC Radio, reprised the role during an evening of experimental TV in November 1937.
4. In 1949, Holmes was portrayed on TV by Alan Napier, later Alfred the butler on the ABC sixties version of Batman.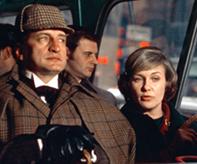 5. Joanne Woodward was the first woman to play Dr. Watson (first name, Mildred), in the 1971 film They Might Be Giants.





6. Star Trek's William Shatner and Leonard Nimoy both have Holmes connections: Shatner portrayed the villainous Stapleton in a 1972 TV movie of The Hound of the Baskervilles; Nimoy starred as Holmes in a touring stage production during the same decade.
7. The first Holmes feature film in color, in 1959, starred Peter Cushing in The Hound of the Baskervilles, the same story that had marked Basil Rathbone's debut in the role (1939).
8. Jeremy Brett (photo at right), who starred as Holmes in the Granada TV series seen in the U.S. on Mystery!, portrayed Doctor Watson opposite Charlton Heston in the 1980 Los Angeles stage production of The Crucifer of Blood, making him one of only three actors to play both Holmes and Watson professionally (Reginald Owen and Patrick Macnee are the others).
9. Conan Doyle's Holmes never wore a deerstalker cap or Inverness cape. Rather, these were the invention of Sidney Paget, the illustrator for The Strand magazine, who was trying to make Holmes more identifiable.
10. While Conan Doyle's Holmes sometimes remarked that his logical deductions were "elementary," and occasionally referred to his friend as "my dear Watson," he never uttered the complete phrase "Elementary, my dear Watson." The phrase first appears at the end of the 1929 film The Return of Sherlock Holmes.
TV Sleuth Smackdown CONTINUES...