The New York Comedy Festival
Live from New York… A Discussion with the Saturday Night Live Writers
Nov 13, 2011
4:00 PM ET
New York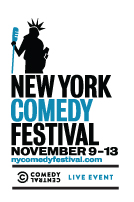 Since the inaugural utterance of its now infamous opening line—"Live from New York, it's Saturday Night!"—on October 11, 1975, NBC's Saturday Night Live has gone on to become one of the most popular, celebrated, and longest-running programs in television history. This legendary late-night sketch show, known for the irreverent manner in which it has poked fun at politics and pop culture, has been a preeminent breeding ground and launching pad for some of the best comedy writers, most talented performers, and biggest stars of the last thirty-five years. Originating from the Peacock Network's hallowed Studio 8H at 30 Rock with its who's who of celebrated guest hosts, hilarious opening monologues, side-splitting sketches, legendary musical guests, and classic video shorts, this multiple Emmy Award–winning show arguably has provided more classic moments of entertainment than any other program in the history of the medium. It all starts in the writers' room, and now the current corps of SNL writers will gather at the Paley Center for a special panel discussion that will offer a rare backstage look at how they come up with the classic bits that keep viewers laughing into Sunday's early morning hours.
In association with The New York Comedy Festival
Seth Meyers
Erik Kenward
John Mulaney
Colin Jost
Marika Sawyer
Moderator: Steve Gaydos, Executive Editor, Variety
Get the Paley App to stay connected to all things Paley.