Screenings from the Paley Center Collection
A Window on Japan
Apr 2 – 3, 2011
12:00 AM
New York
FREE for Paley Center Members. Carnegie Hall Members receive half-price admission.
Included with admission for the general public.
The Paley Center is pleased to participate in JapanNYC, Carnegie Hall's celebration of contemporary and traditional Japanese culture, with a screening of arts and culture films from our permanent collection.
From Clive Gillinson, Executive and Artistic Director, Carnegie Hall:
JapanNYC is dedicated to the victims of the earthquake and tsunami in Japan.
"Everyone at Carnegie Hall and at all of its JapanNYC partner organizations was deeply saddened to hear the news of the devastating earthquake and tsunami that struck Japan on Friday. While plans for our JapanNYC festival proceed, we offer our thoughts and prayers to those affected. At this incredibly difficult time, we feel it is particularly important to pay tribute to Japan and its people through these festival events."
---

Saturday, April 2

1:00 pm

Children's Screening at the Paley Center
Japanese Programs for Children


An Unexpected Student
This children's documentary from Japan tells the true story of the incredible "academic career" of a pink pelican named Katta, who one day flies from his home in a Japanese park to a local nursery school. Before long the bird is visiting the school daily, arriving every morning half an hour before classes begin, playing with the children in the school yard, and even attending classes. A film crew spent months at the school documenting Katta's growing relationship with the students and teachers. (live action, 1990; 26 minutes)
Knyacki
Even though Knyacki is just a worm, he manages to get into all sorts of trouble. (Claymation, 1996; 5 minutes)

Reika Maakt Sushi
In one of a series of short documentaries about kids accomplishing small feats with great determination, Reika makes sushi. (live action, 2002; 2 minutes)
I'm Old Enough
In this program from Japan, adults with hidden home video cameras observe children, ages two to five, as they go shopping by themselves for the first time. (live action, 1992; 27 minutes)
Japanese Commercials
Pants Press; National Batteries; Panasonic bicycles; Toothpaste/dentist; Elmer's Glue: Karate; Mitsubishi Cantor Pick-up truck: 3 samurais (3 minutes)
3:00 pm
Leonard Bernstein and the New York Philharmonic in Japan
This broadcast, produced by Robert Saudek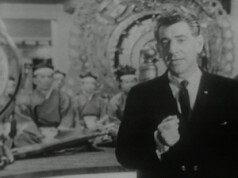 and directed by Clark Jones, marks the first time American television was allowed a glimpse inside the Imperial Palace in Tokyo for a performance of ancient Japanese music, traditional dance, and puppet theater. In addition to Bernstein discussing the differences between Eastern and Western music, the program also features Seiji Ozawa conducting the Philharmonic in a performance of Toshiro Mayuzumi's Bacchanale, and Japanese singers rehearsing Trouble in Tahiti. (CBS; 1962, 60 minutes)
Ode to Joy: 10,000 Voices Resound
A special chorus of 10,000 volunteers,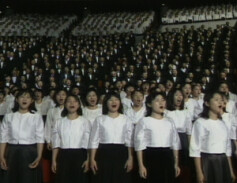 along with the combined forces of the Osaka Philharmonic Orchestra, Kyoto Symphony Orchestra, and the Kansai Philharmonic Orchestra, are conducted by Yutaka Sado. Featuring Toshiko Abo, soprano; Masako Tejima, mezzo; Makoto Tananka, tenor; and Hiroshi Kuroda, baritone. (Mainichi Broadcasting System; 2002; 35 minutes)
Sunday, April 3


3:00 pm
Bejart's Kabuki Ballet
A documentary on a ballet choreographed and directed by Maurice Bejart in Japan. The dance adapts the traditional Kabuki masterpiece Chushingura for the Tokyo Ballet, and this program compares Bejart's work to its model with scenes of a Kabuki performance. Rehearsal scenes are interspersed with discussion of the work's preparation and meaning. The program closes with the final scene of the opening night performance. This documentary won the 1986 International Emmy, Performing Arts. (NHK; 1986, 55 minutes)
Camera Three: Bunraku: The Classical Puppets of Japan
This installment of the arts program Camera Three, with commentator Faubion Bowers, includes a film showing how the puppets are made and manipulated by operators who are visible during the performance, plus extended scenes from Chikamatsu Monzaemon's famous eighteenth-century drama The Love-Suicides of Sonzezaki. (CBS; 1973, 30 minutes)
In collaboration with JapanNYC at Carnegie Hall