In Honor of the Royal Wedding at the Paley Center
Great Weddings on TV
Apr 23 – 24, 2011
12:15 PM ET
New York
FREE for Paley Center Members.
Included with admission for the general public.
In honor of the Royal Wedding on April 29 between HRH Prince William and Catherine Middleton, the Paley Center presents fictional and real weddings from its collection the weekend before. See the beloved TV nuptials from Dynasty, Rhoda, Get Smart, Northern Exposure, Tiny Tim and Miss Vicki, various soaps, and more, as well as news footage from Patricia Nixon and Edward Cox at the White House, and Prince Charles and Lady Diana Spencer.
Come watch the Royal Wedding live at the Paley Center in New York on April 29!
---

Saturday, April 23, 2011

12:15 pm
Rhoda: "Rhoda's Wedding"
Having experienced Rhoda Morgenstern's (Valerie Harper)

dating woes on Mary Tyler Moore for four seasons, audiences were thrilled when she not only landed a steady beau (David Groh) on her own sitcom's first season but married that fall. This episode became one of the media sensations of the time (Harper and Moore were even featured on that week's cover of Time), seen by some fifty-million viewers. Also on hand are some of Rhoda's friends from Minneapolis, including Mary and Lou (Edward Asner), and, much to her chagrin, self-involved Phyllis (Cloris Leachman). Highlighted by some on-location shooting in New York. (1974; 55 minutes).
1:30 pm
Dynasty: "Royal Wedding"/thirtysomething: "our wedding"
Ah, the go-go eighties … you had to see 'em to believe 'em. Or you can just watch these two shows, which nail the zeitgeist of the era right on the head—one (Dynasty) oozing shameless decadence, the other (thirtysomething) forging an artistic sensibility out of yuppie guilt. In "Royal Wedding" (1985), the Carringtons travel to Moldavia for the wedding of Amanda and Prince Michael, which is rudely interrupted by gun-wielding terrorists. In "our wedding" (1991), Ellen is wracked by—what else—angst as she prepares to marry Billy. (104 minutes)
3:30 pm
The Tonight Show Starring Johnny Carson: "The Wedding of Tiny Tim and Miss Vicki"
Publicity stunt or true love? On December 17, 1969, more than

forty-million viewers tuned in to NBC's late night Tonight Show to watch the falsetto troubadour Tiny Tim (best known for strumming a ukulele and warbling "Tiptoe Through the Tulips") marry his teenage sweetheart Victoria Mae Budinger aka "Miss Vicki." The two wore Victorian garb and were wed on a special "turn-of-the-century" set—exchanging vows (and teetotally toasting the occasion with glasses of milk and honey!) in front of the studio audience and Tonight Show guests including Florence Henderson and Phyllis Diller. (30 minutes)
4:15 pm
Wedding Compilation Package
This eclectic look at weddings begins with a quick-paced montage of marriage ceremonies from popular television dramas and sitcoms (including Rhoda, Get Smart, Dynasty, M*A*S*H, Dallas, Cheers, The Mary Tyler Moore Show, and Taxi), continues with a half-hour 1971 NBC news report by Edwin Newman and Barbara Walters on the wedding of Patricia Nixon and Edward Cox in the Rose Garden of the White House (which was attended by an eclectic list of guests including Ethel Waters, Red Skelton, J. Edgar Hoover, and 87-year-old Alice Roosevelt Longworth—all seen arriving at the ceremony), and ends with a roundup of the ABC news coverage of the 1981 wedding of Prince Charles and Lady Diana Spencer—as reported by Peter Jennings and Barbara Walters. (70 minutes)
---
Sunday, April 24, 2011

12:15 pm
Worlds without End: The Art and History of the Soap Opera: Wedding Dresses from the Soaps
No genre makes a bigger deal over marriage than the daytime serial and this package of highlights features some of the most memorable. On view are the weddings of: Erica and Dimitri on All My Children (1994); Luna and Max on One Life to Live (1993); Barbara and Hal on As the World Turns (1988); Reva and Josh on Guiding Light (1989); Victoria (who arrives by horse-drawn sleigh) and Grant in Another World (1993); Nikki and Victor on The Young and the Restless (1984); Felicia and Frisco on General Hospital (1986); Carrie and Austin on Days of Our Lives (1995); and Brooke (who makes a memorable entrance on horseback) and Ridge on The Bold and the Beautiful (1994). (43 minutes)
1:15 pm
Northern Exposure: "I Feel the Earth Move"
As a series about a remote Alaskan town populated by its share of eccentrics and diverse lifestyles, it only made sense that Northern Exposure would embrace the idea of two of its gay residents getting married. Inn owners and ex-marines Ron and Eric (Doug Ballard and Ron R. McManus) decide to tie the knot, with philosophical DJ Chris Stevens (John Corbett) officiating, giving the ceremony his own individual spin, asking the couple if they promise to "stick it out till the fat lady sings?" Surprisingly, this perfectly harmless episode rankled select network affiliates and sponsors at the time. (1994; 45 minutes)
2:15 pm
Sesame Street (Maria and Luis's Wedding)
In this special episode, the Sesame Street neighborhood bustles with activity as Maria and Luis prepare to wed. Their rooftop wedding ceremony is followed by a block party reception. (1988; 60 minutes)
3:15 pm
Celebrity Weddings
During this special, celebrities talk about the recent weddings, while showing photo albums and private videos. Featured weddings include John Stamos with Rebecca Romijn-Stamos, Cindy Crawford, Vivica A. Fox, Terry McMillan, Melissa Rivers, and Barbra Streisand. (1999; 60 minutes)
4:15 pm
Wedding Compilation Package
This eclectic look at weddings begins with a quick-paced montage of marriage ceremonies from popular television dramas and sitcoms (including Rhoda, Get Smart, Dynasty, M*A*S*H, Dallas, Cheers, The Mary Tyler Moore Show, and Taxi), continues with a half-hour 1971 NBC news report by Edwin Newman and Barbara Walters on the wedding of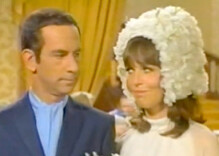 Patricia Nixon and Edward Cox in the Rose Garden of the White House (which was attended by an eclectic list of guests including Ethel Waters, Red Skelton, J. Edgar Hoover, and 87-year-old Alice Roosevelt Longworth—all seen arriving at the ceremony), and ends with a roundup of the ABC news coverage of the 1981 wedding of Prince Charles and Lady Diana Spencer—as reported by Peter Jennings and Barbara Walters. (70 minutes)