Oddly Familiar: A Ben Stiller Show Reunion
Nov 10, 2012
6:30 PM ET
New York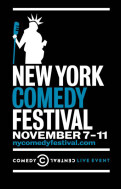 The Paley Center for Media and The New York Comedy Festival present a twentieth anniversary reunion of the late great Ben Stiller Show, one of our favorite expressions of the art of sketch comedy and sources of hilarious Bruce Springsteen impressions. We will discuss the production, reception, and influence of the show with members of the absurdly accomplished cast and creative team, but we should probably warn you that Manson will likely be underfoot again.
In association with The New York Comedy Festival
Follow @paleycenter on Twitter for live tweets from the event. Use #PaleyLiveNY to join in the conversation.



Read more about how '90s alternative comedians have taken over!
To attend a private party with the panel, join us for PALEYAFTERDARK/PALEY100. Call Erin Frederick at 212.621.6600 ext. 6622 or email efrederick@paleycenter.org.


Beverages generously provided by Apothic Wine and SVEDKA Vodka.
Judd Apatow
Rob Cohen
Andy Dick
Janeane Garofalo
Jeff Kahn
Bob Odenkirk
Ben Stiller
Get the Paley App to stay connected to all things Paley.