Highlights from The Paley Center for Media Collection
Musicals on Television: An Afternoon with Sheldon Harnick
Jul 28, 2012
2:00 PM ET
New York
FREE for Paley Center Members
Included with general admission
As part of the annual New York Musical Theatre Festival (NYMF),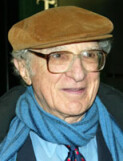 the Paley Center is pleased to honor the three-time Tony Award-winning lyricist Sheldon Harnick—who collaborated with composer Jerry Bock on landmark musicals including the Pulitzer Prize winner Fiorello!, Fiddler on the Roof, and The Rothschilds.

The Canterville Ghost (1966), a musical that Harnick and Bock wrote specifically for television, will be screened along with the 1978 BBC telecast of She Loves Me. Bill Rudman, host of Sirius XM Satellite Radio's Broadway Channel program "On the Aisle," will be on-hand to interview Mr. Harnick about his work.
The Paley Center has partnered with NYMF each season since the festival began in 2004.
---

Saturday, July 28, 2012
2:00 pm
ABC Stage 67: The Canterville Ghost (1966)
This updated musical version of Oscar Wilde's short story concerns an American ambassador and his family who move into a castle haunted by a ghost, Sir Simon de Canterville (Michael Redgrave). With Douglas Fairbanks, Jr., Natalie Schafer, Tippy Walker, and Peter Noone of Herman's Hermits as the "mod" Duke of Cheshire. Bock and Harnick songs include "Undertow," "I Worry," "If You Never Try," "Vengeance," and "You're Super." Directed by Burt Shevelove, who also wrote the book. (ABC; 60 minutes; color)

Directly following the screening, Sheldon Harnick will be interviewed by Bill Rudman about The Canterville Ghost and She Loves Me.
4:00 pm
She Loves Me (1978)
This much-lauded television adaptation of the Broadway show (with a book by Joe Masteroff, based on the Miklós László play Parfumerie) includes such classic Bock and Harnick songs as "Ice Cream," "12 Days to Christmas," and the charming title number. With Robin Ellis, Gemma Craven, Peter Sallis, David Kernan, Diane Langton, Derek Smith, and Nigel Rathbone. Directed by Michael Simpson. (BBC; 105 minutes; color)