Viewing Party in New York
PaleyFest Castle Viewing Party: Panel Live from Los Angeles with a Scavenger Hunt and Trivia from New York Comic Con
Mar 9, 2012
12:00 AM
New York
#castlechase video from @MaPeel:
#castlechase video from @KESonstage:
Kate Beckett and her fellow officers from the NYPD's 12th Precinct have become quite adept at catching killers throughout Castle's four seasons. Yet, there's one case they can't crack—the appeal of writer Richard Castle. Providing a service somewhat like Sherlock Holmes's consulting detectivery, Castle—portrayed by genre-television icon Nathan Fillion—is a consulting writer, helping to solve cases with tips, hints, clues, and insights from the mind of the world's foremost crime novelist. While a police procedural at its base, with references from steampunk to superheroes and Firefly to Watchmen, Castle takes great joy in incorporating the geeky world of Fillion and his fans.
Come now, with your fellow fans, to see Fillion and his fellow cast members live from the Saban Theatre in Los Angeles for a PaleyFest panel and premiere screening of an upcoming episode before it hits ABC! Start sleuthing early for a citywide Castle clue scavenger hunt and Nathan Fillion trivia contest at the Paley Center!
Make Your Own Great Castle Chase Video!
We want you to take little videos of your sleuthing while on the scavenger hunt. Share on Jollyfy and we'll post some of them here on our website.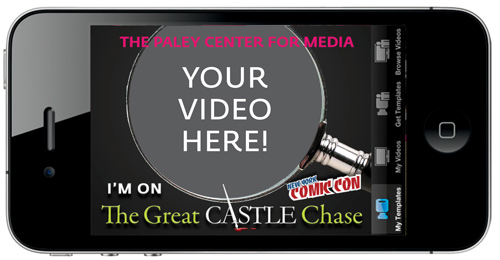 Tap the "Get Templates" icon
Click record
March 9 Schedule:
4:00 to 8:00 pm
Scavenger Hunt: The Great Castle Chase
Featuring fifteen Castle and Fillion-related clues scatted around New York City landmarks and retailers. Find a clue; bring it to the Paley Center to claim your prize. Look for clues on Twitter at #castlechase. Visit newyorkcomiccon.com for full details on how to play.
8:00 to 9:30 pm
Prize redemption at the Paley Center.
Prizes in the Great Castle Chase include Castle DVDs, books, and comics, New York Comic Con tickets, posters, and shirts, and free admission to future Paley Center events.
The scavenger hunt and prize collection are free and open to all!
Note: to participate in the trivia and PaleyFest event you need to purchase a ticket
9:30 to 10:00 pm
Hardcore Castle/Fillion Trivia Contest at the Paley Center.
10:00 pm to midnight
See a new episode of Castle and the PaleyFest panel with Castle cast and creative team livestreamed from the Saban Theatre in Los Angeles
Light refreshments will be served.
Presented with New York Comic Con

Tickets On Sale Now

$10 for Paley Center Members & NYCC Attendees
$15 General Public