New York Comedy Festival @ Paley Center
An Evening with David Cross
Nov 8, 2013
6:30 PM ET
New York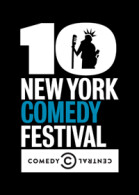 See photos from this event.
Emmy Award–winning comedian David Cross (along with partner Bob Odenkirk) helmed perhaps the definitive "alternative comedy" project with the groundbreaking, vastly influential Mr. Show with Bob and David, and has continued as a major comic force with inspired stand-up, brilliant acting turns in series including Arrested Development (another strong contender for Most Important Comedy Show Ever), and his excruciatingly hilarious series The Increasingly Poor Decisions of Todd Margaret. The Paley Center and the New York Comedy Festival welcome Cross to discuss his career, his creative process and thoughts on comedy, and life as a never-nude.
In association with The New York Comedy Festival
David Cross
Moderator: Rob Tannenbaum, Coauthor, I Want My MTV: The Uncensored Story of the Music Video Revolution
Get the Paley App to stay connected to all things Paley.