Id Isn't Always Pretty: An Evening with "Broad City"
Nov 9, 2014
6:30 PM ET
New York
Join in the conversation with #PaleyLive
NEW TIME: 6:30 pm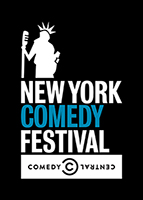 In association with The New York Comedy Festival
Dubbed "sneak attack feminism" by the Wall Street Journal, Comedy Central's Broad City, from executive producer Amy Poehler, paints a hilariously frank portrait of two hapless yet determined young women making their way in New York City. Broad City's Ilana Glazer and Abbi Jacobson struggle to find good sex, cheap marijuana, and the smallest modicum of dignity in a harsh urban
landscape that is alienating and Kafkaesque, woozily surreal, or punishingly quotidian, depending on the day. Entertainment Weekly called the show "deeply weird, weirdly sweet, and completely hilarious."
Broad City photo: Lane Savage
More New York Comedy Festival events @ Paley Center:
Writers of Late Night with David Letterman 11/7
Inside Amy Schumer 11/8
Ilana Glazer
Abbi Jacobson
Amy Poehler, Executive Producer
Lucia Aniello, Director
Moderator: Seth Rogen
Get the Paley App to stay connected to all things Paley.