Crosby, Stills & Nash: Forty-Five Years Gone & Still Carrying On
Jul 7, 2014
7:00 PM
New York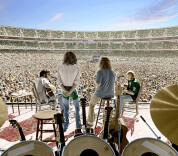 Releasing their first album in 1969, the trio of David Crosby, Stephen Stills, and Graham Nash are seminal musicians in the history of rock, as well as exemplary activists who have used their music to comment on the political landscape. On July 7 worldwide, the group with cohort Neil Young are releasing CSNY 1974—an audio box set containing forty previously unreleased songs, several never-before-seen photos, and a bonus DVD of restored concert footage—from their legendary 1974 tour. The Paley Center will screen the restored concert footage and the group will discuss the mood of the country forty years ago as a president was about to resign. CSN will also talk about how contemporary issues inform their recent collective and individual music projects. In addition, rare footage from the Paley Center's collection will be screened showing each member in a previous band before they formed the trio.
Funding for this event is provided by
The Blanche and Irving Laurie Foundation
PaleyList: Ten TV Moments of Crosby, Stills & Nash: Alone and Together
In Person
David Crosby
Stephen Stills
Graham Nash
Moderator: Ron Simon, Curator, Television & Radio, The Paley Center for Media
Get the Paley App to stay connected to all things Paley.