December 3, 2016
From STEM to SCREEN: Inspiring Tomorrow's Creators
Dec 3, 2016
11:00 AM ET
New York
The Paley Center for Media, the Verizon Foundation and the Mayor's Office of Media & Entertainment presented FROM STEM TO SCREEN: INSPIRING TOMORROW's CREATORS. This special networking event connected New York City high school students with media professionals who use STEM in various fields of production and post-production. In a "speed dating" style, attendees rotated the room and visited ten professionals to learn more about the technical and scientific aspects of the different careers, as well as the educational and training requirements for entry.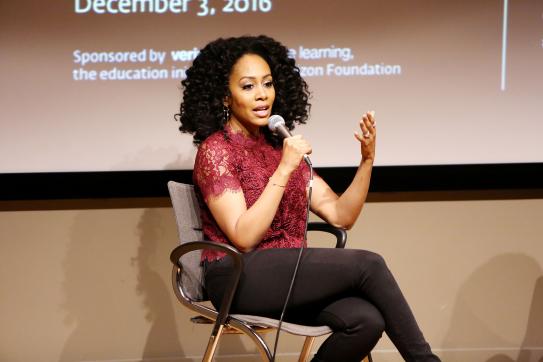 Keynote:
Simone Missick, Actor, Luke Cage

Entertainment Mentors:
Ian Davis, Verizon go90
Anthony Galloway, Executive Producer, Mobile Content, VICE
Maydi Guevara, The Young Women's Leadership School
Charles Hunt, Production Sound Mixer, Shades of Blue, Power, Law & Order: SVU
Benjamin Lehmann, Supervising Producer, Sesame Street
Raina Oberlin, Company Electrician, Best Boy Electric, Lighting Technician, Broad City, Iron Fist, Louie, Luke Cage, Jessica Jones, Project Runway
Tim Rossiter, Special Effects Coordinator, Crashing, Master of None
Diane Trang, Verizon go90
Mario Ventenilla, Production Designer, Blue Bloods, Nurse Jackie, Sex & the City
Deborah Zometa, Electrician and Special Effects Technician, Daredevil, Jessica Jones, Luke Cage, Madam Secretary
Get the Paley App to stay connected to all things Paley.