An Exhibit of Iconic Memorabilia, New TMNT Apps, Screenings, and More

The year was 1984. Two guys named Kevin Eastman and Peter Laird, inspired by their simple doodle of a turtle in a mask, self-published a comic book for the ages, Teenage Mutant Ninja Turtles #1. And as Leonardo, Raphael, Michelangelo, and Donatello emerged into the world, they changed pop culture forever.
Five television series, five feature films, hundreds of comic books, and thirty-five years later, a global legion of fans shows its love and loyalty to the Turtles on a daily basis, watching episodes on Nickelodeon and beyond, wearing classic tees, showing up at special events, posting on social media, knowing everything there is to know about the Turtles, and raising the next generation of fans.
And now The Paley Center for Media welcomes Nickelodeon as it opens its vault to celebrate the 35th Anniversary of the Teenage Mutant Ninja Turtles!
Your journey through the Turtleverse begins with a dynamic art piece showcasing the comic-book origins of our half-shell heroes. Turn around for a "shellfie" with a Turtles standee, then take in the installation of iconic posters and products. Sewer surf through a visual timeline of the evolution of the Turtles from the very first comics to the current series, Rise of the Teenage Mutant Ninja Turtles. Gear up with a Turtles mask to play TMNT apps, sit back for shell-shocked screenings, express your inner Turtle with craft activities, and get in on some gnarly giveaways!
Cowabunga!
 
Show off your Turtle Power and post your photos with #TMNT35 @TMNT @PaleyCenter


©2019 Viacom
VISITING THE EXHIBIT
Saturday, May 18 to Sunday, July 14, 2019
FREE and open to the public. No advance ticketing.
Exhibit Hours:
Wednesdays to Sundays, noon to 6:00 pm; Thursdays until 8:00 pm
Closed Mondays and Tuesdays.
Special Hours:
July 10: The exhibit will close at 4:00 pm.
July 11: The exhibit will open at 1:00 pm.
The Paley Center for Media in New York
25 West 52 Street, New York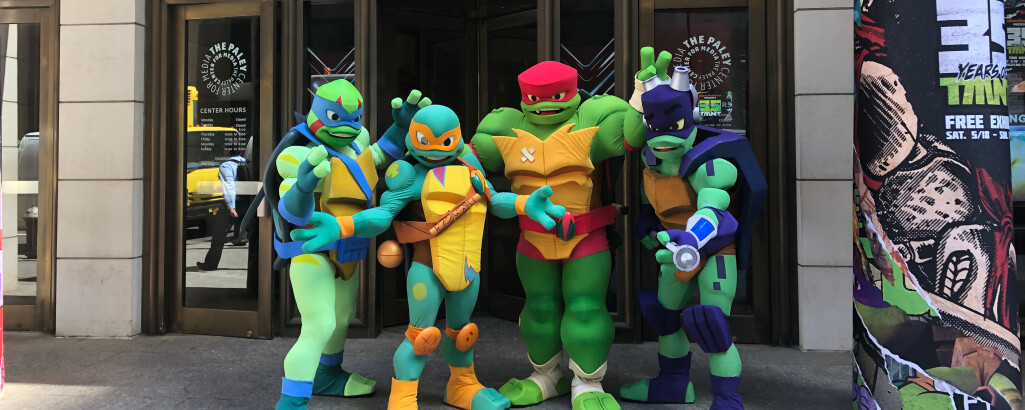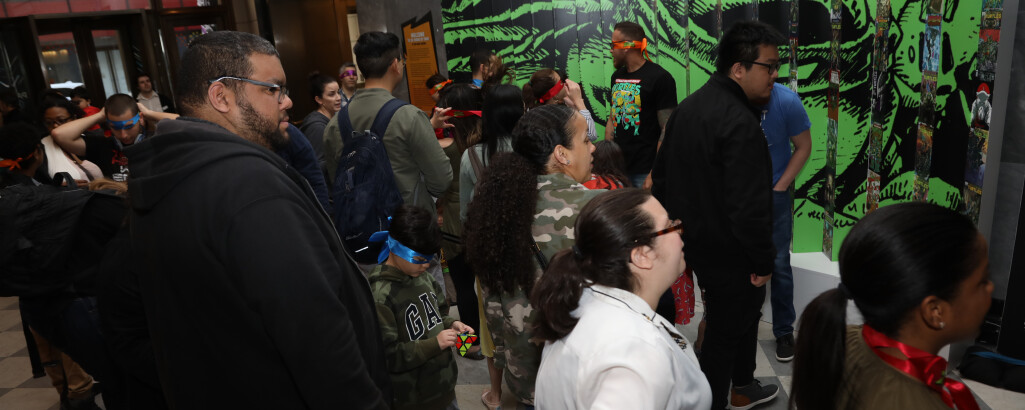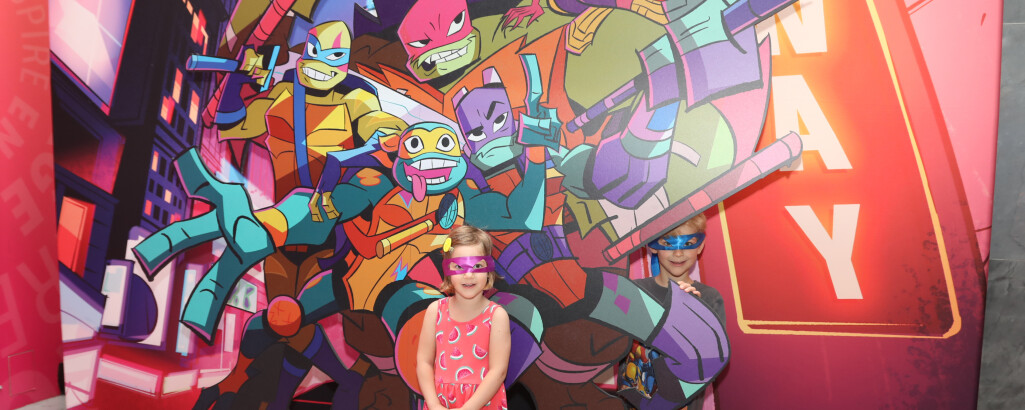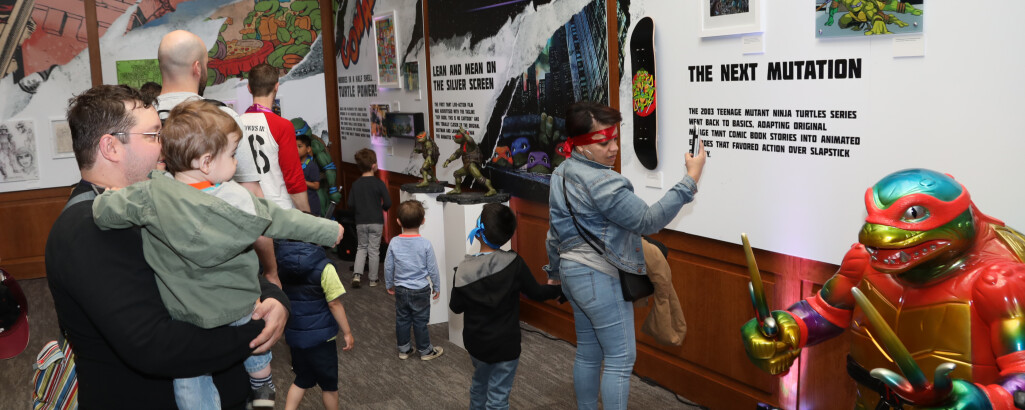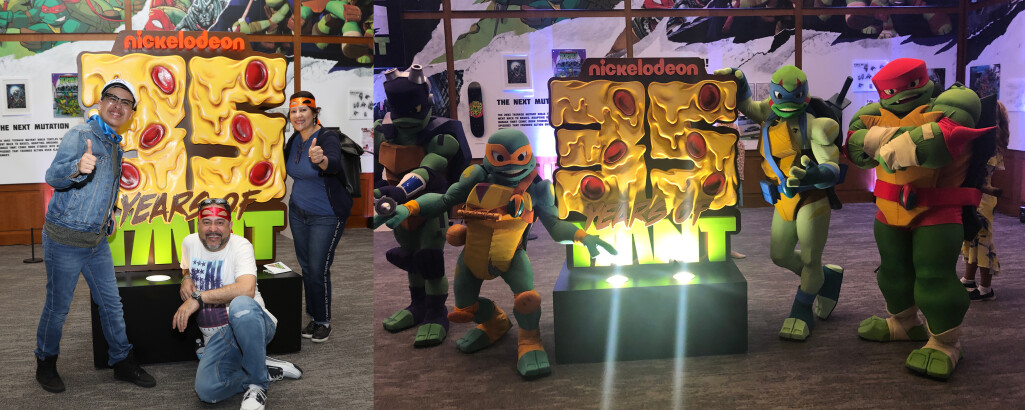 Shell-Shocked Screenings in NY & LA
Sit back and enjoy nonstop ninja action! Every Saturday and Sunday, beginning May 18 through July 14, get ready for some super shell-shocked screenings! Viewers can shellax and relax while watching over two hours of footage featuring episodes from different TMNT iterations and getting an inside look at special short form content.


Screenings in New York and Los Angeles begin at 12:15 pm, Saturdays and Sundays
May 18 & 19
TMNT Origins
Let's take this back to where Turtle Power all started! Re-watch the pilot episodes across three different TMNT iterations and get the inside scoop on how each series was developed.


May 25 & 26
Heroes Will Rise!
Featuring some of the Turtles' most trusted allies, everyday heroes just helping to save the city one day at a time!


June 1 & 2
Mutant Mayhem
From evil aliens originating from Dimension X, to insect-like creatures used to mutate humans and animals, it's total mutant madness this weekend!


June 8 & 9
Shred This!
Get ready to take in (and take down!) the Turtles' ultimate archenemy: The Shredder!


June 15 & 16
Turtle Power
Stealth mode. Power up mode. Beast mode. Relive some of the Turtles' biggest and baddest battles!


June 22 & 23
Sensei Splinter
Hajime! Let the Sensei Splinter screenings begin!


June 29 & 30
Villains Unite!
A warthog, a rhino, a hypnotic hippo, Baron Draxum, and more, this weekend is all about the Turtles' most formidable foes.


July 6 & 7
Out of the Sewers
The Turtles emerge out of the sewers and set out to new locations for new adventures!


July 13 & 14
Turtles <3 Pizza
Did somebody say, Pizza?! Nobody loves pizza more than our half-shell heroes, and here's a weekend of footage to prove it!
VISIT LOS ANGELES
The Paley Center for Media in Los Angeles
465 N. Beverly Drive, Beverly Hills, CA 90210
Visit LA Info
©2019 Viacom