TV Sleuth Smackdown
More about Holmes
Though exceedingly capable, Holmes is hardly perfect: he has a nasty drug habit (cocaine and morphine) and likely suffers from bipolar disorder, alternating between fits of mania (especially when engaged in a scintillating case) and bouts of lethargy. Hence, Holmes can be viewed as the progenitor of any number of tortured, socially dysfunctional TV gumshoes, including the brooding vampire Angel and the obsessive-compulsive Adrian Monk, plus G-man Fox Mulder of The X-Files—though Holmes had no patience for the supernatural, once telling his friend and Boswell, Dr. Watson, "The world is big enough for us; no ghosts need apply."
TV Sleuth Smackdown CONTINUES...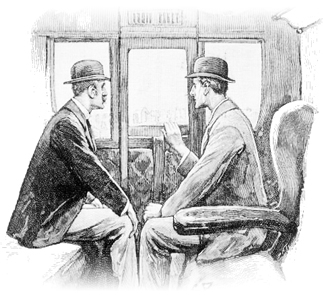 Holmes bends the truth and breaks the law to suit his purpose, which admittedly is beyond reproach (Jimmy McNulty, anyone?). And that ego! "The air of London is the sweeter for my presence," he tells Watson in "The Final Problem"; a century later, The Shield's Vic Mackey coarsens and perverts that arrogance, swaggering through L.A.'s asphalt jungle with an air of invincibility and entitlement, warning one gangbanger: "God's decided to put me back in business. My streets, my rules." Like Baretta, Holmes is a master of disguise, passing himself off at various times as a seaman, opium addict, Italian priest, plumber, and common loafer, among others. Modeled on gifted forensic detective Joseph Bell, Conan Doyle's medical school professor, Holmes is a forerunner of CSI's bug-obsessed Gil Grissom.
Holmes himself has appeared on television countless times, not just in the U.S. and Britain but all over the world (including the Soviet Union, which aired a series of made-for-TV films between 1979 and 1986), portrayed by such thespians as Peter Cushing, Frank Langella, Ronald Howard (alas, not Opie, but the son of Scarlet Pimpernel Leslie Howard), and—most definitively—Jeremy Brett, in a series of programs produced from 1984 to 1994 for Britain's Granada Television, airing stateside on Mystery!
| | |
| --- | --- |
| | Illustration by Sidney Paget. |