A Decade Later: The Paley Center for Media Remembers September 11

September 11, 2001, changed us all, whether we were in New York or Washington or Pennsylvania or thousands of miles away. But why should a media institution commemorate the tenth anniversary of those attacks with a series of public programs? First, because the media were an integral part of the experience of that day—first in bringing us the news, then in infusing it with context and meaning, and finally in uniting us and bringing us whatever small measure of comfort we could find in the communal viewing experience, administered by the paterfamilias of the time: the television news anchors. But even beyond that, media is a reflection of who we are—as we change, so does media. Think about it: prior to the 9/11 attacks, foreign news was being phased out by cost-conscious news executives; many of us had never even heard of the Taliban or Al-Qaeda. In the years since we have heard about them not just on news programs, but also on crime and espionage shows like Law & Order and 24 and even comedy programs like Late Show with David Letterman and The Daily Show (both of which went dark on 9/11 and the days after, but eventually returned with passionate, inspiring monologues by their hosts). When the entertainment community sought to rally the public on behalf of the victims' families and rescue workers, they proposed a telethon—America: A Tribute to Heroes—that changed television history. It was simulcast on over thirty-five broadcast and cable outlets in the U.S., plus 8,000 radio stations and America Online, in addition to numerous overseas outlets, and it raised over $200 million.
The Paley Center's slate of 9/11 media-themed programming revisits the events of that day not just to commemorate, but also to take stock of how we have changed and what we have learned.
Admission to the Paley Center will be free for everyone on September 11, 2011.
Share with Us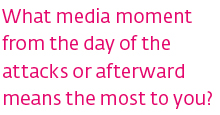 The 9/11 attacks and their aftermath produced an overwhelming amount of TV & internet programming. Is there one moment that stands out to you: the Concert for New York? When Letterman came back on air? A documentary about the building of the towers? Tell us which media moments means the most to you and why.
E V E N T



Bearing Witness:
9/11 Through the Eyes of NY1
Thursday, September 8, 2011
6:30 pm

In Person from NY1:

Kristen Shaughnessy, Anchor/Reporter; one of the first on scene on 9/11
John Schiumo, Reporter on 9/11; one of the first on the scene; now Host of The Call
Lewis Dodley, Anchor; was anchoring evening of 9/11 and in the days/weeks after
Steve Paulus, SVP/GM of NY1 on 9/11; now SVP of News & Local Programming
Cheryl Wills, Health Reporter on 9/11; now Anchor/Reporter
Annika Pergament, Manhattan Reporter on 9/11; now Senior Business Anchor
Bobby Cuza, Print Reporter on 9/11; was there when the first tower collapsed; now NY1 Political Reporter
Andrew Kirtzman, Former NY1 Political Anchor; he wrote a book on Rudolph Giuliani
Moderator: Pat Kiernan, Anchor of NY1
Copresented by The Paley Center for Media, NY1, and Tribute WTC, this public event commemorating the tenth anniversary of 9/11 will feature remembrances and insights from the men and women who covered perhaps the most harrowing event in New York history for the city's quintessential journalistic outlet, NY1. The NY1 team will not only reflect on the logistical, emotional, and professional challenges they confronted on that day and in the days after, but also discuss how their professional lives and indeed their entire profession changed as a result of these events.
The panel will also tackle the wider issues of what role the media played as events unfolded, and also in the ensuing days, weeks, and months. We will explore the vast changes in media production and consumption over the past ten years, and all the ramifications these changes would have on coverage of a similar emergency today.
Free to Paley Center Members and the General Public. Please book a seat.

S C R E E N I N G
Ground Zero Ceremonies Broadcast Live in the Bennack Theater
September 11, 2001; 8:00 am to 12 noon
We invite New Yorkers and visitors alike to come to the Paley Center to watch the tenth anniversary commemoration activities at Ground Zero live in HDTV on the giant screen in our Bennack Theater. We suffered through that day together; now we offer a place where people can gather to honor those who were lost, together.

Free to Paley Center Members and the General Public. Please book a seat.

G A L L E R Y   E X H I B I T

In Shock:
Reporting Live from Ground Zero
Photographs by Frank Schramm
September 1 to 25, 2011, in the Spielberg Gallery
As part of the Paley Center's September 11 commemoration, we will present an exhibition of portraits of journalists reporting from Ground Zero in the early days following the attacks. Photographer Frank Schramm witnessed the attacks himself from a distance of less than five-hundred yards. He captured the journalists on the West Side Highway day after day in images of personal moments as they collect their thoughts or read their notes before going back on the air to bring news and information about the destruction and chaos to the world.
The images draw attention to the efforts of the journalists to establish a controlled environment for the camera, sometimes by building makeshift outdoor studios. They highlight an emphasis on formality and lighting that contrasts with the desolation surrounding the journalists and their crews. Because of the lack of visual representation of the Twin Towers, the photographs have a timeless quality. It is only by looking at the titles—dates starting on September 15, 2001—that we learn what this series represents: the beginning of the post–9/11 era.
This exhibition was made possible by a generous gift from
Drew and Jessica Guff
Free for Paley Center Members; included with general admission.
(Free admission for all on Sunday, September 11, 2011.)

F R O M   T H E   P A L E Y   C E N T E R   C O L L E C T I O N

The September 11 Collection
After the events of September 11, the Paley Center worked with broadcasters from all over the world to see the reporting of the attacks through the lens of other cultures. We now have a collection of more than five-hundred hours of coverage of that day and its aftermath from around the world, including France, Russia, Australia, China, Iran, Cuba, India, Spain, Pakistan, Israel, and Qatar. These programs are available in the Paley Center's library.
The Paley Center also has many documentaries about 9/11, as well as video from numerous public seminars we held looking at the media and September 11, beginning in February 2002. You can watch any of this collection material in the library at the Paley Center in both New York and Los Angeles. Plan your visit to NY or LA.

9/11 Documentaries in The Paley Center for Media Collection

"Asia Speaks: Americans In Singapore" (T:71265): One in a documentary series that explores the impact of the September 11 terrorist attacks on Asian people and businesses. This episode focuses on the reactions of Americans living in Singapore had to September 11. (2001)

"Asia Speaks: Pakistanis In Singapore" (T:71260): One in a documentary series that explores the impact of the September 11 terrorist attacks on Asian people and businesses. This episode focuses on Pakistani nationals who live in Singapore. (2001)

"Asia Speaks: On The Corporate Front" (T:71259): One in a documentary series that explores the impact of the September 11 terrorist attacks on Asian people and businesses. This episode focuses on the impact the attacks had on corporate businesses in Singapore. (2001)

"Through These Eyes" (T:70415): This documentary focuses on National Geographic photographer Steve McCurry; his coverage of the terrorist attacks of September 11, 2001; and the response of American Muslims to the attacks. (2001)

"Above & Below: New York City Transit Responds To 9/11" (T:73200): A documentary detailing the role of New York City transit workers in the events and aftermath of September 11, 2001. (2002)

"Afghanistan: From Ground Zero To Ground Zero" (T:70517): This documentary film presents the video diary of Masuda Sultan, a twenty-three-year-old woman who traveled from the United States to her birthland of Afghanistan following the terrorist attacks of September 11, 2001, and the U.S. retaliation in Afghanistan. (2002)

"Avenging Terror: Dubya's Posse [Pt. 1 Of 2]" (T:79882) and "Avenging Terror: Dubya's Posse {Pt. 2 Of 2}" (T:79883): A documentary in two parts that tells the story of the United States government's response to the September 11 terrorist attacks through interviews with the Bush administration principals and world leaders who made the action against the Taliban and Al Qaeda in Afghanistan possible. (2002)

"Caught In The Crossfire: Arab Americans In Wartime" (T:78301): A documentary, filmed over several months, which focuses on the lives of three Arab New Yorkers in the wake of the September 11 terrorist attacks. (2002)

"Inshallah: Diary Of An Afghan Woman" (T:69983): This documentary film, shot in two installments before and after the terrorist attacks of September 11, 2001, chronicles the effort of activist Suraya Sadeed to bring food and shelter to displaced Afghan civilians. (2002)

"Telling Nicholas" (T:70465): This documentary deals with the reluctance of Robert Lanza to tell his seven-year-old son Nicholas that the boy's mother Michele has been killed in the September 11, 2001, terrorist attacks on the World Trade Center. (2002)

"The Heroes of Ground Zero" (T:74853): This documentary presents an account of the firefighters in two New York City firehouses as they struggle to cope in the aftermath of the September 11, 2001, terrorist attacks on the World Trade Center. (2002)

"Wounded Town, The: Three Months With The Families Of 9/11 Victims [Japanese With English Subtitles]" (T:72833): This Japanese news documentary covers three months in the lives of Middletown, New Jersey, families of September 11, 2001, victims—all of who were Cantor Fitzgerald employees. (2002)

"America At A Crossroads: The Anti-Americans (A Hate/Love Relationship)" (T:91400): One in a series of documentaries examining newfound challenges experienced around the world in the wake of 9/11. This episode focuses on Europeans' mixed feelings about Americans and their values. (2007)

"The Way We Get By" (103039): A documentary about the lives and personal struggles of three elderly people who volunteer as airport greeters for American troops departing for and returning from war zones in the Middle East. With seminar from the 2009 PaleyDocFest. (2009)
Additional Relevant Seminars

The 2002 Television Documentary Festival:
To Testify Or To Sanitize: Portraying 9/11 (B:70278)
Afghanistan: From Ground Zero To Ground Zero (T:70558)
Into The Forbidden Zone & Through These Eyes (T:70427)
America Undercover: Telling Nicholas (T:70426)
Inshallah Diary Of An Afghan Women (T:70275)
Television And The War On Terrorism: The Artistic Community Responds (T:69319)
Television And The War On Terrorism: Television's Creative Community Responds (T:69309)