A Paley Center Poll: Which Dream Sequence Episode Will Screen at Paley Center NY?
TV Dreamscapes
For the month of chills and thrills, the October #TVMixtape will open up your mind and implant some of our favorite clips of sweet dreams and harrowing nightmares from our collection (and beyond). This TV Mixtape starts screening on October 4.
And the winner is…Twin Peaks!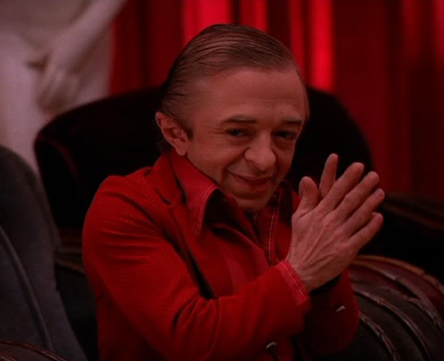 Thanks for voting, everyone! Now come to the Paley Center to see the full episode on the big screen in TV Dreamscapes.





I Love Lucy: "Lucy Goes to Scotland"
(1956)
Lucy and Ricky are in Europe for Ricky's European tour. In this Brigadoon inspired episode, Lucy and Ricky just got back from a Scottish opera somewhere in Europe and Lucy wants to take a detour and go to Scotland to find some long lost relatives of the McGillicuddy clan. That night Lucy dreams up her own Scottish opera revolving around her being the last remaining McGillicuddy.
Vote for this episode




The Twilight Zone: "The Perchance to Dream"
(1959)
Mr. Hall has gone to see a shrink because he has been awake for eighty-seven hours and is afraid that if he falls asleep he will die.
Vote for this episode




The Prisoner: "A. B. and C."
(1967)
Number Two is directed by Number One to extract more information from Number Six's mind. In order to do this, we enter his mind and see his dreams as well as see how they manipulate them.
Vote for this episode




Mary's Incredible Dream
(1976)
In this TV special, Mary Tyler Moore falls asleep and we enter a fun and entertaining variety special.
Vote for this episode




M*A*S*H: "Dreams"
(1980)
Everyone in the 4077 MASH unit has been getting little to no sleep these last few days. Each time someone gets a chance to sleep, they start to dream. These dreams soon enough become nightmares.
Vote for this episode




Moonlighting: "The Dream Sequence Always Rings Twice"
(1985)
Maddie and David learn about the old Flamingo Cove murder case where the lead singer falls for the trumpet singer resulting in the death of the woman's husband. Both claimed the other one did it. Maddie and David take different sides and each dream about what happened and in these black-and-white noir dreams they take on the role of the singer and trumpet player.
Vote for this episode




The Singing Detective: "No. 1: The Skin"
(1988)
This six-part British miniseries is about a detective novel author who is in a hospital with a serious skin disease and how he is working on his latest novel in his dreams. Here we see him dream up a musical rendition of the doctors' prognosis of him.
Vote for this episode




Twin Peaks: "Zen, or the Skill to Catch a Killer"
(1990)
Agent Cooper has a dream where he is older with grey hair and is in a red room with a Dancing Dwarf and Laura Palmer. She tells him who killed her but he can't hear who did it.
Vote for this episode




The Sopranos: "The Test Dream"
(2004)
Tony Soprano checks into a hotel and has a call girl come over. However, that's not who he wakes up to.
Vote for this episode




Community: "Remedial Chaos Theory"
(2011)
Troy and Abed are having a housewarming party and no one wants to get up and get the pizza delivery. Every time Jeff roles the dice, a new "timeline", as Abed says, or version of events change depending on the variables.
Vote for this episode