Nick '90s: All That, and More, for the Children of the Nineties
By Craig Solomon and Jeremy Einbinder
Guest Contributors
Tired of hearing how the nineties were so much better than any other time in the history of the world?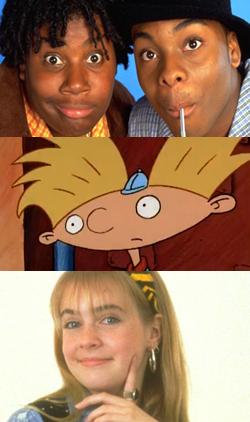 We're not, especially regarding the television shows we grew up watching on Nickelodeon—a cable channel created specifically for children of the nineties like us. Mathew Klickstein is most certainly not, either, as evidenced by his new book, Slimed!: An Oral History of Nickelodeon's Golden Age (due out September 24). Klickstein's tome will delight those who endured agonizing days at school so we could go home and have dinner with a football-headed fourth-grader without a last name (Hey Arnold!) or a tomboy who donned a backward cap and could turn to liquid at whim (The Secret World of Alex Mack). Nickelodeon was as much of a home for us as the Long Island and New Jersey colonials we grew up in.
Here then is our list of candidates for Nick's greatest show of the nineties (presented in random order).
Now it's your turn to vote. Tell of which of the shows identified below ranks as your favorite? Vote now, this poll will close on August 29, 2013.
We think you know where we stand.



1. Are You Afraid of the Dark? (1991–96)

Sitting by a campfire with a group of close friends … roasting marshmallows … exchanging gossip … busting chops … what could be more comforting, right? Wrong, at least in the company of the Midnight Society. When that mysterious white powder was flung onto the campfire, the resulting conflagration guided us into an unpredictable void for the next thirty minutes; nobody was safe. Each member of the group shared tales filled with peril and fright, before eventually being resolved in a style evocative of Aesop's fables. The title said it all: Are You Afraid of the Dark? stirred our primal fears: uncertainty, anxiety, trepidation … not unlike adolescence itself.
Choose Are You Afraid of the Dark? in the voting widget above

---




2. Clarissa Explains It All (1991–94)

In 1992, while Dear Abby was counseling adults across the country, we had someone spunkier to turn to on Nickelodeon: Melissa Joan Hart's Clarissa Darling, who represented the conscience of 1990s preteens. Clarissa Explains It All gave us a window into our own lives, and encouraged us to find the humor. Clarissa (and her pretentious young Republican brother) was the child of baby boomer parents whose unceasing encouragement reflected the idealism we all longed for; her unhinged creative inclinations connected with those of us who preferred listening to Pearl Jam to tackling algebra. Clarissa was the perfect friend: she made us laugh, and helped us learn from our mistakes.
Choose Clarissa Explains It All in the voting widget above

---




3. Doug (1991–94)

Who couldn't relate to 11-year-old Doug Funnie, newly moved to the town of Bluffington, harboring a wicked secret crush on Patti Mayonnaise, comforted by the presence of his eccentric best friend Skeeter Valentine and his loyal dog Porkchop? Doug's social awkwardness was especially endearing, but he took refuge in his hyperactive imagination, creating superheroic alter-egos like Quailman and Smash Adams. Didn't we all?
Choose Doug in the voting widget above

---




4. The Ren & Stimpy Show (1991–96)

Hunter S. Thompson's Gonzo culture had its grip on nearly everything in the early 1990s, including family-friendly programming on Nick. In 1991 Canadian animator John Kricfalusi recycled a demented Chihuahua and loveable fat cat he had created during his spare time at Sheraton College. The Ren & Stimpy Show took the spontaneous antics in Bob Clampett's Looney Tunes to an entirely new level, stimulating our instinctual thoughts. Both of the leading roles were representations of the most primal sections of our psyche. Who among us can forget Cadet Stimpy helping Commander Hoek (Ren) through bouts of cabin fever brought on by "space madness?"
Choose The Ren & Stimpy Show in the voting widget above

---




5. Rugrats (1991–2004)

One of Nick's most popular shows ever, Rugrats relayed the wonders of childhood from the toddler point of view. Much of the humor was derived from the youngsters' naiveté, leading to misunderstandings of how the world actually works and misinterpretations of what "the grownups" were actually saying. The series gave us a look inside the imagination of these young kids in a way that tweens—not so far removed from toddlerhood themselves—could easily relate to and laugh at. Even today the characters endure: fearless leader Tommy Pickles, the ever-anxious Chuckie Finster, the bickering twins Phil and Lil DeVille (later, the series added Tommy's little brother Dil and Chuckie's stepsister Kimi)—all of them relentlessly bullied by the pigtailed blonde diva Angelica.
Choose Rugrats in the voting widget above

---




6. Rocko's Modern Life (1993–96)

Who would have thought anyone would tune in weekly to watch a talking wallaby in a Hawaiian shirt? Joe Murray's Rocko's Modern Life established the perfect satirical dreamscape for the irony gripping the lives of bored young adults in the pre-millennial age. Rocko had more in common with Woody Allen than with any woodland creature. His best pal number one, Heffer, was a steer adopted by a family of wolves who decided not to eat him; his other best friend, Filburt, was a neurotic turtle and failed dentist. With the B-52's providing the theme song, Rocko's Modern Life catapulted those dusty old Hanna-Barbera cartoons into the past, where they belonged, and introduced us to something slightly more twisted and a lot more zany.
Choose Rocko's Modern Life in the voting widget above

---




7. All That (1994–2005)

Our version of Saturday Night Live, All That ran for ten seasons as a staple of Nick's Saturday-night lineup, complete with recurring sketches, celebrity appearances, and musical guests. All That belonged to us, with frequent references to all aspects of pop culture that resonated with tween viewers. With sketches like "Vital Information," "Superdude," and "Good Burger," All That created catchphrases that permeated the lexicon, like "That's Me!" and "Welcome to Good Burger, home of the Good Burger, can I take your order?," as well as many enduring characters. Week after week we looked forward to a new installment of All That inspiring us with countless laughs and fodder for conversation with our friends at school; we never tired of hearing Kevin Koppelo tell the cast "The show starts in five minutes, five minutes."
Choose All That in the voting widget above

---




8. The Secret World of Alex Mack (1994–98)

Attending junior high can be a frightening experience for tweens. The Secret World of Alex Mack dealt with the universal struggles of existing in a world constantly trying to swallow you up. Despite being able to turn herself into liquid at will—the result of being accidentally drenched in a top-secret chemical after nearly being hit by a truck—Alex Mack still melted in front her high school crush (Scott Green). Alex fought corporate thugs and thwarted the mass distribution of dangerous chemicals, yet still dealt with the same mundane challenges of suburban life we all did, like getting grounded for staying out past curfew. Sometimes a preteen tomboy with a backward baseball cap can be more powerful than a man in a cape and tights.
Choose The Secret World of Alex Mack in the voting widget above

---




9. Kenan & Kel (1996–2000)

"Ahh, here it goes": Banking on their crackling chemistry on All That, Kenan Thompson and Kel Mitchell followed their repertory roles on that series with Kenan and Kel, appearing as a typical "odd couple" comedy duo modernized for our generation, Thompson playing the straight man to Mitchell's comedic foil. The theme song compared the duo to "Siegfried and Roy, Abbott and Costello, Magic and Kareem, or Penn & Teller," which might sound grandiose if not for the fact that this pair left an indelible mark on nineties popular culture, showing us that two kids who were polar opposites could still somehow become best friends.
Choose Kenan & Kel in the voting widget above

---




10. Hey Arnold! (1996–2004)

Hey Arnold! may have been a cartoon for children, but it was hardly childish. On the surface it was simply the day-to-day adventures of a nine-year-old year old boy living in a city much like New York, but dig deeper and you saw that Hey Arnold! was about perseverance and hope and grace even in the grip of adversity. The title character was a relentlessly kind and optimistic boy living with his grandparents in their boardinghouse, with no knowledge of the whereabouts of his long-lost parents. Another character, Helga—who harbored a powerful secret love for Arnold—came off as a bully, but was desperate for attention and compassion: her father neglected her, her mother was an apparent alcoholic; and both parents clearly favored her older sister, Olga. Hey Arnold! mined laughs from sadness, and taught us to stay strong.
Choose Hey Arnold! in the voting widget above
---
About the Authors
Paley 2013 curatorial intern, Craig Solomon is a freshly graduated alum of Eugene Lang College, the New School for Liberal Arts, where he majored in screen and media studies. He enjoys nostalgia and Breaking Bad and has an eclectic musical palate.

Paley 2013 curatorial intern, Jeremy Einbinder is an incoming junior majoring in radio-television-film at Rowan University in New Jersey. His favorite Nick '90s show is Hey Arnold! These days you can find him in front of the TV watching Jeff Winger and the gang at Greendale Community College.