Spy vs. Spy (vs. Spy vs. Spy … )
By David Bushman
POLL RESULTS
The Empire strikes back!
After weeks of trailing plucky Yank upstart Chuck in our poll of best TV spy show of all time, British superspies John Steed and Emma Peel—aka The Avengers—staged a miraculous comeback and wound up winning commandingly, with 55% of the vote, versus just 23% for Chuck.
Fabulous, Mrs. Peel.
The only other series to figure prominently in the voting was Patrick McGoohan's late-sixties Kafka homage The Prisoner, so all in all a dandy showing for the Brits.
I am truly disheartened by the dismal showing of some of my favorite spy series—The Man from U.N.C.L.E., Alias, and 24 each received but 1% of the vote, while Archer, Homeland, and the Rocky and Bullwinkle shows registered big fat zeroes—but the people have spoken! Long live Steed and Mrs. Peel, the king and queen of spy television.
---
Here at the Paley Center we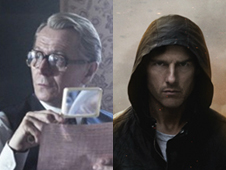 applaud the recent releases of two espionage films with TV antecedents: Tinker Tailor Soldier Spy (starring Gary Oldman), based on the novel by John le Carré, already adapted into a television miniseries in 1979, and Mission: Impossible – Ghost Protocol (opening December 21), the fourth in a series of films starring Tom Cruise and based on the iconic midsixties television show.
Meanwhile, on television itself, the espionage genre continues to thrive in the post–9/11 age, with shows like Burn Notice, Chuck, Homeland, and the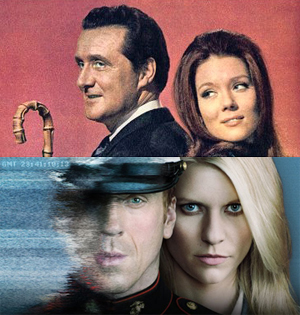 animated spy spoof Archer. The Hour, a British retro miniseries that drew comparisons to Mad Men, recently concluded its six-episode run on BBC America; the cold war theme evoked television's earliest spy shows, which reflected first the communist hysteria sweeping the West and then pop culture's obsession with a certain super-suave British intelligence officer, named after an American ornithologist and bearing a strong physical resemblance to Hoagy Carmichael, though in a "cold and ruthless" way (we speak of course of Bond … James Bond).
What better time, we thought, to present this Paley Center poll asking you our faithful followers to vote on THE BEST TELEVISION SPY SHOW OF ALL TIME.
Below we identify fifteen shows as worthy of inclusion in this poll, ranging chronologically from 1959 (The Rocky and Bullwinkle shows) to today. Feel free to yell and scream all you want about any or all of the shows we've omitted. Tinker Tailor Soldier Spy, for instance, is a superb miniseries, but it's just that, a miniseries, and including it would have opened up a whole new universe of possibilities, which is exactly what we don't need. What about American Dad, Secret Agent Man, The Equalizer, Burn Notice, I Led Three Lives, It Takes a Thief, The Middleman, La Femme Nikita, Now and Again, The Saint, Covert Affairs, Rubicon, and Spooks? All worthy, we admit. All we can say in our defense is, the list had to stop somewhere.
And so, the list begins and ends here. If your own favorite spy show isn't on it, by all means write it in, and tell us all about it in the comments field below.
Voting closed on Friday, January 13, 2012.



Rocky and His Friends (1959-1961, ABC) and The Bullwinkle Show (1961-1964, NBC)
These pioneering animated shows were all over the place, but memorable storylines pitted the titular characters—a flying squirrel and a lovable if little-slow-on-the-uptake moose—against the nefarious forces of Pottsylvania, including Boris Badenov, Natasha Fatale, Mr. Big, and Fearless Leader, in arcs like "Topsy Turvy World," in which Boris plots to subvert Christmas by usurping the North Pole, supplanting Santa, and carrying presents up the chimney rather than down. Never before or since has the cold war been so much fun: "Do you know what A-bomb means?" asks Rocky. "Certainly," replies Bullwinkle. "A bomb is what some people call our program."
Click on Rocky & Bullwinkle in the voting widget above




The Avengers (1961-1969, ITV/ABC/Thames; 1966-1969, ABC)
There were numerous iterations of this cheeky Brit spy-fi show, but the only one we care about is the one that costarred Diana Rigg as feline proto-feminist Emma Peel, (OK, we care a little about the leather-infatuated Cathy Gale, portrayed by Honor Blackman, who bolted the show to become Bond girl Pussy Galore in Goldfinger, leading to Peel's arrival). Peel, with her tantalizing minidresses and "Emmapeeler" catsuits, and partner John Steed (Patrick Macnee), with his deadly bowler and Savile Rowe suits, were new and old England personified, "agents extraordinary," as the early narration went, keeping Mother England safe from an assortment of truly loony villains, from killer robots to mad industrialists to treasonous nannies. Mrs. Peel, you're still needed.
Click on The Avengers in the voting widget above




The Man from U.N.C.L.E. (1964-1968, NBC)
Rock-star superspies! Napoleon Solo (Robert Vaughn)— one of the coolest names in television history (invented by James Bond creator Ian Fleming, who was involved in the development of the show)— was the debonair Lothario, and Illya Kuryakin (David McCallum) his enigmatic Russian sidekick, a pacifistic touch analogous to Chekov's presence on the Starship Enterprise. (Mad Men fans may remember that it was Illya who, indirectly, was responsible for Sally Draper getting in trouble in the fourth-season episode "The Chrysanthemum and the Sword," for reasons we need not explicate here.) Fortunately for the free world, Solo and Kuryakin not only looked great but also did one heck of a job subduing the diabolical forces of THRUSH, even though they included, in one episode, the notorious commandant Colonel Wilhelm Klink (or, more truthfully, Werner Klemperer, the actor who played him).
Click on The Man from U.N.C.L.E. in the voting widget above




Get Smart (1965-1970, NBC/CBS)
Mel Brooks and Buck Henry took a little of this and a little of that ("this" being the twin rages of the time, James Bond and The Man from U.N.C.L.E., and "that" being the Peter Sellers/Blake Edwards Pink Panther films) and concocted this spy spoof centering on one of the most inept secret agents of all time, CONTROL's Maxwell Smart (Don Adams), aka Agent 86, who against all reason charmed the beautiful and talented Agent 99 (Barbara Feldon) while endlessly agitating his hapless boss (know only as Chief), all the while inexplicably thwarting the evil "geniuses" at KAOS week after week. We're "secretly" hoping Get Smart comes in second, just so we can say "Missed it by that much."
Click on Get Smart in the voting widget above




I Spy (1965-1968, NBC)
Buddy spies Alexander "Scotty" Scott (Bill Cosby) and Kelly Robinson (Robert Culp) crackled with chemistry, bantering their way across the globe while masquerading as a pair of tennis bums to disguise their true identities as government agents. I Spy was yet another midsixties manifestation of the Bond craze, though this series was remarkably darker and grittier than many of its contemporaries, generally eschewing the three "G"s (glitz, glamour, gadgetry) that had come to define the genre. Amen.
Click on I Spy in the voting widget above




The Wild Wild West (1965-1969, CBS)
With the western being overrun by the spy show, a man named Michael Garrison came up with the idea for this hybrid, described as "James Bond on horseback": in post–Civil War America, crackerjack Secret Service agents James T. West (Robert Conrad) and Artemus Gordon (Ross Martin) crisscross the country by train, protecting America from megalomaniacal villains like Dr. Miguelito Quixote Loveless and, even more impressively, taking their orders directly from President Ulysses S. Grant, who couldn't have been that easy to understand. Bonus points for the theme song and incredibly cool graphics that opened the show and ended each of the acts.
Click on The Wild Wild West in the voting widget above




Mission: Impossible (1966-1973, CBS)
What were we thinking? A height-of-the-cold-war drama about a black-ops unit whose primary responsibility seemed to be orchestrating the assassinations of foreign leaders—particularly, for some reason, from Slavic countries? No wonder the "secretary" was disavowing any knowledge of their actions. The pulsating theme song, the tape-recorded message launching each episode ("Your mission, Dan/Jim, should you decide to accept it"), the "dossier scene" in which Briggs (Steven Hill) or Phelps (Peter Graves) selects the agents of the week, the elaborate plots invariably involving latex masks and cool gadgetry—no wonder we can't seem to let this show go; hence the 1988-1990 TV remake and the four Cruise-control films.
Click on Mission: Impossible in the voting widget above




The Prisoner (1967-1968, ITV; 1968-1969, CBS)
Seventeen glorious episodes, and though we are barely certain of anything, we do know this much: The Prisoner was unlike anything that had come before. Patrick McGoohan's Number 6 abruptly resigns as a government agent (was he or wasn't he Secret Agent's John Drake?) and is promptly abducted and whisked away to a sinister seaside village imbued with Kafka-esque ambience. The surreal storylines, involving, among other things, hallucinogenics and a deadly giant white balloon, were signposts of the time, and Number 6 himself was a poster child for the "Question Authority" generation: "I will not be pushed, filed, stamped, indexed, briefed, debriefed, or numbered! My life is my own." Power to the people, right on!
Click on Tootsie in the voting widget above




MacGyver (1985-1992, ABC)
Seven seasons and 139 episodes, and we couldn't make it through a single one. And yet … hell hath no fury like a Richard Dean Anderson fan scorned.
Click on MacGyver in the voting widget above




Alias (2001-2006, ABC)
SD-6? The Covenant? Milo Rambaldi? Does anybody really know what time it was? Does anybody really care? Jennifer Garner was so beguiling as superspy Sydney Bristow that what difference did it make whether the plots made any sense? Created by J.J. Abrams, Alias was about family as much as espionage: Syd's relationship with dad Jack (Victor Garber), himself a spy, was strained, and that mom! Irina Derevko (Lena Olin) was a KGB agent who seduced Jack only to infiltrate a black-ops project code-named Project Christmas, and once even hired a hit man to execute Sydney. Not nice, Irina.
Click on Alias in the voting widget above




24 (2001-2010, Fox)
Split screens, real-time narrative, ticking clock, relentless heart-pounding action— all very cool, but whom are we kidding? The one overriding innovation of 24 was Jack Bauer (Kiefer Sutherland), its staggeringly dark, crypto-fascist hero, willing to go to any extreme in his never-ending crusade against Manichean forces of evil—whether they be mercenaries, religious zealots, vengeance-seeking psychopaths, or power-hungry politicians, including the president of the United States— making him a perfect symbol of a revenge-obsessed post–9/11 America. Still, how could you not love Jack, suffering so mightily for our sins? What 24 fan will ever forget the first-season episode in which he discovers that CTU mole Nina Myers (Sarah Clarke), one of the great TV villainesses of all time, had executed his wife Teri?
Click on 24 in the voting widget above




Chuck (2007-present, NBC)
Chuck Bartowski (Zachary Levi) has spying on the brain—literally—after an old college buddy sends him an email subliminally encoded with the sole surviving copies of the CIA and NSA databases—known as The Intersect—upending his perfectly uneventful, $11-an-hour life as a member of the Buy More Nerd Herd (read Best Buy Geek Squad) and turning him into a reluctant hero. Much intrigue ensues, along with hilarity, and family drama and romance, since, after all, one of the creators is Josh Schwartz of The O.C. and Gossip Girl. How can you not love a show that casts James Bond himself (Timothy Dalton) as villainous Russian arms dealer Alexei Volkoff, alias "Agent X"?
Click on Chuck in the voting widget above




Archer (2009-present, FX)
Created by the brilliantly twisted Adam Reed (Sealab 2021, Frisky Dingo), Archer upends every conceivable espionage-genre convention, starting with the Bondian archetype, reinterpreted here in the person of Sterling Malory Archer (H. Jon Benjamin), an exceptionally skilled yet staggeringly self-absorbed secret agent with serious mother issues (his mom, Malory, a promiscuous boozer voiced by Jessica Walter, is also his boss). Reed has described the series as "James Bond meets Arrested Development," which sounds exactly right to us. The second season "cancer arc" was brilliant.
Click on Archer in the voting widget above




Nikita (2010-present, CW)
Never mind that this is about the 100th iteration of the story initially told by Luc Besson in his 1990 French film of the same name: nobody does hip, young, and sexy like the CW, whether the subject matter is vampires, witches, demon-fighting brothers, snotty Upper East Side prep-school kids, or, in this case, international espionage. The cool thing here is the casting of awesome one-time Hong Kong action star and Jackie Chan protégé Maggie Q in the title role, as an erstwhile spy/assassin now working to bring down the rogue black-ops organization that trained her, with assistance from a perpetually scowling Shane West (a long way from Once and Again), computer geek Aaron Stanford (X-Men nemesis Pyro, in a couple of the theatrical films), and, occasionally, Lyndsy Fonseca.
Click on Nikita in the voting widget above




Homeland (2011-present, Showtime)
Carrie Mathison's (Claire Danes) so-called life is a so-called mess: after an unauthorized Middle East operation goes awry, the CIA agent is placed on probation and reassigned stateside, where she becomes convinced that Marine Sgt. Nicholas Brody (Damian Lewis)—a national hero just rescued after eight years as a prisoner of war in Iraq—is secretly working for Al-Qaeda. Carrie not only surreptitiously bugs Brody's house, but winds up falling for—and into bed with—the guy. Lots of personal angst going on: Brody and his wife are struggling (apparently unrelated to the fact that she is portrayed by Morena Baccarin, whose last starring role, in V, was as a villainous alien reptile, though we personally can't seem to shake the image), and Carrie herself believes she is destined to live out her life alone, now that Brian Krakow and Jordan Catalano are both apparently out of the picture.
Click on Homeland in the voting widget above
Intern Alixandra Glatt contributed.