Documentary Pitch Competition
Saturday, October 20, 2012
2:00 pm ET
New York
In Person
Diana Holtzberg, Acquisitions & Project Development Director, USA, Films Transit International
Lauren Lazin, Filmmaker and Executive Producer, MTV
Molly Thompson, Vice President, A&E IndieFilms
Susan Werbe, Executive Producer, Programming, History
Simon Kilmurry, Executive Director, POV
How do you sell a documentary? Watch and learn as five preselected up-and-coming nonfiction filmmakers pitch their ideas before a live audience and a group of eminent documentarians. The panel of experts will evaluate the proposals for uniqueness and viability and will offer the emerging filmmaker helpful feedback. The winner will be awarded a $5,000 grant to be used toward the completion of the pitched film. Past winners of this contest, now in its ninth year, include the acclaimed films Circo, Charge, and Whatever It Takes.
Sponsored by A&E IndieFilms
This event is part of


---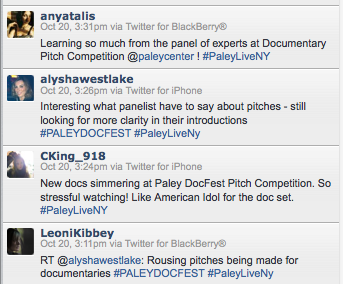 Congratulations 2012 PaleyDocFest Pitch Competition Winner!
Eleven
Directed by Laura Paglin & Kahlil Pedizisai
Eleven looks into the lives of women who became victims of a serial rapist and killer, seeking to answer the question, "How could so many die unnoticed?"

2012 FINALISTS

Top Spin
Directed by Mina T. Son & Sara Newens
Top Spin presents a look into the triumphs, sacrifices, and pressures of young table tennis champions and their families.

The Expedition
Directed by Kenny Brown
The Expedition follows Jason Lewis as he spends thirteen years circumnavigating the world utilizing only human power.

Telling My Story
Directed by Signe Taylor
In Telling My Story, worlds collide when a group of Dartmouth students and inmates from a women's prison work together to put on a play and, in the process, open up to one another.

Some Kind of Spark
Directed by Ben Niles
Some Kind of Spark follows inner-city kids through the Music Advancement Program at The Juilliard School and shows the impact music education has on their lives.
---
PREVIOUS WINNERS
2011: The View From Bellas Luces directed by Christa Boarini
2010: Charge directed by Mike Plunkett
2009: The Iran Job directed by Till Schauder
2008: Circo directed by Aaron Schock
2007: The House that Herman Built directed by Angad Bhalla
2006: Whatever it Takes directed by Christopher Wong
2005: Asparagus! (A Stalk-umentary) directed by Anne de Mare and Kirsten Kelly