American Masters: LENNONYC
Thursday, October 7, 2010
7:00 pm ET
New York
In Person
Michael Epstein, Director/Writer/Producer, LENNONYC
Susan Lacy, Series Creator/Executive Producer, American Masters; Producer, LENNONYC
Dick Cavett, Legendary Talk Show Host
Dennis Elsas, Radio Host, WFUV and Sirius XM
Moderator: The Fab Fourum
During the seventies John Lennon's life and artistry became intertwined with the rhythm and diversity of New York City. This preview of a new documentary by Michael Epstein gives rare and emotional insight into the last decade of Lennon's life as he found personal and creative freedom in a city struggling with crime and a declining economy. The film traces Lennon and Yoko Ono's fight to stay in this country as the Nixon administration attempted to deport them, to their court victory in response to their anti-war activities. We see the pair bonding with New Yorkers as they became fixtures at local restaurants, political demonstrations, and sporting events. Yoko has poignantly stated: "New York became a part of who John and I were. We couldn't have existed the same way anywhere else."

With unprecedented and exclusive cooperation from Yoko, LENNONYC spotlights never-before-heard studio recordings from the Double Fantasy sessions, as well as never-before-seen outtakes from Lennon in concert and home movies that have only recently been transferred to video. The film also features interviews with Yoko and artists who worked closely with Lennon during this inspired period, including Elton John and photographer Bob Gruen (who took the iconic portrait of Lennon in front of the skyline wearing a "New York City" t-shirt).
Funding for the Paley Center's John Lennon tribute is provided by The Blanche and Irving Laurie Foundation, Advertising Week, and Richard Kandel through the Theodore & Renee Weiler Foundation.
Tickets on sale now.
Join us for a complimentary reception before the event at 6:30 pm.
Photo: © Bob Gruen
Paley Overview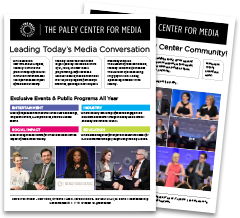 Become a Member