We're Gonna Pay a Call on…The Addams Family
The Birth of the Addamses
Charles Addams had no intention of creating a series of cartoons connected by returning characters when he handed in an illustration he referred to simply as "Vacuum Cleaner." In it a vacuum cleaner salesman is shilling his wares to a sultry, pale-skinned lady in a black dress. Next to her stands a bearded, hulking servant resembling the creepy mute Boris Karloff had played in the thriller The Old Dark House.
We're Gonna Pay a Call on…The Addams Family CONTINUES...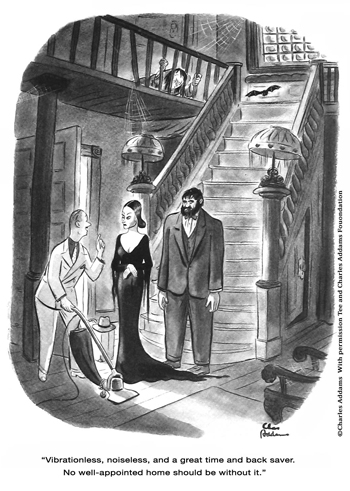 Above, from behind some broken railings, is an indecipherable creature overseeing the action. The joke came from the fact that the clueless pitchman is standing in what appears to be a haunted house, its gloominess punctuated by cobwebs and a bat. Addams would later describe the lady in the illustration, whom he dubbed the "witch-woman," as "my idea of a pretty girl" and leave it at that. Indeed, his first wife, Barbara, possessed such a look. The cartoon ran on page 9 of the August 6, 1938, issue, bringing $85 to Addams who had no idea whatsoever that he had just launched a franchise.
It was New Yorker founder and editor Harold Ross who suggested Addams bring the characters back for further cartoons. The nameless "witch-woman" and her servant (now clean-shaven) therefore returned the following year, but what really made Addams's name was his January 12, 1940, cartoon, unrelated to these characters, which showed a skiing woman having just passed a tree, the tracks of her skis mysteriously appearing on each side of the trunk. So good was the response to this drawing that an even wider number of readers began associating the artist's name with the black humor that was his specialty. In the meantime, the un-named family of ghouls was expanding.
On November 14, 1942, the "witch-woman" was given a mate, a pudgy, smarmy fellow with a pencil moustache, hair parted in the middle, and a piggy nose, giving him a look not unlike Peter Lorre. Two children eventually appeared as well: a mischievous boy in a striped shirt and a dour little girl in pigtails, as well as a hag with straw-like hair who was presumably the grandmother of the house. A fellow with a bald head, bulging eyes and a huge coat with a fur collar was seen smiling in a movie audience while everyone else around him expressed shock or tears at what they were seeing. He too became a frequently reprised character, although his relationship to the others was left vague. Addams' second published collection of his work, Addams and Evil (1947), featured no less than seventeen original drawings of this clan of eccentrics. During the 1940s and 50's, a total of fifty-eight of these "family" cartoons appeared in the pages of the New Yorker.
In the late 1940s, fellow New Yorker writer Wolcott Gibbs approached Addams with the idea of the two of them collaborating on a play based on these characters, but that idea fell by the wayside. Still, the "family" grew in popularity, as did Addams's fame. By the early1950s, his name had become shorthand for any playful depiction of all things bizarre and darkly sinister. (The popular Broadway revue New Faces of 1952 included a song, "Love is a Simple Thing," with additional lyrics "as seen through the eyes of a Charles Addams character"). The cartoonist even worked beyond the New Yorker, creating ads for Angelique perfume and Remington typewriters among others, as well as doing the artwork for Columbia Pictures' 1957 black comedy How to Murder a Rich Uncle.
Neat… Sweet… Petite
It was the cover of Charles Addams's 1954 collection, Homebodies, featuring the Addams brood posed before their "haunted" mansion that caught the eye of David Levy, the former vice president of television programming at NBC, who had turned to independent producing. Figuring there was a series to be spun from Addams's work, he met with the skeptical artist, hoping to convince him that he could bring the family to life and yet remain faithful to the cartoonist's very distinctive sense of humor.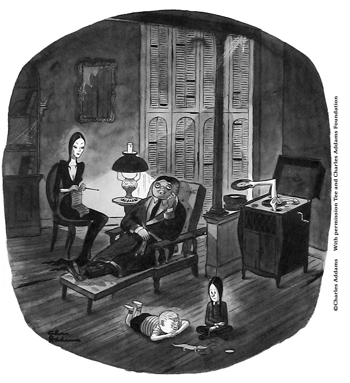 Although Addams eventually agreed to let his creations be adapted for the small screen, he had very little say in the direction the series would go. He was, however, asked to come up with names for each of his characters. The witch woman became "Morticia," an obvious nod to the mortuary business; the first choice for the husband's name, "Repelli," was rejected in favor of "Gomez" (from someone Addams had once known); the hag was simply Grandmama; "Uncle Fester" sounded properly icky for the bald-headed relative; "Pugsley" was the second choice for the chubby son, after "Pubert" was deemed too suggestive or "dirty;" and the hulking butler became "Lurch." It was up to a novelty company, Aboriginals, Ltd., who were manufacturing tie-in Addams dolls to coincide with the launch of the show, to come up with "Wednesday" for the forlorn little girl, based on the famous poem, Monday's Child, those born on that particular day being "full of woe."
Two more characters were added at Levy's suggestion: a disembodied hand, based on an independent appendage which had made an appearance in a 1954 cartoon in which it was seen changing a phonograph record, and a hair-covered relative who spoke total gibberish. The first became Thing, a reference to a previous New Yorker cartoon that had warned a worried mailman to "Beware of the Thing." (This sign, in fact, appeared in the pilot episode). Thing, who had no voice (obviously, having no mouth) but plenty of personality, would pop up from various small boxes kept around the Addams manse, offering assistance in whatever way possible a disembodied hand can. The latter creature was dubbed "Cousin Itt" and would not be a weekly regular but show up on an erratic basis. His sporadic appearances, however, quickly made him a favorite. Approximately three feet in height, his hair ran to floor length covering him entirely. He sometimes sported a hat and a pair of sunglasses just to offset the shag look. In anticipation of his appearance on the show, Addams drew a cartoon starring the hirsute creature answering the telephone with "This is It speaking" for the October 12, 1963, New Yorker issue. (For the series the furry cousin added an extra "T" to his name).
The other area in which Addams was invited for some input was in the casting, and the chosen principals ended up with signature roles that would stay with them for the rest of their lives.