The Black List Project
Gallery Exhibit
On display in New York February 3 to May 30, 2010
On display in Los Angeles January 29 to June 6, 2010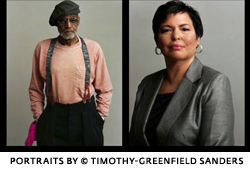 In honor of Black History Month, the Paley Center presents The Black List Project, an ambitious and illuminating multimedia adventure of the 21st century. Conceived by photographer Timothy Greenfield-Sanders and critic Elvis Mitchell, the project encompasses a wide range of new and old media, including a series of revealing documentaries for HBO; provocative museum exhibitions; an interactive website; and a handsome book of record along with DVDs for education. Throughout all of these incarnations, one is offered piercing insights into what it means to be African-American in contemporary society.
The defining premise of Greenfield-Sanders and Mitchell is deceptively simple. The duo recorded prominent African-Americans in front of a neutral background, seeking out unique stories of struggle and triumph. Their participants span a broad array of fields—culture, politics, business, and sports—revealing the richness and diversity of black life in America. The revealing interviews taken as a whole provide a challenging framework to help think about the meaning of race today.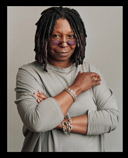 The revelation of the individual character in these portraits is as inspiring as the collective narrative of the black experience. Whether Laurence Fishburne or Lee Daniels, RZA or Bishop Barbara Harris (on display in New York) or Chris Rock or Slash, Angela Davis or Suzanne dePasse (on display in Los Angeles), we encounter a celebrated person we thought we knew. But as we view the portraits or listen to the voices, a new dimension emerges. Greenfield-Sanders and Mitchell are able to capture the inner core of their subjects and we come face-to-face with a real person, not a media construction.

The portraits from The Black List: Volume Three are being seen for the first time in New York, along with all fifteen images from Volume Two. In Los Angeles, fourteen portraits will be on display, representing the California-based participants of The Black List: Volumes One, Two, and Three.
Ron Simon
Curator
The Paley Center for Media
---
Premiere Screening in Los Angeles
The Black List: Volume Three
Monday, February 1, 2010
7:00 pm
Read More
Premiere Screening in New York
The Black List: Volume Three
Wednesday, February 3, 2010
6:30 pm
Read More
The Black List Project Continues...