We're Gonna Pay a Call on…The Addams Family
The Family in the 1990s
Wedged between the release dates of the two Paramount features, was yet another attempt by Hanna-Barbera to resurrect the franchise. Once again using the Charles Addams's drawings as the starting point, the 1992 version of The Addams Family had less cheesy-looking animation than the earlier Saturday morning incarnation but likewise suffered from aiming the whole thing on a broad level towards the very young. The producers did manage to snag John Astin to do the Gomez voice, and his bright and clever line readings were a tremendous asset.
We're Gonna Pay a Call on…The Addams Family CONTINUES...
Nancy Linari was Morticia, voice wizard Jim Cummings was Lurch, a lady with the colorful name of Debbi Derryberry provided Wednesday's voice, and Pugsley was played yet again by a girl, in this case Jeannie Elias. Of more interest was the casting of confetti tossing comedian Rip Taylor as Fester and the unmistakable sounds of Carol Channing coming forth from Granny. Happily, Vic Mizzy's finger-snapping theme was utilized and the show ran for three seasons on ABC.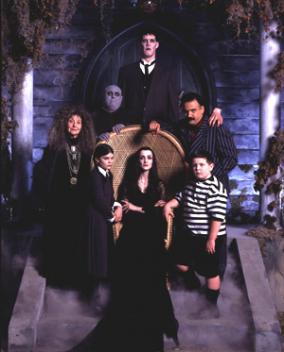 Just as Addams Family Reunion was hitting the video shelves, the Canadian-based Saban Entertainment unleashed the syndicated The New Addams Family on the Fox Family Channel, in the fall of 1998. This live action series featured the very same Wednesday from Reunion, Nicole Fugere, which meant that the character was once again refashioned as a teenager. The very un-starry cast include Glen Taranto (doing a pretty blatant imitation of John Astin, as Gomez), Ellie Harvie (Morticia), Michael Roberds (Fester), John DeSantis (Lurch), Betty Phillips (Grandmama), and Brody Smith (Pugsley). The spirit was hyper and campy, but there was still a second-rate feeling of desperation behind the whole enterprise. In an effort to instill some legitimacy upon this pretty cheapjack endeavor, Astin himself was invited to appear from time to time, as Gomez's father. Certainly it was nice to get the paycheck, and if Astin had wondered if indeed this was the role that he was first and foremost identified with, getting this job proved it was so.