We're Gonna Pay a Call on…The Addams Family
The Movie
Figuring entire generations had now grown up on either the reruns of the live action series or perhaps caught episodes of the animated show and even gotten some pleasure out of that, Orion Pictures saw a potential gold mine. The studio announced, within two years of Addams' death, that it would be producing a $30 million motion picture version of his cartoons.

Although much was made of the fact that the screenplay by Caroline Thompson and Larry Wilson (both, no doubt, chosen because of their collaborations with Tim Burton; she having penned Edward Scissorhands, he helping to provide the story for Beetle Juice) would be based on the New Yorker cartoons and not the series, there was no getting around the fact that a great deal of what ended up on film was indeed derived from the show. The same names were retained from the series; both Thing and Itt were part of the storyline; Gomez kissing Morticia's arm and getting turned on by French phrases were lifted right from the shtick developed on the small screen; and so forth.
We're Gonna Pay a Call on…The Addams Family CONTINUES...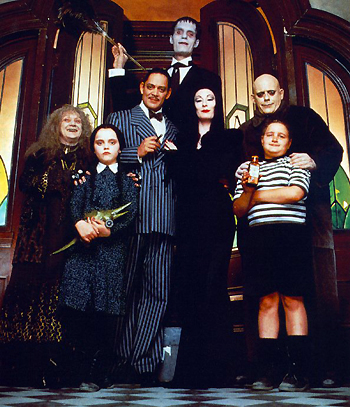 The inspired casting found Raul Julia as Gomez; Anjelica Huston as Morticia; Christopher Lloyd as Uncle Fester; Carel Struycken as Lurch; Judith Malina as Granny; Christina Ricci as Wednesday; Jimmy Workman as Pugsley; and John Franklin as Cousin Itt. With the help of advanced special effects, the disembodied Thing (performed by magician Christopher Hart) could now leave the confines of its boxes and skitter around the house (which was back to looking creepy and haunted, like Addams intended) by itself. Former cinematographer Barry Sonnenfeld turned to directing with the film, launching a career that would later include Get Shorty and Men in Black. While snatches were heard from Vic Mizzy's unforgettable theme, the producers chose to go with a new background score by Marc Shamain, and made a somewhat limp attempt to keep up with the times by having then-hot rapper M.C. Hammer sing "Addams Groove" during the end credits. Alas, a song and dance number, "Mamushka," was trimmed down heavily for the release print, sacrificing most of the lyrics, which had been written by veterans Betty Comden and Adolph Green.
Prior to its release, the money-strapped Orion ended up selling the property to Paramount Pictures who opened The Addams Family with great fanfare in November of 1991. Audiences responded well to the dark humor, even if the plotline was secondary to the sight gags, gothic settings, droll performances, and deadpan quips. The film turned into a major hit and was instrumental in launching the career of Ricci, whose wickedly morose portrayal of the family's youngest member was singled out for praise.
The film warranted a sequel two years later, this time penned by Paul Rudnick. Addams Family Values (with Malina replaced by Carol Kane) had its share of laughs too, but there was somewhat less excitement this time at the box office. There was, however, enough home video interest, so a third installment, Addams Family Reunion (1998), was created for that market. Unlike the theatrical features, which had Paramount behind them, this one was a product of Fox Family Films. Only Struycken and Hart stuck around this time; the new cast consisted of Tim Curry (Gomez), Daryl Hannah (Morticia), Alice Ghostley (Granny), Jerry Messing (Pugsley), and Nicole Fugere (Wednesday).
The Addamses, however, were not just finding a new life in features. Television wanted them back as well.