We're Gonna Pay a Call on…The Addams Family
The Musical!
Over the years fans could get their share of "hands on" experiences with Thing and his family, via video games (starting with one called Fester's Quest, released by Nintendo in 1989) and a slot machine from IGT, featuring, once again, the participation of John Astin as well as Vic Mizzy's theme. But the first chance to see a legit, on-stage presentation of Charles Addams' creations finally became a reality in late 2009. With songs by Andrew Lippa (responsible for the 2000 Off-Broadway version of The Wild Party) and a book by Marshall Brickman (Tony nominee for Jersey Boys and Oscar winner for Annie Hall) and Rick Elice, The Addams Family opened its out-of-town engagement in Chicago in November, with Nathan Lane as Gomez and Bebe Neuwirth as Morticia. It opens on Broadway on April 8, 2010.

In a direct nod to the origins of Gomez and Morticia, the Charles Addams comic that had first brought the couple together, with him asking "Are you unhappy, darling?" and she replying, "Oh, yes, yes! Completely.," was used for the show's finale.
Join the "Addams Family" Conversation: Click here to make a comment
We're Gonna Pay a Call on…The Addams Family CONTINUES...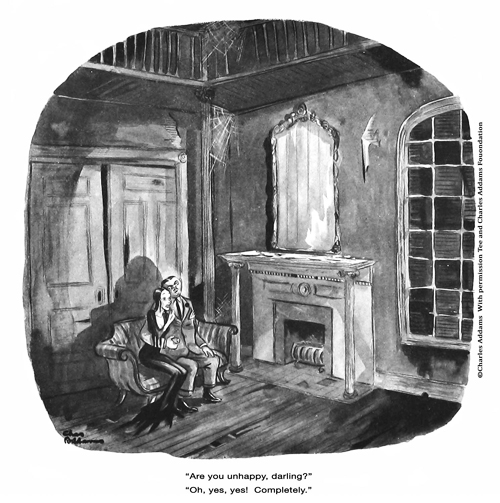 The excitement over this project as shown by its health box office response has only reiterated that audiences
need
the Addamses in some form of another; in order to assure them that, mercifully, not all things are antiseptic, sane, and "normal," that the world can be viewed in a diabolically off-center manner and yet somehow make you feel good about it being that way. We owe the Addams aura that has crept into our hearts and minds first and foremost to Charles Addams, but there's no denying that a two-season television series from forty-six years ago has been instrumental in keeping the flame burning that much stronger.