The Odd Couples
How 'bout a Hand for the Frog

By Barry Monush
Love was in the air this Valentine's Day and it was a love for foam rubber, interspecies co-mingling, and bein' green. We asked visitors to the Paley Center website to pick their favorite television "odd couple" and there was simply no competition when it came to deciding whose unconventional romance stood out above all others, with The Muppet Show's Kermit and Miss Piggy garnering 26.02% of the vote.
Perhaps the humans never stood a chance; or the robots, aliens, or monsters, for that matter. There's something instantly lovable to most of us about the very sight of the Muppets. And this odd coupling, which had Kermit doing all he could to avoid what in Piggy's mind was plain and simple destiny, was a perfect example of what has made Jim Henson's creations so whimsical and yet something we can relate to on a very real level.
But maybe the biggest edge they have over Tony & Jeannie, Mork & Mindy, Herman & Lily, and the others, is that Kermit and Piggy existed (and continue to exist) outside of their weekly series, being a steady part of the pop cultural consciousness for nearly 35 years. While new actors may portray or attempt to resurrect other characters on our poll (an upcoming Broadway production of The Addams Family, for example, stars Nathan Lane and Bebe Neuwirth, as Gomez and Morticia), the very same frog and pig we loved from The Muppet Show live on, and will live on, indefinitely, no matter who is voicing them, or who is sticking their hands up their whatsits to operate them, for our eternal viewing pleasure.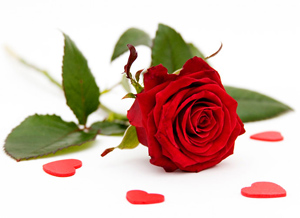 POLL RESULTS:

Gomez and Morticia Addams - 7.32%
(John Astin and Carolyn Jones, The Addams Family, 1964–66) Even putting aside the fact that Gomez blew up toy trains and swallowed swords for relaxation, while Morticia clipped the buds off her flowers and literally "smoked" when asking guests for permission to do so in their presence, the Addamses had another thing that made them stand out from the sitcom bunch in the 1960s: they actually seemed to have a sex life. Gomez leered, Morticia purred some choice words in French and soon her arm was the object of her husband's unbridled desires.

Tobias and Lindsay Fünke - 13.82%
(David Cross and Portia de Rossi, Arrested Development, 2003–06) Seldom have married couples shown so little interest in one another as the self-involved Lindsay and her oddball husband, Tobias, who was a self-proclaimed "never-nude" (he had an aversion to taking all of his clothes off at once) and was presumed to be gay or simply sexless by everyone (include the woman with whom he produced a child). Just to emphasize the doubt as to their offspring's biological certainty, the kid was called "Maeby" (pronounced "Maybe").

Darrin and Samantha Stephens - 8.94%
(Dick York/Dick Sargent and Elizabeth Montgomery, Bewitched, 1964–72) A sitcom that could be subtitled "I Married a Witch" (or, rather "Two of Me Married the Same Witch," considering the midway replacement of the leading actor), Bewitched gave new meaning to the phrase "the spell of romance." Although Samantha was instructed to use her magical powers sparingly, Montgomery got to act out the irresistible fantasy of solving problems (both of the domestic and supernatural sort) with the twitch of her nose and thereby found herself one 1960s heroine in the position to show her spouse who really was the boss in the family.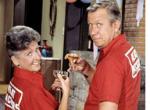 Sam Franklin and Alice Nelson - 4.07%
(Alan Melvin and Ann B. Davis, The Brady Bunch, 1969–74) It may have been the "story of a lovely lady…and a man named Brady," but once they brought their two broods together, Carol and Mike were pretty average sitcom characters. Instead, it was their hard-working, ever-quipping housekeeper (and how many mothers without jobs made sure they had one of those at home?), Alice, and her frequently mentioned boyfriend, Sam the Butcher, whose love affair had viewers enraptured and had everyone working overtime to come up with meat double entendres.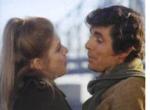 Bernie and Bridget Steinberg - 1.63%
(David Birney and Meredith Baxter, Bridget Loves Bernie, 1972–73) Harkening back to the 1920s Broadway hit Abie's Irish Rose, the marriage of Bridget and Bernie caused a stir within their perspective families because she was Irish Catholic and he was Jewish. Although hardly something modern audiences would blink an eye at, the show ran into its share of controversy at the time because of protests by religious groups who didn't think it was such a good idea to condone mixed marriages. So much for early '70s open-mindedness!!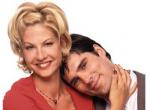 Greg and Dharma Montgomery - 4.88%
(Thomas Gibson and Jenna Elfman, Dharma and Greg, 1997–2002) A perfect example of television's insistence that opposites attract, Dharma was ditzy, optimistic, and intent on finding the good in everyone, while Greg was uptight, conservative, and distrustful. What's more, they were one of television's quickest married couples, having wed after a single date.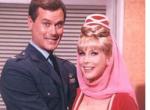 Tony and Jeannie Nelson - 9.76%
(Larry Hagman and Barbara Eden, I Dream of Jeannie, 1965–70) Tony's occupation alone would have made him stand out in the sitcom genre, being an astronaut (how many of those can you name?), but the girl of his dreams had an even more curious profession: she was a genie. Although they ended up sharing a house together prior to actually getting married, it was all relatively chaste for '60s audiences. Jeannie did, after all, spend a good deal of her time corked up inside a bottle.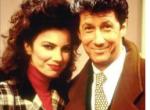 Maxwell Sheffield and Fran Fine - 12.2%
(Charles Shaughnessy and Fran Drescher,
The Nanny,
1993–99
) He spoke with a cultured British accent and was badly in need of some advice on how to raise his three children on his own. She proudly wallowed in her working class Queens roots, offering her very outspoken views on child rearing specifically and on life in general, punctuated by a laugh akin to a honking duck. Naturally, she being his employee and he being out of her social league, they fell in love.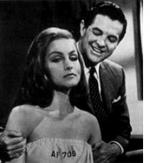 Bob McDonald and Rhoda - 3.25%
(Bob Cummings and Julie Newmar,
My Living Doll,
1964–65
) Some admirers may have considered Julie Newmar "built," but this sitcom took that phrase to extremes. Long before she became everyone's favorite Catwoman (and her constant pawing of Batman made them one of television's great odd "not-quite-couples"), the actress portrayed the ultimate male fantasy, a robot programmed to do anything and everything her owner told her to do. If this all sounds a bit sexist for modern woman, it is worth noting that it was not Newmar but the male lead, Bob Cummings, who left the show abruptly, before five episodes had been filmed.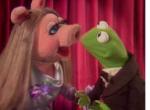 Kermit and Miss Piggy - 26.02%
(Jim Henson and Frank Oz, The Muppet Show, 1976–81) Although Miss Piggy was merely a background figure when the series premiered in 1976, she rose through the ranks to become a star attraction, in many ways surpassing everybody's favorite amphibian host, Kermit. If you don't believe me, just ask her. Boldly championing interspecies comingling, Miss Piggy made her feelings for Kermit known in a big way, making him hop to her bidding, lest he experience a karate chop as punishment for his disinterest.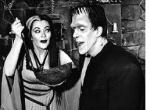 Herman and Lily Munster - 6.5%
(Fred Gwynne and Yvonne DeCarlo, The Munsters, 1964–66) He was literally assembled, a la the Frankenstein Monster, to whom he bore a deliberate resemblance, while she had the look of a lovely vampire, with pale skin and a shock of white in her hair. They lived in a haunted house, which Lily literally "dusted," and scared the pants off most people from the outside world with whom they came in contact. They also had the distinction of being one of the first television couples allowed to be seen sharing the same bed, no doubt because network censors did not equate "monsters" with sex.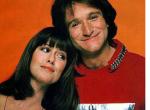 Mork (from Ork) and Mindy McConnell - 1.63%
(Robin Williams and Pam Dawber, Mork & Mindy, 1978–82) Robin Williams's stand-up act was so manic that it only made sense that he should be cast as someone literally from another planet. Since Mindy was simply too sweet and normal for words, it was just as well that the alien with whom she fell in love behaved like an enthusiastic little boy, improvising on the spot, making quirky sounds and funny voices, and all but bouncing off the walls as if experiencing chemical substance overload. Following their nuptials, their "odd couple" credentials rose to considerable heights when it was he who gave birth to their child, ejected an egg from his navel out of which came…Jonathan Winters!