We're Gonna Pay a Call on…The Addams Family
The Series Lingers, the Creator Dies
In its second season, the novelty of "monster television" had apparently waned enough with adult viewers that ABC announced The Addams Family's cancellation in February of 1966. It last aired on the prime time schedule on September 2, 1966, one day after the final Munsters episode. Because its popularity among younger viewers had not diminished, there was still sufficient interest in the show for it to do well in syndication, where it remained a staple for years. Clearly there was a need to resurrect the Addamses in some form or another.
We're Gonna Pay a Call on…The Addams Family CONTINUES...
– The Series Lingers, the Creator Dies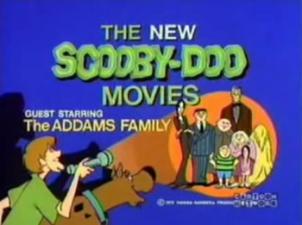 The first attempt to do so was on the animated Saturday morning series The New Scooby-Doo Movies. Subtitled Meet the Addams Family, this version was only of interest because the animation was done to resemble not the actors who had played the characters in the TV series but Charles Addams's original cartoons. This particular episode, entitled "Wednesday Is Missing," featured the voices of original cast members Astin, Jones, Coogan, and Cassidy. Originally airing on September 23, 1972 it was produced by the famed Hanna-Barbera Studios, who decided the response was good enough that the time might be right to build an entire animated series around the family.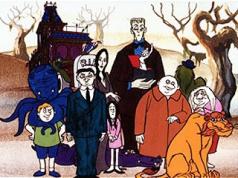 Before that happened, however, ABC filmed a pilot in late 1972 for a live-action, variety-comedy series called The Addams Family Fun-House, starring and written by Jack Riley and Liz Torres as Gomez and Morticia, respectively. Stubby Kaye (of Guys and Dolls fame) appeared as Fester; Pat McCormack (one of the top comedy writers in the business) as Lurch; and, most ironically, Butch Patrick (who had played Eddie on The Munsters) as Pugsley.
The live-action pilot went nowhere, but Hanna-Barbera's version of The Addams Family showed up on the NBC Saturday morning schedule starting on September 8, 1973. This time the Addams weren't the stay-at-homes they were on the live action series but traveled around in a haunted camper which included bats in the belfry and a permanent rain cloud hovering over it. Although Jackie Coogan and Ted Cassidy agreed to reprise the roles they'd done nearly a decade earlier, John Astin was replaced by Leonard Weinrib, while Janet Waldo (whose many Hanna-Barbera assignments included being heard on The Flintstones, Shazzan, and Wacky Races) provided the voices of both Morticia and Grandmama. Wednesday was Cindy Henderson, while Pugsley was voiced by none other than future Academy Award-winner Jodie Foster (!). The series was all too typical of the cheap, simple-minded animated fare that was a staple of Saturday mornings and never came close to capturing the spirit of the live action show or of Addams's creations, despite the resemblance to the Addams cartoons. Still, it ran for two seasons and helped spawn further merchandising.
One Last Evening with the Originals
Before reunion movies became the norm, David Levy had the idea of bringing the ABC series's original cast members together for a 90-minute special to be broadcast as part of NBC's Sunday evening potpourri series The Big Event. There was a hope that what had worked once before might catch on again, possibly leading to an all-new series. George Tibbles was brought in to provide a script, the veteran writer having worked for a slew of television programs over the years, notably Leave It to Beaver, Dennis the Menace, and the short-lived Pistols 'n' Petticoats. He had even scripted episodes of The Munsters, as well as its spin-off theatrical feature, Munster, Go Home! (1966). He had not, however, written for The Addams Family, unlike such regulars as Harry Winkler and Hannibal Coons.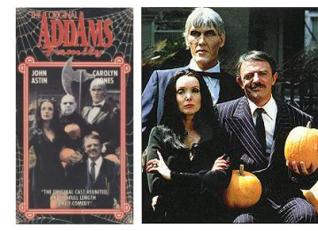 There was also a director on board who also had never overseen an episode of the series, Dennis Steinmetz (a future Daytime Emmy winner for his work on The Young and the Restless). The man most frequently called on to helm the series, veteran Sidney Lanfield, had passed away in 1972.
Filmed at a real house, rather than on a set resembling the one so beloved by fans of the show, Halloween with the New Addams Family, as it was called, aired on October 30, 1977. Levy did manage to coax all of the cast principals back, except for Blossom Rock. Rock had retired as soon as the sitcom had come to an end in 1966 and was now in ill health (she would die on January 14, 1978). She was replaced by Jane Rose, who had just finishing playing Cloris Leachman's mother-in-law on Phyllis. Apparently, to make sure everyone got their due, the opening credits read: "Starring John Astin; Also Starring Ted Cassidy; Co-Starring Jackie Coogan; Special Guest Star, Carolyn Jones." Presumably their agents were satisfied.
Despite the better efforts of the cast, Halloween had the same drawback as all reunions shows; the "you can't go home again" feel of people who had moved on trying to relive past glories and hopefully put audiences in touch with their own (more often than not idealized) past. What had worked in half-hour increments seemed clumsy when stretched past the hour mark, the plotline was cluttered and mostly devoid of wit, and the decision to shoot on video made it look cheap, like it had been rushed to completion without much care taken in getting it right.
Alas, even Cousin Itt's voice was different and wasn't as weirdly funny as it had been in the series. Viewers weren't feeling nostalgic enough to choose this event over CBS's competing lineup (which included Rhoda and the still-popular All in the Family) and Halloween was declared a major misfire. Needless to say there was no demand for a series.
But there were other Addams projects yet to come.
A Fond Farewell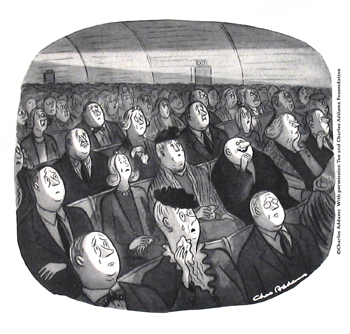 In addition to a steady run of illustrations in the New Yorker, Addams published his take on Mother Goose in 1967 and continued to present anthologies of his work, through Simon & Shuster, including My Crowd (1970), Favorite Haunts (1976) and Creature Comforts (1981). One of his most widely seen drawings was the poster for the 1976 Neil Simon comedy hit Murder by Death, featuring a very Addams Family-like haunted house (a character who bore a distinct resemblance to Fester was even seen lurking in the conservatory) in front of which stood the artist's interpretations of such cast members as Alec Guinness, David Niven, Peter Sellers, and Maggie Smith, each of them positioned in "diabolical order."
He also contributed to a memorable January 14, 1978 cover of TV Guide heralding the first nighttime Super Bowl game with a drawing of a werewolf in a football uniform. On September 29, 1988, Charles Addams suffered a fatal heart attack while parked in front of his apartment on East 54th Street, located across the street from the back of the Museum of Modern Art. He was 76 years old. New Yorker readers would no longer experience the joy of seeing his newest cartoon pop up in the magazine. An era had come to an end.
He had already been joined by four of the original cast member from the series. The year following Blossom Rock's death, Ted Cassidy died at the age of 46, from complications following open-heart surgery. Despite landing his share of acting gigs (Lost in Space, Star Trek, The Girl from U.N.C.L.E. and, most unforgettably, being kicked in the groin by Paul Newman in Butch Cassidy and the Sundance Kid) following the cancellation of the series, Cassidy considered his association with Lurch a hindrance. He harbored the deepest resentment of all the principals over being forever identified and typecast by his role.
Carolyn Jones later roles would include a guest spot on The Mod Squad (produced by her ex-husband, Aaron Spelling); an appearance as Chuck Connors's shrewish wife in the top miniseries of the 1970s, Roots; and a regular role on CBS's daytime soap opera Capitol, which she was forced to leave after the first season because of her illness. She died of cancer on August 3, 1983 at the age of fifty-three. Seven months later, Jackie Coogan passed away from cardiac arrest, at the age of sixty-nine, on March 1, 1984. He had remained a very busy character player to the end, popping up on everything from The Lucy Show and The Brady Bunch to Hawaii Five-O and Gunsmoke.