TV Noir: Let There Be Dark
August 3 to September 3 • FREE Screenings in NY & LA
NY Paley Center: 25 West 52 Street, NYC
LA Paley Center: 465 N. Beverly Drive, Beverly Hills
12:15 to 5:00 pm local time
FREE admission.
The Paley Center presents a screening series TV Noir: Let There Be Dark---television programs that embrace the aesthetic, formal, and/or thematic preoccupations associated with the classic noir films from 1940s and 1950s Hollywood. See schedule below.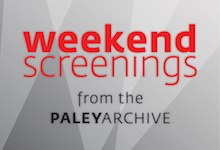 Weekend Screenings from the Paley Archive every Saturday and Sunday on the Big Screen. See full schedule.
The term "film noir" was coined with respect to American cinema in 1946 by, curiously enough, two French film critics — Nino Frank and Jean-Pierre Chartier — commenting on a batch of Hollywood films surfacing in France in the aftermath of World War II, following the lifting of the Nazi-imposed embargo. Frank called these films — including Double Indemnity, Laura, The Maltese Falcon, and Murder, My Sweet — "criminal adventures," or "criminal psychology," defined by some unspecified combination of brutality, dark mystery, complex narrative, and verisimilitude. Poor Chartier was late to the table, publishing his essay in November 1946, three months after Frank, and hence it is the latter who typically gets all the credit. Chartier expanded the canon to include, among other films, Tay Garnett's The Postman Always Rings Twice, clearly the inspiration for the Moonlighting episode you will see as part of our series.
The screening series features a total of twelve programs, ranging from 1952—when classic film noir itself was still flourishing (many scholars point to Orson Welles's Touch of Evil, released in 1958, as the unofficial end of the cycle)—up through 2015. To illustrate our belief that noir crosses generic boundaries, we have included not just staples like private eye and cop shows, but also sci-fi and supernatural noir, and even one example of vampire noir.
In conjunction with these screenings, the Paley Center conducted interviews with some of the writers/producers whose work is featured in TV Noir. The first one is with Buffy and Angel writer/producer David Greenwalt, which can be found on paleymatters.org, the Paley Center's Medium publication. Stay tuned for more upcoming TV Noir interviews with Glenn Gordon Caron (Moonlighting), Larry Cohen (Kraft Mystery Theatre: Night Cry), David Eick and Ronald C. Moore (Battlestar Galactica), and Eddie Muller (president and founder of the Film Noir Foundation). Learn more about TV Noir at paleymatters.org!


TV Noir: Let There Be Dark
Thursday, August 3; 6:00 to 8:00 pm—New York Only
TV Noir Trailer
Veronica Mars: "Leave It to Beaver"
Hannibal: "The Wrath of the Lamb"

Saturday, August 5; 12:15 to 5:00 pm
TV Noir Trailer
Dragnet: "The Big Cast"
Naked City: "The Death of Princes"
Kraft Mystery Theatre: Night Cry
The Fugitive: "Fear in a Desert City"
Moonlighting: "The Dream Sequence Always Rings Twice"
[Reprised screenings on Sundays, August 13 & 20]
 
Sunday, August 6; 12:15 to 5:00 pm
The Twilight Zone: "Mirror Image"
Twin Peaks: "Episode 2"
The X-Files: "Clyde Bruckman's Final Repose"
Angel: "Dear Boy"
Battlestar Galactica: "33"
Hannibal: "The Wrath of the Lamb"
[Reprised screenings on Sundays, August 27 & September 3]