We're Gonna Pay a Call on…The Addams Family
by Barry Monush
With four ominous notes, "Dah-dah-dah-DUM," followed by two precision finger snaps, 1964 television audiences were introduced to The Addams Family, who were, in fact, responsible for those finger snaps as they posed during the opening credits, as if gathered for a family portrait. But it was clear from the start that this was no ordinary family. The mother held center court, sitting in a fan chair of the sort made famous in movies set in the South Seas, looking both mysterious and alluring with her long black hair and her equally black, skin-tight dress.

Join the "Addams Family" Conversation: Click here to make a comment
We're Gonna Pay a Call on…The Addams Family Continues...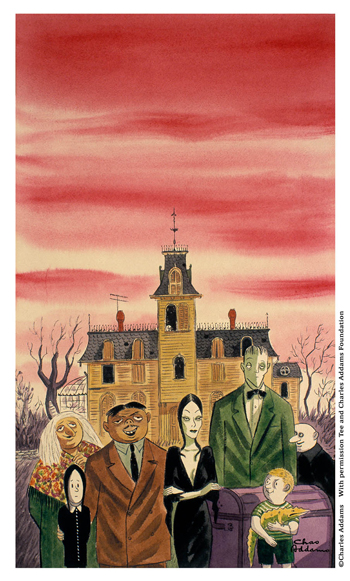 The father leered at us in Groucho Marx fashion, sporting a mustache and a pin-striped suit that seemed like something from a '20s gangster melodrama. Their children had blank, deer-in-the-headlight expressions: the girl tiny and woeful in countenance, with pigtails like a doll of yesteryear, the boy overweight in a horizontally striped polo shirt. To the mother's left was a dazed, corpse-like old crone who resembled a witch but was, in fact her mother-in-law. From behind the chair rose a bald-headed creature with pale makeup and dark circles under his eyes, the uncle of this tribe. Scariest of all was the unhappy-looking, blond-haired Frankenstein-monster wannabe who stood a head or two above the rest of the cast in height, the dependable family butler.
They were unlike anything yet witnessed on weekly television but for those in the know, those who were not simply baby boomers settling down for a night of child friendly laughs but had turned for years to The New Yorker for the latest in sophisticated musings and humor, the Addamses were, in fact, already quite well known. Their frequent appearances in the fabled weekly magazine had turned them into reader favorites, the standout creations of one of the most revered of all cartoonists, Charles Addams. It was television, however, that gave them their individual names; raised their profile to the level of iconography; made them household words, bringing "The Addams Family" into the lexicon as shorthand for anybody who behaved or looked out of the ordinary. Television also helped to embellish the macabre characters with all new bizarre traits and quirky habits that made them that much more beloved among admirers of individualism, black humor and nonconformity. 
Father of the Family
Because his name became synonymous with all things gleefully ghoulish, many assumed that Charles Addams hailed from Transylvania or perhaps from some unearthly domain, when in fact he was born in Westfield, New Jersey, on January 7, 1912. He grew up there, leading a fairly normal suburban existence, taking an interest in drawing at an early age. He studied art at Colgate University before moving on to the University of Pennsylvania, and finally the Grand Central School of the Arts in New York City; that metropolis becoming his home base for the remainder of his life. On a whim, he submitted an illustration of a window washer perched outside a tall building to The New Yorker, who were impressed enough to use it as a filler. It ran in the "Among the Books" section, in the middle of a review of a book called Swiss Family Manhattan in the February 6, 1932, issue:  Charles Addams made his debut in the magazine with which he'd be forever linked when he was a mere twenty years old. He was paid $7.50 for his efforts.
That same year he took a job retouching (and often censoring) crime photos for True Detective magazine, which brought him into close contact with images of the unsightly. Inspired by his initial success, Addams kept submitting drawings to The New Yorker, paid per submission, as opposed to joining the staff.
The Addams view of life became evident pretty early on, as there was a touch of the macabre in his humor: a newspaper and a milk bottle were spotted by a museum guard outside of a mummy case; a woman on a particularly perilous rollercoaster pointed upward at what appeared to be circling vultures, etc. By June of 1935 nearly every New Yorker issue ran a Charles Addams cartoon. His artistic style, heavy in background detail with an often dark, shaded look, became as recognizable as his deep, black signature at the bottom of the cartoon, reading Chas Addams.