Weekend Screenings at the Paley Center
   Sundays in August: Curators Choice Screenings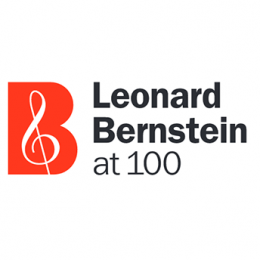 Leonard Bernstein Centennial Celebration
Selected Television Work 
In New York and Los Angeles
Sundays, August 5, 12, 19, and 26, 2018
12:15 to 5:00 pm

Leonard Bernstein was born on August 25, 1918. As part of the Bernstein at 100 international celebration of the legendary American composer and conductor―whose televised series of Young People's Concerts introduced millions of children to the joys of classical music―the Paley Center will screen a selection of historic broadcasts every Sunday in August, including Bernstein's television conducting debut and other rarities (many of which are not available commercially). Screenings are free and open to the public.
Members can reserve seats by emailing in NY: membership@paleycenter.org or
in LA: lamembers@paleycenter.org at least 24 hours in advance. 


Sunday, August 5, 2018
12:15 pm
NBC Opera Theatre: Trouble in Tahiti
Bernstein's jazz-inflected one-act opera about the troubled marriage of a young suburban couple, Sam and Dinah, had its world premiere at Brandeis University at a summer arts festival in June 1952. Five months later, Bernstein conducted a live television performance of the work for NBC Opera Theatre with original cast members Beverly Wolff as Dinah and David Atkinson as Sam. Kirk Browning directed. (1952; NBC; 45 min.)

1:00 pm
Compilation Reel: On the Town 
Selections from Bernstein's first Broadway musical, On the Town (1944), include "Carried Away," performed in a 1959 telecast (Leonard Bernstein & the New York Philharmonic: The Humors of Music) by On the Town lyricists Betty Comden and Adolph Green; "Lonely Town," performed by Dawn Upshaw on the 1996 special Leonard Bernstein's New York (with commentary by Frank Rich and Harold Prince); and "Some Other Time," performed in 1987 by Eileen Farrell and Bernstein—who accompanies her on piano and sings a few bars of the song in his inimitable voice. (11 min.)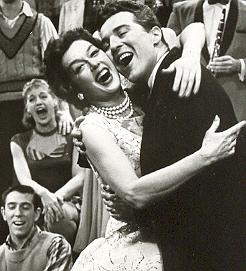 1:10 pm
Wonderful Town
In this special two-hour adaptation of the hit Broadway musical with music by Bernstein and lyrics by Betty Comden and Adolph Green, Rosalind Russell (pictured right, with Sydney Chaplin) recreates her Tony Award–winning role of aspiring writer Ruth Sherwood from Columbus, Ohio, who has moved to New York City with her sister Eileen (Jacquelyn McKeever), a budding actress. Also in the cast are Sydney Chaplin, Joseph Buloff, Dort Clark, and Cris Alexander. Directed by Mel Ferber, with choreography by Ralph Beaumont. (1958; CBS; 120 min.)


Sunday, August 12, 2018
12:15 pm
Leonard Bernstein and the New York Philharmonic: The Creative Performer
Bernstein discusses the craft of the performer and seeks to explain how a performer interprets classical music. Highlights include the first movement of the Bach Piano Concerto in D Minor with pianist Glenn Gould in his U.S. television debut; an aria from Ponchielli's La Gioconda, sung by Eileen Farrell; composer/conductor Igor Stravinsky (also in his U.S. television debut), conducting his "Firebird" Suite; and excerpts from Beethoven's Symphony No. 3 in E-flat ("Eroica"). (1960; CBS; 60 min.)
1:15 pm
CBS News Special: Inside Pop: The Rock Revolution
Bernstein examines the following songs using recordings or piano renditions: the Beatles' "Good Day Sunshine," "She Said She Said," and "Got to Get You Into My Life"; the Left Bank's "Pretty Ballerina"; the Monkees' "I'm a Believer"; Bob Dylan's "Mr. Tambourine Man"; and the Association's "Along Comes Mary." Janis Ian performs "Society's Child," which Bernstein discusses along with the Beatles' "Paperback Writer," citing them as social protest songs. The program continues with interviews with Roger McGuinn of the Byrds, Frank Zappa, and Peter Noone of Herman's Hermits; and performances by Graham Nash of the Hollies with "Bus Stop," Brian Wilson of the Beach Boys with "Surf's Up," and Tim Buckley with "No Man Can Find the War." (1967; CBS; 55 min.)

2:10 pm
New York Philharmonic Young People's Concerts: Bach Transmogrified
Bernstein discusses different treatments of Bach's works. Michael Korn plays the original Little Fugue in G Minor on the organ; guest conductor Leopold Stokowski conducts his own transcription of the fugue for symphony orchestra; and a tape transmogrification is played on a Moog synthesizer. Then an abbreviated version (with orchestral and electronic instruments) of Lukas Foss's "Phorion" (an avant-garde interpretation of Bach's E Major Partita for Solo Violin) is performed; David Nadien (violin), Julius Baker (flute), and Bernstein (piano) perform a movement from Bach's Brandenburg Concerto No. 5 in D Major, and the New York Rock and Roll Ensemble play a rock version of that work. (1969; CBS; 60 min.)


Sunday, August 19, 2018
12:15 pm
American Masters: Leonard Bernstein: Reaching for the Note
This acclaimed documentary, directed by Susan Lacy, examines the life and career of the composer and conductor using still photos; footage of stage, screen, and concert performances (and the Bernstein family's home movies); and interviews with colleagues and family, as well as his own words. (1998; PBS, 120 min.)
2:15 pm
Candide
John Mauceri conducts the Scottish Opera production of Bernstein's musical theater work, based on Voltaire's classic satire and directed by Jonathan Miller and John Wells. Lyrics by Richard Wilbur, with additional lyrics by Stephen Sondheim, John Latouche, Lillian Hellman, Dorothy Parker, and Bernstein. The cast includes Mark Beudert, Nickolas Grace, Marilyn Hill Smith, and Ann Howard. (1989; BBC; 160 min.)


Sunday, August 26, 2018
12:15 pm
Bernstein at 60: An Appreciation: Live from Wolf Trap
This live celebration of Bernstein's sixtieth birthday from Wolf Trap Farm Park in Virginia, hosted for television by Joel Grey, includes reminiscences from William Schuman, Lauren Bacall, Jerome Robbins, Lillian Hellman, Betty Comden and Adolph Green, and Humphrey Burton. Excerpts from Bernstein's symphonic works (performed by the National Symphony Orchestra and conducted by Mstislav Rostropovich, Aaron Copland, Lukas Foss, and Christian Badea) include On the Waterfront; "Jeremiah" Symphony No.1 with mezzo-soprano Christa Ludwig; "The Age of Anxiety" Symphony No. 2; and Songfest: A Cycle of American Poems for Six Singers and Orchestra, with Ludwig, Susan Davenny Wyner, Rosalind Elias, Neil Rosenshein, John Reardon, and Donald Gramm. Later in the evening, John Mauceri conducts selections from Bernstein's On the Town (performed by Daniel Fortus, Lee Roy Reams, Treat Williams, Lenora Nemetz, and Laurence Guittard); Wonderful Town (performed by Comden, Green, and Phyllis Newman); West Side Story (performed by Stephen Bogardus and Jossie De Guzman); Candide (performed by Gianna Rolandi, De Guzman, and Bogardus); and Mass; and Bernstein conducts the National Symphony Orchestra with pianist Andre Previn, cellist Mstislav Rostropovich, and violinist Yehudi Menuhin in the first movement of Beethoven's Triple Concerto in C Major, Opus 56. (1978; PBS; 3 hours)
3:15 pm
Great Performances: Bernstein Conducts West Side Story
In a recording session, Bernstein conducts his entire score for the landmark 1957 musical West Side Story (with lyrics by Stephen Sondheim), featuring opera singers Kiri Te Kanawa, Tatiana Troyanos, José Carreras, and Kurt Ollmann in the principal roles. At a press conference, Bernstein discusses the musical's enduring vitality, and in interviews interspersed throughout, the four principal performers discuss the international appeal of West Side Story and the significance that the musical had for them in their youth. (1985; PBS; 90 min.)
Photos—top row: Courtesy Amberson Productions. Copyright Paul de Hueck; second row: Courtesy Amberson Productions
---
   Members Choice Screenings


What do YOU want to see on the big screen?

The Paley Center is now offering all Members the opportunity to program our giant-screen theater. You tell us what to screen (provided it is included in our collection of 160,000 programs—we're sure you'll find something you like!) and all you have to do is invite your friends, family, officemates, band members, and more to join the fun! You can even request that one of our Curators (aka Television Experts) be available to take questions from the audience.

Members Choice Screenings are open to the public, so swing by and discover hidden treasures!

How do you choose?
Need ideas? Here are some of the awesome programs in the Paley Archive. Let these spark your imagination!
• David Bowie screenings
• Nickelodeon classics (Pete & Pete, Clarissa, Hey Arnold)
• MTV classics (The very 1st hour of programming, Unplugged, Daria)
• Classic Disney animation (Man in Space, Adventures in Fantasy)
• Classic Doctor Who episodes
• Jim Henson on TV (The Muppet Show, The Tonight Show, The Ed Sullivan Show)
• Comedy Cult Classics (Get a Life, SCTV, Mystery Science Theater 3000, Your Show of Shows)

Important Details
• Members Choice Screenings are on Sundays only.
• Current Paley Members can request programming from the Paley Archive to be shown in the theater.
• Requests must be submitted in writing by emailing memberschoice@paleycenter.org.
• Requests must be submitted at least two weeks in advance. Please give us your top three choices for Sunday screening dates.
• Please make sure we have the program you are requesting first by searching the Paley Archive catalog.
• Not all dates are available; some Sundays may not be available for screenings.
 
Feeling left out? If you are not a Member, you can JOIN NOW and submit your screening request. But remember, you must be a Member to program a screening.