Watch Your Favorite Shows on the Big Screen!
Saturdays and Sundays in New York and Los Angeles
Noon to 4:00 pm local time • FREE Admission
Visit New York  |  Visit Los Angeles
Weekend Screenings from the Paley Archive on the Big Screen in NY & LA offer great family entertainment, PLUS programming selected by our Members and screened for the public. You haven't really experienced TV until you've seen it on a movie-size screen with fellow fans.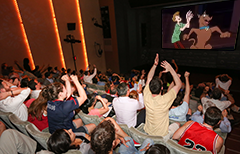 The Paley Center presents a fabulous afternoon of fun-filled, family-friendly fare.
Members can reserve seats by emailing in NY: membership@paleycenter.org or in LA: lamembers@paleycenter.org at least 24 hours in advance.
Toons at Noon: January Jamboree
Saturdays from Noon to 4:00 pm
January 7, 14, 21, 28
"Music doesn't lie," Jimi Hendrix said, and neither do we when we say these musical adventures will get your toes tapping and your young 'uns dancing in the aisles. All fun for the whole family!

12:00 to 2:00 pm • Suggested Ages 6 to 9

Pingu: "Pingu Plays the Accordion"
The Backyardigans: "Los Galacticos"
Hey Arnold!: "What's Opera, Arnold?"
Tom and Jerry: "Cat Concerto"
Animaniacs: "King Yakko"
Birdland: A History of Jazz: "Dream A Little Dream of Me"
SpongeBob SquarePants: "Band Geeks"
The Jetsons: "A Date with Jet Screamer"
Birdland: A History of Jazz: "Over the Rainbow"
Pingu: "Pingu Discovers A New Instrument"

2:00 to 4:00 pm • Suggested Ages 9 to 12

Josie and the Pussycats: "The Nemo's A No No Affair"
Adventure Time: "Bad Little Boy"
Scooby-Doo, Where Are You!: "Jeepers, It's the Creeper"
Angry Beavers: "The: Bummer of Love / Food of The Clods"
Doug: Doug's Hot Ticket: "Doug's Dental Disaster"
That's So Raven: "The Four Aces"

Upcoming Screenings: February is all about Valentine's Day, March is Girl Power.


What do YOU want to see on the big screen?

The Paley Center is now offering all Members the opportunity to program our giant-screen theater. You tell us what to screen (provided it is included in our collection of 160,000 programs—we're sure you'll find something you like!) and all you have to do is invite your friends, family, officemates, band members, and more to join the fun! You can even request that one of our Curators (aka Television Experts) be available to take questions from the audience.

Members Choice Screenings are open to the public, so swing by and discover hidden treasures!

How do you choose?
Need ideas? Here are some of the awesome programs in the Paley Archive. Let these spark your imagination!
• David Bowie screenings
• Nickelodeon classics (Pete & Pete, Clarissa, Hey Arnold)
• MTV classics (The very 1st hour of programming, Unplugged, Daria)
• Classic Disney animation (Man in Space, Adventures in Fantasy)
• Classic Doctor Who episodes
• Jim Henson on TV (The Muppet Show, The Tonight Show, The Ed Sullivan Show)
• Comedy Cult Classics (Get a Life, SCTV, Mystery Science Theater 3000, Your Show of Shows)

Important Details
• Members Choice Screenings are on Sundays only.
• Current Paley Members can request programming from the Paley Archive to be shown in the theater.
• Requests must be submitted in writing by emailing memberschoice@paleycenter.org.
• Requests must be submitted at least two weeks in advance. Please give us your top three choices for Sunday screening dates.
• Please make sure we have the program you are requesting first by searching the Paley Archive catalog.
• Not all dates are available; some Sundays may not be available for screenings.
 
Feeling left out? If you are not a Member, you can JOIN NOW and submit your screening request. But remember, you must be a Member to program a screening.