Watch Your Favorite Shows on the Big Screen!
Saturdays and Sundays in New York and Los Angeles
12:15 to 4:00 pm local time • FREE Admission
Visit New York  |  Visit Los Angeles
Weekend Screenings from the Paley Archive on the Big Screen in NY & LA offer great family entertainment, PLUS programming selected by our Members and screened for the public. You haven't really experienced TV until you've seen it on a movie-size screen with fellow fans.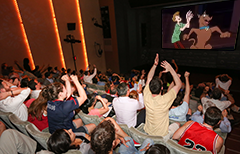 The Paley Center presents a fabulous afternoon of fun-filled, family-friendly fare.
Members can reserve seats by emailing in NY: membership@paleycenter.org or in LA: lamembers@paleycenter.org at least 24 hours in advance.
April
Toons at Noon: Easter, Passover, Earth Day
Saturdays from 12:15 to 4:00 pm
April 1, 8, 15, 22, 29

Holidays R Us: Easter, Passover, Earth Day—April is not just springtime, but also holiday time. And just to prove we don't take ourselves too seriously, we've even thrown in an April Fool's program.

12:15 to 2:00 pm • Suggested Ages 6 to 9

Rugrats: "A Rugrats Passover"
It's the Easter Beagle, Charlie Brown
The Easter Bunny Is Comin' to Town


2:00 to 4:00 pm • Suggested Ages 9 to 12

The Sun Is a Yellow Giraffe: "The Tree"
Kratts' Creatures: "City Critters"
Turtle World
Eyewitness: "Volcano"
Green Animation: "Avoiding the Issue"/"Balance & Harmony"
Bill Nye the Science Guy: "Erosion"
The Drew Carey Show: "What's Wrong With This Episode?"

May
Toons at Noon: Mother, May I
Saturdays from 12:15 to 4:00 pm
May 6, 13, 20, 27

Hi, Mom! It's May, which means Mother's Day, which means we bring you these great programs.

12:15 to 2:00 pm • Suggested Ages 6 to 9

Pingu: "Pingu Runs Away"
The Story of Piloo Looking for His Mother
What a Cartoon! Dexter's Laboratory
Where the Wild Things Are
Ramona: "The Great Hair Argument"
Ramona: "The New Pajamas"


2:00 to 4:00 pm • Suggested Ages 9 to 12

The Adventures of Pete and Pete: "Sick Day"
Moesha: "Mother's Day"
The Goldbergs: "Circle of Driving"
Jim Henson's "The Storyteller": "Greek Myths: Perseus + the Gorgon"

Upcoming Screenings: June

Ella Fitzgerald Centennial Celebration
Sundays, April 16, 23, 30
12:15 to 4:00 pm

The Paley Center celebrates the centennial of the beloved American jazz singer Ella Fitzgerald (who was born on April 25, 1917, and died in 1996)—known the world over as "The First Lady of Song"—with a sampler of television programs from our archives.

12:15 pm
Previn and the Pittsburgh (1979)
Fitzgerald performs with an instrumental trio (pianist Paul Smith, drummer Jimmie Smith, and bassist Keter Betts) and talks to pianist and conductor André Previn about her early career and her acclaimed series of American Songbook recordings. Selections include "Lady Be Good" (in two versions, one up tempo and the other in a slow ballad style), "I'm Just a Lucky So and So," "I Won't Dance," "Hard Hearted Hannah," "Glad to Be Unhappy," "They Can't Take That Away from Me," and "It's All Right with Me." (59 minutes)

1:15 pm
The Nat King Cole Show (1957)
Highlights include Fitzgerald singing "The Lady Is a Tramp" and "Perdido," Fitzgerald performing "Dancing on the Ceiling" accompanied by a sand-dance; Cole and Fitzgerald singing "Too Close for Comfort," and Cole performing "Unforgettable." (26 minutes)

1:40 pm
Segment from The Jo Stafford Show (1961)
From a British ATV program, Stafford and guest Fitzgerald perform a medley of songs about love including "But Not for Me," "Love Is a Simple Thing," "I'm Through with Love," "Falling in Love with Love," and "They Say It's Wonderful." (13 minutes)

1:55 pm
The Dinah Shore Show (1964)
Shore's guests on this broadcast from Studio 8H at Rockefeller Center are Fitzgerald and opera singer Joan Sutherland. The three women perform solo numbers and join forces for an infectious rendition of "Three Little Maids from School Are We" from Gilbert & Sullivan's operetta The Mikado. (59 minutes)

2:55 pm
Soundstage: Ella Fitzgerald (1979)
Ella Fitzgerald shares the stage with a lineup of musicians including Count Basie, Joe Pass, Roy Eldridge, Zoot Sims, Paul Smith, Keter Betts, and Mickey Roker. Selections include "Am I Blue?" "Honeysuckle Rose," "Let's Do It," "I've Got My Love to Keep Me Warm," "Mountain Greenery," "Love Is Here to Stay," "Blues in the Night," a Duke Ellington medley, "I Can't Get Started," and "Lady Be Good." (90 minutes)

---
Musicals on Television
Sundays in May 
12:15 to 4:00 pm

In honor of the upcoming Tony Awards, every Sunday in May the Paley Center in partnership with Playbill will screen television adaptations of Broadway musicals—along with the most famous musical commissioned specifically for television, Rodgers and Hammerstein's Cinderella … and a star-studded salute to composer-lyricist Jerry Herman, whose Hello, Dolly! is back on Broadway this season in a revival starring Bette Midler.

May 7
12:15 pm
Wonderful Town (1958)
A live television adaptation of the 1953 Tony Award–winning Broadway musical hit, based on the autobiographical New Yorker stories by Ruth McKenney and the 1940 Broadway comedy My Sister Eileen by Joseph Fields and Jerome Chodorov. Set in New York's Greenwich Village in 1935, the Leonard Bernstein-Betty Comden-Adolph Green musical follows the comic fortunes and misadventures of the two Sherwood sisters—intellectual, sarcastic Ruth (Rosalind Russell reprising her Tony Award-winning performance) and pretty Eileen (Jacquelyn McKeever)—natives of Columbus, Ohio, who have moved to New York to pursue careers in writing and acting. With Sydney Chaplin, Joseph Buloff, Dort Clark, Jordan Bentley, and Cris Alexander. Directed by Mel Ferber and Herbert Ross, with choreography by Ralph Beaumont. (CBS; 2 hours)

2:30 pm
Hallmark Hall of Fame: Kiss Me, Kate (1958)
Alfred Drake and Patricia Morison reprise their Broadway roles of Fred Graham/Petruchio and Lilli Vanessi/Katharine in this taped television adaptation of Cole Porter's Tony Award–winning 1948 Broadway musical comedy (with a book by Bella and Samuel Spewack), loosely based on Shakespeare's The Taming of the Shrew, about the backstage and onstage conflicts between a formerly married theatrical couple who are starring in a production of The Taming of the Shrew. With Julie Wilson, Bill Hayes, Eva Jessye, Paul McGrath, Jack Klugman, and Harvey Lembeck. Directed by George Schaefer, with choreography by Ernest Flatt. (NBC; 90 minutes)

May 14
12:15 pm
Broadway on Showtime: Purlie (1981)
Robert Guillaume, Melba Moore (recreating the role for which she won a 1970 Tony Award), and Sherman Hemsley (also from the original production) star in this adaptation of the 1970 Broadway show with music by Gary Geld and lyrics by Peter Udell about the romance between a charismatic preacher and a high-spirited young woman in a Georgia sharecropper community. Purlie, based on the 1961 play Purlie Victorious by Ossie Davis, was staged by Philip Rose (who directed the original Broadway production) and directed for television by Rudi Goldman, with choreography by Al Perryman. Featuring Linda Hopkins, Rhetta Hughes, Brandon Maggart, Don Scardino, and Clarice Taylor. Videotaped at the Lehman College Center for the Performing Arts, this program won a Cable ACE Award. (Showtime; 145 minutes)

3:00 pm
Rodgers and Hammerstein's Cinderella (1957)
The only collaboration for television by composer Richard Rodgers and lyricist Oscar Hammerstein II, this live 1957 telecast is a bona fide classic. Starring twenty-one-year-old Julie Andrews, with Edie Adams, Kaye Ballard, Alice Ghostley, Ilka Chase, Jon Cypher, Dorothy Stickney, and Howard Lindsay. Directed by Ralph Nelson and choreographed by Jonathan Lucas. (CBS; 90 minutes)

May 21
12:15 pm
Once Upon a Mattress (1964)
The first television production of the 1959 Broadway musical by composer Mary Rodgers and lyricist Marshall Barer. Starring Carol Burnett and featuring Joseph Bova, Jane White, Jack Gilford, Bill Hayes, Shani Wallis, and Elliott Gould; directed by Joe Layton (who choreographed the Broadway production and this television adaptation) and Dave Geisel. (CBS; 90 minutes)

2:00 pm
Jerry Herman's Broadway at the Bowl (1994)
This program, taped at the Hollywood Bowl in 1993, pays tribute to composer and lyricist Jerry Herman. Highlights: George Hearn sings "Movies Were Movies" from Mack & Mabel; Florence Lacey performs "It Only Takes a Moment" and Lee Roy Reams sings "Put on Your Sunday Clothes" and "Before the Parade Passes By" from Hello, Dolly!; the Los Angeles Philharmonic plays waltzes; Davis Gaines performs "Song on the Sand" from La Cage Aux Folles; Karen Morrow sings "We Need a Little Christmas" and Leslie Uggams sings "If He Walked Into My Life" from Mame; Carol Channing sings a verse of Hello, Dolly!; Bea Arthur performs "The Man in the Moon" from Mame, and Rita Moreno and Leslie Uggams sing "Bosom Buddies" from the same show; Lorna Luft sings "Time Heals Everything" and Michael Feinstein performs "I Won't Send Roses" from Mack & Mabel; Karen Morrow sings "I Don't Want to Know" from Dear World; Rita Moreno performs "Tap Your Troubles Away" from Mack & Mabel; Leslie Uggams and Florence Lacey sing "Kiss Her Now" from Dear World; George Hearn sings "I Am What I Am" and Jerry Herman performs "The Best of Times Is Now" from La Cage Aux Folles. (PBS; 115 minutes)

May 28
12:15 pm
George M! (1970)
This taped adaptation of the 1968 Broadway musical about the life and songs of George M. Cohan (which aired on the Bell System Family Theatre—an irregularly scheduled series of TV specials) takes a novel approach: It's presented as a rehearsal of the show, with the actors appearing as themselves as well as their characters in the show. With Joel Grey and Bernadette Peters recreating their Broadway roles as George M. Cohan and Josie Cohan, Red Buttons as Sam Harris, Jack Cassidy as Jerry Cohan, Nanette Fabray as Nellie Cohan, Blythe Danner as Agnes Nolan, Anita Gillette as Ethel Levey, Lewis J. Stadlen as the Stage Manager, and Jesse White as E. F. Albee. Directed by Martin Charnin and Walter C. Miller, with choreography by Alan Johnson. (NBC; 90 minutes)
2:00           
Meet Me in St. Louis (1959)
This adaptation of the classic 1944 film musical with music and lyrics by Hugh Martin and Ralph Blane, explores the lives of the close-knit Smith family―mother, father, grandfather, and five children―who live in St. Louis in 1903. The eldest daughter, Rose, hopes for a proposal from her longtime boyfriend, who is about to graduate from Yale; her sister Esther attempts to win the interest of John Truitt, the boy next door; and the entire family anxiously awaits the World's Fair, which is opening in St. Louis in seven months. Complications ensue when Mr. Smith decides to take a job in New York, which would mean the entire family would have to leave St. Louis for good. Also, Tootie, the youngest daughter, sets out to prove that she is not a coward on Halloween. With Jane Powell, Tab Hunter, Walter Pidgeon, Jeanne Crain, Reta Shaw, Ed Wynn, Myrna Loy, and Patty Duke. Directed by George Schaefer, choreographed by Herbert Ross, and conducted by Franz Allers. (CBS; 120 minutes)
LIVE: Bill Rudman, the host of SiriusXM Satellite Radio's Broadway Channel program On the Aisle, will introduce the screening of Meet Me in St. Louis. His introduction will begin at 1:50 pm.



What do YOU want to see on the big screen?

The Paley Center is now offering all Members the opportunity to program our giant-screen theater. You tell us what to screen (provided it is included in our collection of 160,000 programs—we're sure you'll find something you like!) and all you have to do is invite your friends, family, officemates, band members, and more to join the fun! You can even request that one of our Curators (aka Television Experts) be available to take questions from the audience.

Members Choice Screenings are open to the public, so swing by and discover hidden treasures!

How do you choose?
Need ideas? Here are some of the awesome programs in the Paley Archive. Let these spark your imagination!
• David Bowie screenings
• Nickelodeon classics (Pete & Pete, Clarissa, Hey Arnold)
• MTV classics (The very 1st hour of programming, Unplugged, Daria)
• Classic Disney animation (Man in Space, Adventures in Fantasy)
• Classic Doctor Who episodes
• Jim Henson on TV (The Muppet Show, The Tonight Show, The Ed Sullivan Show)
• Comedy Cult Classics (Get a Life, SCTV, Mystery Science Theater 3000, Your Show of Shows)

Important Details
• Members Choice Screenings are on Sundays only.
• Current Paley Members can request programming from the Paley Archive to be shown in the theater.
• Requests must be submitted in writing by emailing memberschoice@paleycenter.org.
• Requests must be submitted at least two weeks in advance. Please give us your top three choices for Sunday screening dates.
• Please make sure we have the program you are requesting first by searching the Paley Archive catalog.
• Not all dates are available; some Sundays may not be available for screenings.
 
Feeling left out? If you are not a Member, you can JOIN NOW and submit your screening request. But remember, you must be a Member to program a screening.