Watch Your Favorite Shows on the Big Screen!
Saturdays and Sundays in New York and Los Angeles
12:15 to 4:00 pm local time • FREE Admission
Visit New York  |  Visit Los Angeles
Weekend Screenings from the Paley Archive on the Big Screen in NY & LA offer great family entertainment, PLUS programming selected by our Members and screened for the public. You haven't really experienced TV until you've seen it on a movie-size screen with fellow fans.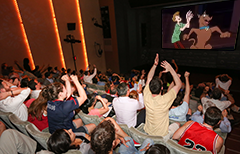 The Paley Center presents a fabulous afternoon of fun-filled, family-friendly fare.
Members can reserve seats by emailing in NY: membership@paleycenter.org or in LA: lamembers@paleycenter.org at least 24 hours in advance.
Toons at Noon: February Valentine's Day
Saturdays from 12:15 to 4:00 pm
February 4, 11, 18, 25

Peanuts creator Charles M. Schulz could wax wise about anything, including love: "All you need is love. But a little chocolate now and then doesn't hurt." We'll provide the love; you provide the chocolate.

12:15 to 2:00 pm • Suggested Ages 6 to 9

Pingu Finds Love
Be My Valentine, Charlie Brown
Doug: "Doug's Secret Admirer/Doug's On T.V."
The Blue Shoe
You're In Love, Charlie Brown
The Amazing World Of Gumball: "The Dream/The Flower"
Pingu Falls In Love

2:00 to 4:00 pm • Suggested Ages 9 to 12

Adventure Time: "Love Games"
Adventures Of Pete & Pete: "Valentine's Day Massacre"
Regular Show: "Death Bear"
Peewee's Playhouse: "Cowboy And The Cowntess"
The Muppets Valentine Show
Lizzie Mcguire: "First Kiss"

Toons at Noon: March Girl Power
Saturdays from 12:15 to 4:00 pm
March 4, 11, 18, 25

March 8 is International Women's Day. They are girls. Hear them roar.

12:15 to 2:00 pm • Suggested Ages 6 to 9

The Wild Thornberrys: "Lost Or Foundation"  
Spongebob Squarepants: "Help Wanted/Reef Blower/Tea At The Tree Dome"  
The Proud Family: "Party"  
Dexter's Laboratory: "Don't Be A Baby/Peltra/G.I.R.L. Squad"  
Powerpuff Girls: "Super Friends" 

2:00 to 4:00 pm • Suggested Ages 9 to 12

Teen Titans: "Switched"  
Clarissa Explains It All: "Editor-In-Chief"  
Adventure Time: "Princess Day"  
The Secret World Of Alex Mack: "The Solo"  
Justice League: "Fury (Part 1)"  
Justice League: "Fury (Part 2)"

Upcoming Screenings: April's theme is Earth Day. 

Special Event: A Valentine's Celebration of Peanuts
Saturday, February 11
12:00 to 4:00 pm

Join us for a special day-long event dedicated to some of television's most beloved characters, Charlie Brown and his sweetheart, the Little Red-Haired Girl. Meet Snoopy and see Peanuts Valentines day programming. All activities are free and open to the public! More info.



Black History Month Screenings
Sundays, February 4, 11, 18, 25
12:15 to 4:00 pm

In both New York and Los Angeles, the Paley Center will screen classic and significant programs from the Paley Archive that celebrate and examine the African-American experience. Including: The Muppet Show: Lena Horne, Julia, The Richard Pryor Show, Roots, The Oprah Winfrey Show: "Malcolm X", Hallmark Hall of Fame: The Piano Lesson, and more.
See the full screening schedule here.


NY ONLY
Special Screening: Great Performances: Willie Stark
Saturday, February 25
1:00 to 3:30 pm

See a special screening of the complete 1981 PBS Great Performances telecast of the opera Willie Stark starring Timothy Nolen. This Houston Grand Opera production of Carlisle Floyd's opera in English was directed by Broadway's Harold Prince and conducted by John DeMain. Based on the 1946 Pulitzer Prize–winning novel All the King's Men by Robert Penn Warren, set in the South during the Depression, it portrays the final days in the life of Governor Willie Stark (Nolen), a charismatic, corrupt politician who is in danger of being impeached. The screening includes filmed interviews with Carlisle Floyd and Harold Prince.
Composer-librettist Carlisle Floyd will attend the Paley Center event. 



What do YOU want to see on the big screen?

The Paley Center is now offering all Members the opportunity to program our giant-screen theater. You tell us what to screen (provided it is included in our collection of 160,000 programs—we're sure you'll find something you like!) and all you have to do is invite your friends, family, officemates, band members, and more to join the fun! You can even request that one of our Curators (aka Television Experts) be available to take questions from the audience.

Members Choice Screenings are open to the public, so swing by and discover hidden treasures!

How do you choose?
Need ideas? Here are some of the awesome programs in the Paley Archive. Let these spark your imagination!
• David Bowie screenings
• Nickelodeon classics (Pete & Pete, Clarissa, Hey Arnold)
• MTV classics (The very 1st hour of programming, Unplugged, Daria)
• Classic Disney animation (Man in Space, Adventures in Fantasy)
• Classic Doctor Who episodes
• Jim Henson on TV (The Muppet Show, The Tonight Show, The Ed Sullivan Show)
• Comedy Cult Classics (Get a Life, SCTV, Mystery Science Theater 3000, Your Show of Shows)

Important Details
• Members Choice Screenings are on Sundays only.
• Current Paley Members can request programming from the Paley Archive to be shown in the theater.
• Requests must be submitted in writing by emailing memberschoice@paleycenter.org.
• Requests must be submitted at least two weeks in advance. Please give us your top three choices for Sunday screening dates.
• Please make sure we have the program you are requesting first by searching the Paley Archive catalog.
• Not all dates are available; some Sundays may not be available for screenings.
 
Feeling left out? If you are not a Member, you can JOIN NOW and submit your screening request. But remember, you must be a Member to program a screening.