Watch Your Favorite Shows on the Big Screen!
Saturdays and Sundays in New York and Los Angeles
12:15 to 4:00 pm local time • FREE Admission
Visit New York  |  Visit Los Angeles
Weekend Screenings from the Paley Archive on the Big Screen in NY & LA offer great family entertainment, PLUS programming selected by our Members and screened for the public. You haven't really experienced TV until you've seen it on a movie-size screen with fellow fans.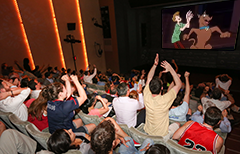 The Paley Center presents a fabulous afternoon of fun-filled, family-friendly fare.
Members can reserve seats by emailing in NY: membership@paleycenter.org or in LA: lamembers@paleycenter.org at least 24 hours in advance.
March
Toons at Noon: Girl Power
Saturdays from 12:15 to 4:00 pm
March 4, 11, 18, 25

March 8 is International Women's Day. They are girls. Hear them roar.

12:15 to 2:00 pm • Suggested Ages 6 to 9

The Wild Thornberrys: "Lost Or Foundation"  
Spongebob Squarepants: "Help Wanted/Reef Blower/Tea At The Tree Dome"  
The Proud Family: "Party"  
Dexter's Laboratory: "Don't Be A Baby/Peltra/G.I.R.L. Squad"  
Powerpuff Girls: "Super Friends" 

2:00 to 4:00 pm • Suggested Ages 9 to 12

Teen Titans: "Switched"  
Clarissa Explains It All: "Editor-In-Chief"  
Adventure Time: "Princess Day"  
The Secret World Of Alex Mack: "The Solo"  
Justice League: "Fury (Part 1)"  
Justice League: "Fury (Part 2)"

April
Toons at Noon: Easter, Passover, Earth Day
Saturdays from 12:15 to 4:00 pm
April 1, 8, 15, 22, 29

Holidays R Us: Easter, Passover, Earth Day—April is not just springtime, but also holiday time. And just to prove we don't take ourselves too seriously, we've even thrown in an April Fool's program.

12:15 to 2:00 pm • Suggested Ages 6 to 9

Rugrats: "A Rugrats Passover"
It's the Easter Beagle, Charlie Brown
The Easter Bunny Is Comin' to Town


2:00 to 4:00 pm • Suggested Ages 9 to 12

The Sun Is a Yellow Giraffe: "The Tree"
Krattso Creatures: "City Critters"
Turtle World
Eyewitness: "Volcano"
Green Animation: "Avoiding the Issue"/"Balance & Harmony"
Bill Nye the Science Guy: "Erosion"
The Drew Carey Show: "What's Wrong With This Episode?"

Upcoming Screenings: May

The Paley Center Salutes Desi Arnaz 
Sundays, March 5, 12, 19, 26
12:15 to 4:00 pm

The Paley Center celebrates the 100th anniversary of the birth of legendary television pioneer Desi Arnaz (March 2, 1917). Desi Arnaz not only costarred on the most successful and beloved comedy of all time, I Love Lucy, but was one of the most important behind-the-scenes figures in television history. Founding Desilu Productions with wife Lucille Ball, Arnaz and the brilliant minds he hired created television methods still in use today, most notably filming a sitcom with multiple cameras in front of a live studio audience. Since the show was on film, I Love Lucy could be rerun forever. A proud Cuban man, Desi opened the door for other Hispanic performers on television and introduced viewers to Latin music on I Love Lucy. The Paley Center is happy to present some memorable and rare moments from the esteemed television career of Desi Arnaz.

12:15 pm
I Love Lucy: "Lucy Hires an English Tutor" (1952)
Pregnant Lucy decides that she wants her baby to only learn proper English, so she finds a tutor to help her, the Mertzes, and Ricky... especially Ricky. (28 minutes)

12:44 pm
I Love Lucy: "Ricky Has Labor Pains" (1953)
Ricky starts to feel ignored when all the attention is on Lucy and their future child, so Lucy decides to throw him a "daddy shower." When the gathering becomes a "stag party," Lucy and Ethel decide to crash it. (28 minutes)

1:13 pm
I Love Lucy: "Lucy Goes to the Hospital" (1953)
In an episode watched by a record 92 percent of television viewers, Ricky and the Mertzes meticulously plan Lucy's trip to the hospital to give birth, but pandemonium breaks out when the time actually comes. Lucille Ball gave birth to son Desi Arnaz Jr. the morning this episode aired. The following day, Dwight Eisenhower was inaugurated President of the United States, but newspaper headlines read "Lucy Gives Birth to Baby Boy." (26 minutes)

1:40 pm
The Paley Center for Media: Classic Lucy And Desi
Originally produced by the Paley Center in commemoration of the 60th anniversary of I Love Lucy in 2011, this compilation features notable moments in Lucy and Desi's television careers including:
The Ed Wynn Show (1949)
Lucy and Desi make their joint television debut in this early variety show. Desi performs "The Straw Hat Song" and Lucy and Ed Wynn enact a silent movie sketch, but Desi keeps wanting to sing "Babalu!"
The Toast of The Town (1954)
On the eve of the fourth season premiere of I Love Lucy, Ed Sullivan devotes the entire hour of his show to Lucy and Desi. Highlights include a sketch of Sullivan visiting the Arnazes at home, a musical number by Vivian Vance and William Frawley, Desi performing "Babalu" (despite suffering from the flu and a high fever), and Desi giving an emotional speech about his love of America.
The Ed Sullivan Show (Segment) (1956)
Lucy and Desi appear to promote their new film Forever, Darling. Desi sings the movie's title song with the Ames Brothers and Lucy attempts to crash the proceedings disguised as the "fifth Ames Brother."
Stars in the Eye (Segment) (1952)
CBS produced this live television special to dedicate their new CBS Television City studio facilities. Desi appears to announce he is suing host Jack Benny for repeatedly ruining the filming of I Love Lucy. Desi is armed with film clips of Benny crashing the I Love Lucy set, much to the annoyance of Lucy and Desi.

3:04 pm
The Mothers-In-Law: "The Hombre Who Came to Dinner (Part 1)" (1968)
Desi produced, frequently directed, and occasionally acted in this sitcom created by I Love Lucy writers Madelyn Davis and Bob Carroll Jr. Longtime neighbors Eve and Herb Hubbard (Eve Arden and Herbert Rudley) and Kaye and Roger Buell (Kaye Ballard and Roger C. Carmel) become family when the Hubbards' daughter Suzie marries the Buells' son Jerry. Desi guest stars as famed matador Raphael del Gado who comes for a visit and stays and stays. Desi sings his own composition, "I Love You," which he originally wrote in the 1940s for wife Lucy. (25 minutes)

3:30 pm
The Mothers-In-Law: "The Hombre Who Came to Dinner (Part 2)" (1968)
When Raphael del Gado plans to do a musical show in Mexico City, everyone, including grocery delivery boy Tommy (Desi Arnaz Jr.), wants to get into the act. (25 minutes)
---
Grounded Pilots
Sundays, April 2, 9
12:15 to 4:00 pm
It's pilot season! Each year dozens of television pilots are produced in hopes of landing on the networks' schedule; a majority of which are never seen by the public. The Paley Center is happy to present some of the weird, the wild, and the wonderful unsold television pilots of the past from our collection. Our selected curios feature stars before they were famous, incredible behind-the-scenes talent, and Gabors galore! Decide for yourself if these programs should have gone on to become long-running hits.
12:15pm
Inside O.U.T. (1971)
Bill Daily, Alan Oppenheimer, Mike Henry, and Farrah Fawcett star in this spy spoof as agents from the Office of Unusual Tactics (O.U.T.). Six years after its initial airing, NBC rebroadcast the pilot in 1977 at the height of "Farrah-mania." (28 minutes)
12:44 pm
The Michele Lee Show (1974)
In this sitcom pitch, Michele Lee stars as an unlucky-in love-newsstand worker. (33 minutes)

1:18 pm
The Victor Borge Comedy Theatre (1962)
Desilu Productions created this proposed anthology series to utilize the comedic and musical talents of Victor Borge. Borge introduces comedic scenes; two of which were excerpts from previously unsold Desilu productions. Suzuki Beane stars Katie Sweet as a child beatnik who ends up bonding with a rich classmate (Jimmy Garrett) and The Sound and the Fidelity features Tom Ewell as a Hi-Fi obsessive. A new sketch, directed by Desi Arnaz, stars Lucille Ball as a first time flier on an airplane who drives seatmate Gale Gordon crazy. (41 minutes)

2:00 pm
The Zsa Zsa Gabor Show (1969)
Hostess Zsa Zsa Gabor welcomes Lucille Ball, Adam West, and Marty Allen as her guests in this unique talk show pilot. (35 minutes)

2:35 pm
Mickey and the Contessa (1963)
A widowed college football coach (Mickey Shaughnessy) hires a housekeeper sight unseen and is surprised when his new employee turns out to be a glamorous Contessa (Eva Gabor). (29 minutes)

3:05 pm
The Sheriff and the Astronaut (1983)
Alec Baldwin is the sheriff and Ann Gillespie is the astronaut in this drama about a couple on the hunt for a murderer killing off members of a prestigious family. (51 minutes)

3:57 pm
Lefty (2002)
Sylvester Stallone created this drama about a Gulf War veteran (Danny Nucci) who becomes an unconventional priest in Florida. Viola Davis costars as Sister Maggie. (35 minutes)
---
Ella Fitzgerald Centennial Celebration
Sundays, April 16, 23, 30
12:15 to 4:00 pm

The Paley Center celebrates the centennial of the beloved American jazz singer Ella Fitzgerald (who was born on April 25, 1917, and died in 1996)—known the world over as "The First Lady of Song"—with a sampler of television programs from our archives.

12:15 pm
Previn and the Pittsburgh (1979)
Fitzgerald performs with an instrumental trio (pianist Paul Smith, drummer Jimmie Smith, and bassist Keter Betts) and talks to pianist and conductor André Previn about her early career and her acclaimed series of American Songbook recordings. Selections include "Lady Be Good" (in two versions, one up tempo and the other in a slow ballad style), "I'm Just a Lucky So and So," "I Won't Dance," "Hard Hearted Hannah," "Glad to Be Unhappy," "They Can't Take That Away from Me," and "It's All Right with Me." (59 minutes)

1:15 pm
The Nat King Cole Show (1957)
Highlights include Fitzgerald singing "The Lady Is a Tramp" and "Perdido," Fitzgerald performing "Dancing on the Ceiling" accompanied by a sand-dance; Cole and Fitzgerald singing "Too Close for Comfort," and Cole performing "Unforgettable." (26 minutes)

1:40 pm
Segment from The Jo Stafford Show (1961)
From a British ATV program, Stafford and guest Fitzgerald perform a medley of songs about love including "But Not for Me," "Love Is a Simple Thing," "I'm Through with Love," "Falling in Love with Love," and "They Say It's Wonderful." (13 minutes)

1:55 pm
The Dinah Shore Show (1964)
Shore's guests on this broadcast from Studio 8H at Rockefeller Center are Fitzgerald and opera singer Joan Sutherland. The three women perform solo numbers and join forces for an infectious rendition of "Three Little Maids from School Are We" from Gilbert & Sullivan's operetta The Mikado. (59 minutes)

2:55 pm
Soundstage: Ella Fitzgerald (1979)
Ella Fitzgerald shares the stage with a lineup of musicians including Count Basie, Joe Pass, Roy Eldridge, Zoot Sims, Paul Smith, Keter Betts, and Mickey Roker. Selections include "Am I Blue?" "Honeysuckle Rose," "Let's Do It," "I've Got My Love to Keep Me Warm," "Mountain Greenery," "Love Is Here to Stay," "Blues in the Night," a Duke Ellington medley, "I Can't Get Started," and "Lady Be Good." (90 minutes)




What do YOU want to see on the big screen?

The Paley Center is now offering all Members the opportunity to program our giant-screen theater. You tell us what to screen (provided it is included in our collection of 160,000 programs—we're sure you'll find something you like!) and all you have to do is invite your friends, family, officemates, band members, and more to join the fun! You can even request that one of our Curators (aka Television Experts) be available to take questions from the audience.

Members Choice Screenings are open to the public, so swing by and discover hidden treasures!

How do you choose?
Need ideas? Here are some of the awesome programs in the Paley Archive. Let these spark your imagination!
• David Bowie screenings
• Nickelodeon classics (Pete & Pete, Clarissa, Hey Arnold)
• MTV classics (The very 1st hour of programming, Unplugged, Daria)
• Classic Disney animation (Man in Space, Adventures in Fantasy)
• Classic Doctor Who episodes
• Jim Henson on TV (The Muppet Show, The Tonight Show, The Ed Sullivan Show)
• Comedy Cult Classics (Get a Life, SCTV, Mystery Science Theater 3000, Your Show of Shows)

Important Details
• Members Choice Screenings are on Sundays only.
• Current Paley Members can request programming from the Paley Archive to be shown in the theater.
• Requests must be submitted in writing by emailing memberschoice@paleycenter.org.
• Requests must be submitted at least two weeks in advance. Please give us your top three choices for Sunday screening dates.
• Please make sure we have the program you are requesting first by searching the Paley Archive catalog.
• Not all dates are available; some Sundays may not be available for screenings.
 
Feeling left out? If you are not a Member, you can JOIN NOW and submit your screening request. But remember, you must be a Member to program a screening.