Watch Your Favorite Shows on the Big Screen!
Saturdays and Sundays in New York and Los Angeles
12:15 to 5:00 pm local time • FREE Admission
Visit New York  |  Visit Los Angeles
Weekend Screenings from the Paley Archive on the Big Screen in NY & LA offer great family entertainment, PLUS programming selected by our Members and screened for the public. You haven't really experienced TV until you've seen it on a movie-size screen with fellow fans.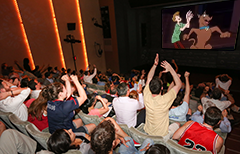 The Paley Center presents a fabulous afternoon of fun-filled, family-friendly fare.
Members can reserve seats by emailing in NY: membership@paleycenter.org or in LA: lamembers@paleycenter.org at least 24 hours in advance.

Cartoon Network on the Big Screen
LA: Saturdays & Sundays, October 14 to November 19
NY: Saturdays & Sundays, September 16 to October 8
12:15 & 2:15 pm
Join us to celebrate twenty-five years of drawing on creativity! Visitors will experience the creative process from sketch to screen and beyond with an in-depth look at Steven Universe, enjoy special exhibits including stop-motion sets from Adventure Time, and have photo ops with sculptures from The Powerpuff Girls and Cartoon Network's newest hit OK K.O.! Let's Be Heroes! Screenings of the shows featured in the exhibit.

November
Toons at Noon: Pass the Turkey, Please!
Saturdays from 12:15 to 4:00 pm
In New York: Saturdays, November 4, 11, 18, and 25
In Los Angeles: Saturday, November 25

Over the river and through the woods to these Paley Center Thanksgiving screenings we go!

12:15 to 2:00 pm • Suggested Ages 6 to 9

A Winnie the Pooh Thanksgiving/
Winnie the Pooh and the Blustery Day
A Charlie Brown Thanksgiving
This Is America, Charlie Brown: "The Mayflower Voyagers""

2:00 to 4:00 pm • Suggested Ages 9 to 12

Bewitched: "Samantha's Thanksgiving to Remember"
Modern Family: "Punkin Chunkin"
The Middle: "Thanksgiving II"
The Goldbergs: "A Goldberg Thanksgiving"



---
Thanks for the (Thanksgiving) Memories 
In New York: Sundays, November 5, 12, 19, 26, and December 3
In Los Angeles: Sunday, November 26
12:15 to 4:00 pm
Wherein we revisit classic Turkey Day-themed episodes from sitcoms and dramas of years past.

12:15pm
The Bob Newhart Show: "Over the River and Through the Woods" (1975)
Dr. Robert Hartley (Bob Newhart) copes with an empty house and an empty stomach when he declines to visit his in-laws for Thanksgiving. But never fear, because he's soon joined by three friends still hoping to make the most of the holiday. Trading turkey and potatoes for booze and moo goo gai pan, they might just have their best Thanksgiving yet. (25 minutes)
12:40 pm
The Wonder Years: "The Ties That Bind" (1990)
There's something about ceremonial feasting that brings out the sentimental side in all of us. Here, Kevin (Fred Savage) reflects on the sacrifices made by his parents in the days leading up to Thanksgiving. Despite complications at Mr. Arnold's (Dan Lauria) job and Mrs. Arnold's (Alley Mills) finicky new stove, the show leaves us with a heartwarming reminder – love always wins. (24 minutes)


1:04 pm
WKRP in Cincinnati: "Turkeys Away" (1978)
"Oh, the humanity!" In this legendary Turkey Day episode, Mr. Carlson (Gordon Jump) organizes a promotional event for the radio station, but it doesn't fly. (25 minutes)

1:29 pm
Friends: "The One with All the Thanksgivings" (1998)
In the nostalgic words of Chandler Bing (Matthew Perry), "reliving past pain and getting depressed is what Thanksgiving is all about." This memorable one-liner holds true as the "Friends" recount their worst memories of the holiday, involving, among other things, Ross's (David Schwimmer) neon blazers and Phoebe's (Lisa Kudrow) past reincarnation as a French battlefield nurse. This episode is nearly as iconic as Thanksgiving itself. (22 minutes)

1:51 pm
St. Elsewhere: "A Wing and a Prayer" (1983)
The Thanksgiving spirit is found in the most unlikely places, even throughout the halls of St. Eligius Hospital. In this Thanksgiving-themed episode, Dr. Erlich (Ed Begley, Jr.) faces off against a characteristically cranky Dr. Craig (William Daniels) in a turkey-cooking competition for the staff. A depressed Dr. Auschlander (Norman Lloyd) begins contemplating the meaning of his own life and his demise, all while the injured from the nearby Thanksgiving parade pour into the hospital for help. (50 minutes)
 
2:41 pm
Will & Grace: "Homo for the Holidays" (1999)
A special guest comes to visit Will (Eric McCormack) and Grace (Debra Messing) for the holiday dinner, and it's not, as Jack (Sean Hayes) guesses, Cher. Will invites Jack's mother (Veronica Cartwright), who doesn't know that her son is gay, despite multiple obvious hints from his childhood. To top it off, she thinks Grace is Jack's ex-girlfriend! What's Thanksgiving without a little family drama?  (21 minutes)
 
3:02 pm
Cheers: "Thanksgiving Orphans" (1986)
The Cheers gang assembles for a potluck Thanksgiving meal at Carla's (Rhea Pearlman) house. After Diane (Shelley Long) arrives in full pilgrim garb, the "Thanksgiving orphans" meal quickly dissolves into a full-fledged food fight. Will the turkey Norm (George Wendt) brings ever be fully cooked? Only time will tell. (24 minutes)
 
3:26 pm
M*A*S*H: "The Yalu Brick Road" (1979)
After a case of salmonella from bad turkey served the night before sweeps across the camp, Hawkeye (Alan Alda) and BJ (Mike Farrell) must go out to pick up antibiotics while Father Mulcahy (William Christopher), Margaret (Loretta Swit), and Winchester (David Ogden Stiers) stay behind to look after the ill soldiers. (23 minutes) 
---


What do YOU want to see on the big screen?

The Paley Center is now offering all Members the opportunity to program our giant-screen theater. You tell us what to screen (provided it is included in our collection of 160,000 programs—we're sure you'll find something you like!) and all you have to do is invite your friends, family, officemates, band members, and more to join the fun! You can even request that one of our Curators (aka Television Experts) be available to take questions from the audience.

Members Choice Screenings are open to the public, so swing by and discover hidden treasures!

How do you choose?
Need ideas? Here are some of the awesome programs in the Paley Archive. Let these spark your imagination!
• David Bowie screenings
• Nickelodeon classics (Pete & Pete, Clarissa, Hey Arnold)
• MTV classics (The very 1st hour of programming, Unplugged, Daria)
• Classic Disney animation (Man in Space, Adventures in Fantasy)
• Classic Doctor Who episodes
• Jim Henson on TV (The Muppet Show, The Tonight Show, The Ed Sullivan Show)
• Comedy Cult Classics (Get a Life, SCTV, Mystery Science Theater 3000, Your Show of Shows)

Important Details
• Members Choice Screenings are on Sundays only.
• Current Paley Members can request programming from the Paley Archive to be shown in the theater.
• Requests must be submitted in writing by emailing memberschoice@paleycenter.org.
• Requests must be submitted at least two weeks in advance. Please give us your top three choices for Sunday screening dates.
• Please make sure we have the program you are requesting first by searching the Paley Archive catalog.
• Not all dates are available; some Sundays may not be available for screenings.
 
Feeling left out? If you are not a Member, you can JOIN NOW and submit your screening request. But remember, you must be a Member to program a screening.