Watch Your Favorite Shows on the Big Screen!
Saturdays and Sundays in New York and Los Angeles
12:15 to 5:00 pm local time • FREE Admission
Visit New York  |  Visit Los Angeles
Weekend Screenings from the Paley Archive on the Big Screen in NY & LA offer great family entertainment, PLUS programming selected by our Members and screened for the public. You haven't really experienced TV until you've seen it on a movie-size screen with fellow fans.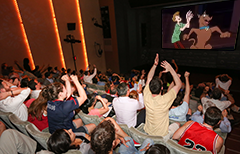 The Paley Center presents a fabulous afternoon of fun-filled, family-friendly fare.
Members can reserve seats by emailing in NY: membership@paleycenter.org or in LA: lamembers@paleycenter.org at least 24 hours in advance.

July
Toons at Noon: Hooray for the Red, White, and Blue
Saturdays from 12:15 to 4:00 pm
July 1, 8, 15, 22, 29

Time to grill some patties and get the sparklers ready. Join us every Saturday in July to celebrate baseball, hotdogs, and the land of the free and home of the brave.

12:15 to 2:00 pm • Suggested Ages 6 to 9

School House Rock: "ABC History Rock"
This Is America, Charlie Brown:
    "The Birth of the Constitution"
Animaniacs: "The Flame/Wakko's America/
    Davy Omelette, Four Score and Seven Migraines Ago"
Rugrats: "Beauty Contest/Baseball"

2:00 to 4:00 pm • Suggested Ages 9 to 12

Clarissa Explains It All: "Total TV"
The Brady Bunch: "Vote For Brady"
Fresh Off the Boat: "Family Business Trip"
Hey Arnold!: "Veteran's Day"



August
Toons at Noon: Spaced Out
Saturdays from 12:15 to 4:00 pm
August 5, 12, 19, 26
Beat the summer heat with a trip to the Paley Center! Cool off every Saturday in August with out of this world adventures featuring robots, rockets, aliens, and space-dogs. Because it is very cold . . . in space.

12:15 to 2:00 pm • Suggested Ages 6 to 9

Tiny Planets: "Easy Rider"
Tiny Planets: "Color Cues"
Miles from Tomorrowland
A Grand Day out With Wallace and Gromit
The Jetsons: "Rosie the Robot"
The Magic School Bus:
    "The Magic School Bus gets Lost in Space

2:00 to 4:00 pm • Suggested Ages 9 to 12

Ben 10: "Ultimate Alien" & "Double or Nothing"
3-2-1 Contact: "Space: Weightless"
Josie and the Pussycats in Outer Space: "Where is Josie?"
Battle of the Planets: "Orion, Wonderdog of Space"
Gigantor: "Evil Robot Brain"



New York State of Mind
Sundays, July 2, 9, 16, 23, 30 
12:15 to 4:00 pm

Power is power. And Power is the fourth-year Starz crime drama pivoting on nightclub impresario/drug overlord James "Ghost" St. Patrick (Omari Hardwick), which the Paley Center will explore on July 12 with a public screening and panel. Exec produced by 50 Cent, Power is filmed on the streets on New York, which got us thinking: What other shows have been shot in New York? Which explains these screenings...
12:15 pm
30 Rock: "Tracy Does Conan" (2006)
When life gives you lemons, call Dr. Spaceman. In this episode, Liz (Tina Fey) struggles to satisfy her mercurial boss (Alec Baldwin) and prepares to dump her deadbeat boyfriend, all while attempting to placate a hallucinating Tracy (Tracy Morgan) before his impromptu appearance on late night TV. Does she succeed? Well, that's another question. (21 minutes)

12:36 pm
Bored to Death: "Super Ray Is Mortal!" (2010)
A young writer trying to make his way in New York City? Shouldn't be too hard. This HBO gem stars Jason Schwartzman as Jonathan Ames, a struggling novelist who moonlights as a private investigator (think Brooklyn hipster meets Nancy Drew). The series also features Zach Galifianakis and Ted Danson. (26 minutes)

1:02 pm
Flight of the Conchords: "Yoko" (2007)
Meet Jemaine Clemaine and Bret McClegnie, two former shepherds who ditched New Zealand and moved to the Big Apple to pursue their dreams as the folk duo the Flight of the Conchords. The awkward pair does everything together, from eating to singing to even going on dates. Here, Jemaine helps Bret compose a song about having a threesome in the kitchen with his girlfriend. How charming. (26 minutes)

1:28 pm
Lucky Louie (2006)
Louis CK's first pilot, for HBO, destroys the boundaries and norms of the traditional three-camera sitcom with the raunchiest of dialogue and frank discussions of race, sex, and parenthood. Conversations between Archie Bunker and Meathead are replaced with the awkward encounters of Louie and his neighbor over the discarding of a black Barbie doll ("See, here's the white Barbie, we threw both away!") and Louie's brother-in-law giving his four-year-old niece a gun for her birthday, even if it is just a model. Though short lived, Lucky Louie influenced the comedian's future sitcom for FX that propelled CK into stardom, as well as his stand-up performances. (32 minutes)

2:00 pm
Late Night with David Letterman Highlights (Various)
We miss you, Dave. Crass, brash, and zany only begin to describe the antics and interviews of the fabled Late Night with David Letterman. Guests of all backgrounds sat next to Letterman as he joked and jabbed to a clamoring baby boomer audience. This selection of highlights includes his famous interviews with Madonna and Cher, plus a chat with Jay Leno (who beat him out for The Tonight Show twenty-five years ago) and the uproarious "brawl" between Andy Kaufman and wrestler Jerry Lawler. (67 minutes)

3
:07 pm
Saturday Night Live (1978)
SNL has been satirizing politics and culture for an amazing forty-two years, and incubated a boatload of TV and film stars, not to mention one U.S. senator. Here we go back to almost the beginning, with highlights from the program featuring Steve Martin's fifth appearance as guest host, including such sketches as the Blues Brothers, King Tut, and Two Wild and Crazy Guys. New York sketch comedy at its finest. (44 minutes)

3:51 pm
Law & Order: "Everybody's Favorite Bagman" [Original Pilot] (1990)
So before Law & Order the series (yes, there was such a time) there was Law & Order the pilot, which isn't all that different except that it features Roy Thinnes as D.A. Alfred Wentworth, who never appeared again—as Wentworth, that is; Thinnes made two guest appearances as other characters, but went on to star in NBC's Dark Shadows revival instead. Tough luck, Roy. (47 minutes)

4:38 pm
New York Undercover: "The Finals" (1995)
Remember when Ice-T played bad guys? Meet Danny Cort, vicious drug lord out to exact revenge against Detective J.C. Williams (Malik Yoba), as depicted in this episode of the underrated Dick Wolf/Kevin Arkadie cop drama, which also guest-stars Edie Falco, Al Green, and Naomi Campbell, and ends with a bang. (45 minutes)
---
TV Noir: Let There Be Dark
Saturday, August 5; Sundays, August 6, 13, 20, 27, September 3 
12:15 to 5:00 pm 


What do YOU want to see on the big screen?

The Paley Center is now offering all Members the opportunity to program our giant-screen theater. You tell us what to screen (provided it is included in our collection of 160,000 programs—we're sure you'll find something you like!) and all you have to do is invite your friends, family, officemates, band members, and more to join the fun! You can even request that one of our Curators (aka Television Experts) be available to take questions from the audience.

Members Choice Screenings are open to the public, so swing by and discover hidden treasures!

How do you choose?
Need ideas? Here are some of the awesome programs in the Paley Archive. Let these spark your imagination!
• David Bowie screenings
• Nickelodeon classics (Pete & Pete, Clarissa, Hey Arnold)
• MTV classics (The very 1st hour of programming, Unplugged, Daria)
• Classic Disney animation (Man in Space, Adventures in Fantasy)
• Classic Doctor Who episodes
• Jim Henson on TV (The Muppet Show, The Tonight Show, The Ed Sullivan Show)
• Comedy Cult Classics (Get a Life, SCTV, Mystery Science Theater 3000, Your Show of Shows)

Important Details
• Members Choice Screenings are on Sundays only.
• Current Paley Members can request programming from the Paley Archive to be shown in the theater.
• Requests must be submitted in writing by emailing memberschoice@paleycenter.org.
• Requests must be submitted at least two weeks in advance. Please give us your top three choices for Sunday screening dates.
• Please make sure we have the program you are requesting first by searching the Paley Archive catalog.
• Not all dates are available; some Sundays may not be available for screenings.
 
Feeling left out? If you are not a Member, you can JOIN NOW and submit your screening request. But remember, you must be a Member to program a screening.