Watch Your Favorite Shows on the Big Screen!
Saturdays and Sundays in New York and Los Angeles
12:15 to 5:00 pm local time • FREE Admission
Visit New York  |  Visit Los Angeles
Weekend Screenings from the Paley Archive on the Big Screen in NY & LA offer great family entertainment, PLUS programming selected by our Members and screened for the public. You haven't really experienced TV until you've seen it on a movie-size screen with fellow fans.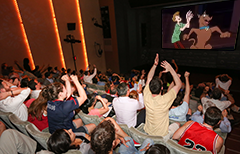 The Paley Center presents a fabulous afternoon of fun-filled, family-friendly fare.
Members can reserve seats by emailing in NY: membership@paleycenter.org or in LA: lamembers@paleycenter.org at least 24 hours in advance.

Winter Is Here!
Saturdays from 12:15 to 4:00 pm
January 13, 20, 27

The best way to experience winter? Comfy and cozy in our giant-screen theater, watching these frosty-themed shows.

12:15 to 2:00 pm • Suggested Ages 6 to 9

Pingu and the Snowball Fight
Pingu on a Sled Race
Pingu Goes Tobogganing
Babar: Child in the Snow
Snowman
The Woman Who Raised a Bear as Her Son


2:00 to 4:00 pm • Suggested Ages 9 to 12

The Adventures of Tintin: Tintin in Tibet
Boy Meets World: Stormy Weather
Sabrina the Teenage Witch: Mars Attracts

Members can reserve seats by emailing in NY: membership@paleycenter.org or in LA: lamembers@paleycenter.org at least 24 hours in advance.
The Road to BroadwayCon: From the Comfort of Your Living Room – Treasures of Network TV 
In New York: Sundays, January 14 and 21, 2018
12:15 to 4:00 pm
The Paley Center copartners with BroadwayCon to offer some of musical theater's best moments on television. Come watch these TV treasures that introduced millions of Americans to the joys of Broadway musicals—and spurred many a theater lover to visit the Great White Way! The third annual BroadwayCon, the premier convention for Broadway fans and theatre lovers, will take place from January 26 to 28, 2018, at the Jacob K. Javits Convention Center. (For more information or tickets, go to BroadwayCon.com)
Sunday, January 14, 2018
12:15pm
Carousel (1967)
The Armstrong Circle Theatre presentation of Rodgers & Hammerstein's classic musical stars Robert Goulet as Billy Bigelow, Mary Grover as Julie Jordan, Marlyn Mason as Carrie, Patricia Neway as Nettie, Jack DeLon as Mr. Snow, and Pernell Roberts as Jigger, with Charlie Ruggles as the Starkeeper. Paul Bogart directed the telecast. (ABC, 2 hours)
2:15 pm
Carousel Roundtable Discussion (2013)  
From the Paley Archive, a 2013 Paley Center discussion with Ted Chapin of the Rodgers & Hammerstein Organization, Mary Grover ("Julie" in the 1967 telecast of Carousel), and dancers Bambi Linn ("Louise" in the original Broadway production of Carousel) and Gemze de Lappe, who both had a long association with the show's original choreographer, Agnes de Mille; includes 1945 film footage of Ms. Linn dancing Carousel's Act II "Ballet." (45 min.)
3:00 pm
The Tonight Show Starring Johnny Carson (1972)
Pippin was featured prominently on the November 23, 1972, installment of The Tonight Show—a month after the Stephen Schwartz musical opened on Broadway. Included are Johnny Carson's interviews with Ben Vereen and John Rubinstein, and three complete numbers featuring Vereen, Rubinstein, and other cast members performing Bob Fosse's ingenious choreography: "Simple Joys," "With You," and "On the Right Track." (NBC, 25 min.)
Sunday, January 21, 2018
12:15pm
Brigadoon (1966)
An Armstrong Circle Theatre telecast of the beloved Lerner & Loewe musical starring Robert Goulet as Tommy Albright, Sally Ann Howes as Fiona MacLaren, Peter Falk as Jeff Douglas, Marlyn Mason as Meg Brockie, and Edward Villella as Harry Beaton. This excellent adaptation won five Emmy Awards including Best Musical Program and Best Director for Fielder Cook. (ABC, 90 min.)
1:45 pm
South Bank Show: The Andrew Lloyd Webber Story (1986)
The Phantom of the Opera opened on Broadway on January 26, 1988. To mark this milestone thirtieth anniversary, the Paley Center will screen an episode of the award-winning British arts series The South Bank Show. The program traces the career of composer Andrew Lloyd Webber. Interspersed with host Melvyn Bragg's interview with the composer are reminiscences by Lloyd Webber's family members and by lyricist Tim Rice, actress Elaine Paige, and director Hal Prince. Excerpts from the original productions of Joseph and the Amazing Technicolor Dreamcoat, Jesus Christ Superstar, Song and Dance, Evita, and Cats are seen. The program concludes with Prince rehearsing the West End production of Phantom of the Opera with Michael Crawford and Sarah Brightman—who perform "The Point of No Return." (LWT, 80 min.)

---
1968/Television 

In New York: Sundays, March 4, 11, and 18, 2018
12:15 to 5:00 pm

As part of the Carnegie Hall citywide festival The '60s: The Years That Changed America, the Paley Center is presenting screenings of 1968 television programs from our archives—including an historic special report from Vietnam by Walter Cronkite and an episode of The Smothers Brothers Comedy Hour with Pete Seeger—that will look at how the medium reported the news and how it adapted to the changing national mood. Among the other programs to be screened are James Brown: Live in Boston, the complete concert by James Brown and his band that was broadcast on April 5, 1968—the day after the assassination of Martin Luther King, Jr.; a segment on pianist Glenn Gould from the magazine-program Public Broadcasting Laboratory; episodes of Rowan & Martin's Laugh-In and Get Smart; and the series premiere of 60 Minutes.

Sunday, March 4, 2018
12:15 pm

Who? What? When? Where? Why?: Report from Vietnam by Walter Cronkite
In early 1968, CBS Evening News anchor Walter Cronkite traveled to Vietnam. What he saw there convinced him that he had been misinforming the public about the progress of that war—resulting in this February 26, 1968, special report. (CBS, 30 min.)

12:45 pm
The Smothers Brothers Comedy Hour (guest Pete Seeger)
The highlight of this installment of the weekly comedy-variety show is folk music legend Pete Seeger's powerful rendition of his anti-war song "Waist Deep in the Big Muddy." Seeger had originally performed it on a Smothers Brothers show the previous September, but CBS censored the song prior to its broadcast. (CBS, 60 min.)

1:45 pm
Experiment in Television: Youth '68 – Everything's Changing or Maybe It Isn't
Jim Henson wrote and produced this experimental documentary which aired on April 21 and blends film montages, interviews, and rock music to create a portrait of contemporary American youth—and their changing attitudes toward patriotism, sex, and mortality. (NBC, 60 min.)

2:35 pm
James Brown: Live in Boston
This special concert by James Brown and his band, broadcast live from the Boston Garden on April 5, 1968, was booked on extremely short notice less than twenty-four hours after the assassination of Martin Luther King, Jr. (WGBH, 110 min.)

Sunday, March 11, 2018
12:15 pm
The Tonight Show Starring Johnny Carson: Robert F. Kennedy Tribute
Johnny Carson discusses the legacy of Robert F. Kennedy with Orson Bean, Jimmy Breslin, Louis Nizer, Sander Vanocur, and Alan King. This program aired on June 7, 1968, a day after RFK's death. (NBC, 80 min.)

1:35 pm
Inside Bedford-Stuyvesant and a clip from The 1968 Tony Awards
This installment of the WNEW-TV public affairs program Inside Bedford-Stuyvesant includes interviews with violinist Sanford Allen of the New York Philharmonic, painter Nathaniel Pinckney, and singer-dancer Winston DeWitt Hemsley. Plus a clip from the 1968 Tony Awards on which DeWitt Hemsley plays the role of Barnaby in the Broadway production of Hello, Dolly! starring Pearl Bailey. (WNEW, 25 min.; NBC, 5 min.)


2:05 pm
Petula
This television special, which aired on April 2, stars UK pop singer Petula Clark, who had become a star in the US with her signature song "Downtown," and her guest Harry Belafonte. The two perform solos and join forces for the anti-war song "On the Path of Glory." Sponsors panicked when Clark—who is white―warmly touched the African-American Belafonte's arm at the end of the song, but Clark refused to "edit out" the moment. (NBC, 60 min.)

3:05 pm
Glenn Gould on Public Broadcasting Laboratory
This controversial segment (entitled "How Mozart Became a Bad Composer") from the WNET newsmagazine program aired one time only (April 28, 1968) and has never been released commercially. It begins with Gould's satirical analysis of the music of Mozart and ends with the pianist performing the complete Mozart Piano Sonata in B-flat Major, K. 333. (WNET, 40 min.)

3:45 pm
Bell Telephone Hour: Man Who Dances: Edward Villella
This portrait of New York City Ballet star Edward Villella, which aired on March 8, 1968, was filmed the previous November and follows the dancer on and offstage during an especially grueling day during which he must overcome physical pain and dance three major roles. Produced by Robert Drew and Mike Jackson. (NBC, 60 min.)

Sunday, March 18, 2018
12:15 pm
Rowan and Martin's Laugh-In
This complete episode from September 16, 1968, includes a cameo appearance by Richard M. Nixon two months before he won the presidential election. (NBC, 60 min.)
1:10 pm
Get Smart: "Snoopy Smart vs. The Red Baron"
On this episode from September 28, 1968, the bumbling secret agent Maxwell Smart (Don Adams) meets his future mother-in-law. (NBC, 30 min.)
1:35 pm
The Mod Squad: "The Teeth of the Barracuda"
(Series Premiere – September 24, 1968)
On the premiere of this series about three societal drop-outs who become undercover police agents, Pete (Michael Cole), Linc (Clarence Williams III), and Julie (Peggy Lipton) investigate a policeman's murder. The murderers are exploiting Pete's exgirlfriend in a blackmail scheme aimed at her father, a wealthy gubernatorial candidate. (ABC, 70 min.)
2:45 pm               
60 Minutes (Series Premiere – September 24, 1968)
The news magazine program begins with a look at the presidential candidates' campaign headquarters in Miami and Chicago during the Republican and Democratic Conventions and also includes an interview with Attorney General Ramsey Clark that focuses on the relationship between the police and the community. Plus an appearance by Art Buchwald and a short film by Saul Bass. (CBS, 60 min.)
3:45 pm               
That's Life: "How We Met" (Series Premiere – September 24, 1968)
Robert Morse and E.J. Peaker star in this quirky hour-long musical comedy series that follows the romance and marriage of a young couple in the fictional town of Ridgeville. This first episode includes appearances by George Burns, Tony Randall, and the popular rock group the Turtles. (ABC, 60 min.)

---


What do YOU want to see on the big screen?

The Paley Center is now offering all Members the opportunity to program our giant-screen theater. You tell us what to screen (provided it is included in our collection of 160,000 programs—we're sure you'll find something you like!) and all you have to do is invite your friends, family, officemates, band members, and more to join the fun! You can even request that one of our Curators (aka Television Experts) be available to take questions from the audience.

Members Choice Screenings are open to the public, so swing by and discover hidden treasures!

How do you choose?
Need ideas? Here are some of the awesome programs in the Paley Archive. Let these spark your imagination!
• David Bowie screenings
• Nickelodeon classics (Pete & Pete, Clarissa, Hey Arnold)
• MTV classics (The very 1st hour of programming, Unplugged, Daria)
• Classic Disney animation (Man in Space, Adventures in Fantasy)
• Classic Doctor Who episodes
• Jim Henson on TV (The Muppet Show, The Tonight Show, The Ed Sullivan Show)
• Comedy Cult Classics (Get a Life, SCTV, Mystery Science Theater 3000, Your Show of Shows)

Important Details
• Members Choice Screenings are on Sundays only.
• Current Paley Members can request programming from the Paley Archive to be shown in the theater.
• Requests must be submitted in writing by emailing memberschoice@paleycenter.org.
• Requests must be submitted at least two weeks in advance. Please give us your top three choices for Sunday screening dates.
• Please make sure we have the program you are requesting first by searching the Paley Archive catalog.
• Not all dates are available; some Sundays may not be available for screenings.
 
Feeling left out? If you are not a Member, you can JOIN NOW and submit your screening request. But remember, you must be a Member to program a screening.