Watch Your Favorite Shows on the Big Screen!
Saturdays and Sundays in New York and Los Angeles
12:15 to 5:00 pm local time • FREE Admission
Visit New York  |  Visit Los Angeles
Weekend Screenings from the Paley Archive on the Big Screen in NY & LA offer great family entertainment, PLUS programming selected by our Members and screened for the public. You haven't really experienced TV until you've seen it on a movie-size screen with fellow fans.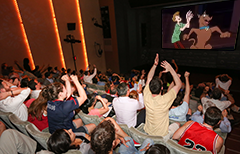 The Paley Center presents a fabulous afternoon of fun-filled, family-friendly fare.
Members can reserve seats by emailing in NY: membership@paleycenter.org or in LA: lamembers@paleycenter.org at least 24 hours in advance.

Cartoon Network on the Big Screen
NY: Saturdays & Sundays, September 16 to October 8
LA: Saturdays & Sundays, October 14 to November 19
12:15 & 2:15 pm
Join us to celebrate twenty-five years of drawing on creativity! Visitors will experience the creative process from sketch to screen and beyond with an in-depth look at Steven Universe, enjoy special exhibits including stop-motion sets from Adventure Time, and have photo ops with sculptures from The Powerpuff Girls and Cartoon Network's newest hit OK K.O.! Let's Be Heroes! Screenings of the shows featured in the exhibit.


ONLY IN NEW YORK
Television from Around the World: A Prix Jeunesse Suitcase
Saturdays, October 21 and 28
12:15 to 4:00 pm

The Paley Center partners with the prestigious international children's television festival Prix Jeunesse to present a selection of unusual, innovative, and culturally representative children's programming from around the world.



ONLY IN NEW YORK
We Heart Spanish Thrillers
Sunday, October 22; 12:15 pm
Join us for an introduced screening (shown with English subtitles).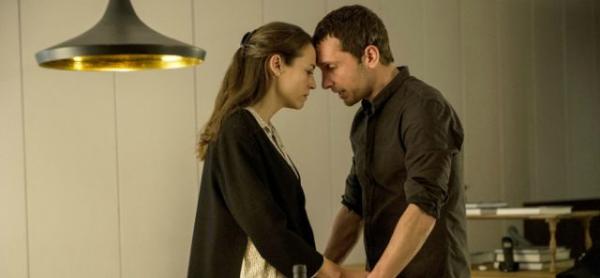 Lifeline (2017)
 
A Spanish thriller guaranteed to get your pulse racing: A renowned surgeon suffers a near-fatal heart attack but is saved when he receives a heart transplant, only to become plagued by nightmares connected to the murder of his donor. He sets out to discover the truth behind his donor's death and unwittingly uncovers a scandal of epic proportions. (60 minutes)
 
This screening comes courtesy of Walter Presents, a UK streaming service devoted to foreign-language programming, dubbed a "chic boutique with a foreign accent" by the New York Times and viewing that "will make you cooler" by DuJour.
 
There will be a short introduction from Walter Iuzzolino, the curator of WP, and Emilio Aragón, cocreator of the series, who will also be available to answer audience questions.
 
A redemption code offering free thirty-day access to Walter Presents will be provided to everyone who attends this screening.
---

Halloween Screenings  
Sunday, October 29 in NY and LA
12:15 to 5:00 pm
"Where there is no imagination there is no horror"
– Arthur Conan Doyle

12:15pm
American Horror Story: "Halloween" (2011)
This two-parter from AHS's first season pits the Harmon family (Connie Britton, Dylan McDermott, Taissa Farmiga) against a murder house full of ghosts on the one night where all "the dead can walk freely." Electric performances from Jessica Lange, Evan Peters, and others round out the impressive cast of this anthology show. It's the perfect way to start off a day of Halloween celebration. (79 minutes)
1:34 pm
The Sandman (1992)
Prepare to regain your childhood fears with this short film from the UK, a stop-motion-animation retelling of the European folk legend of the Sandman: a nocturnal demon who preys on sleeping children in the darkness. If its style looks familiar, it may be because you've seen Paul Berry's animation in The Nightmare Before Christmas and James and the Giant Peach. (10 minutes)
1:44 pm
South Park: "Pink Eye" (1997)
In this episode, Kenny dies. Big surprise, right? Except this time, he's back and with a taste for flesh. As the South Park doctors cluelessly diagnose the zombie epidemic as a bad case of pink eye, Stan, Kyle, and Cartman (dressed in some of the most offensive costumes imaginable) fight for their lives! (22 minutes)
2:06 pm
The X-Files: "The Post-Modern Prometheus" (1997)
Agents Mulder and Scully (David Duchovny and Gillian Anderson) encounter a mysterious, Frankenstein-like creature created by a mad scientist played by guest star John O'Hurley. This stand-alone episode, written and directed by series creator Chris Carter, was filmed in black and white as a loving tribute to the Universal classic monster movies of the 1930s and '40s. (46 minutes)
2:52 pm
The Twilight Zone: "The Dummy" (1962)
It's your classic scary dummy story, but with a twist only The Twilight Zone could conjure up. Cliff Robertson stars as a ventriloquist with a disobedient puppet. He tries to change his act, but his wooden partner isn't too happy about it. This is one of several "killer puppet" episodes of the show; years later, the Child's Play movies would propel the horror subgenre to success. (24 minutes)
3:16 pm
Rod Serling's Night Gallery: "The Caterpillar" (1972)
After The Twilight Zone, creator Rod Serling produced this series, focusing more on horror and suspense than science fiction. This haunting segment features a sinister Laurence Harvey plotting the assassination of his romantic rival. His method: a slow, agonizing death… by earwig? (34 minutes)
3:50 pm
Freaks and Geeks: "Tricks and Treats" (1999)
Nothing captures a teenager's view of Halloween night better than this episode of Judd Apatow and Paul Feig's canceled-way-too-soon series, in which the titular characters (including a young Linda Cardinelli, Seth Rogen, Jason Segal, and James Franco) muddle through a night of trick-or-treating. (44 minutes)
4:34 pm
Tales from the Crypt: "Séance" (1992)
A twisted swindle gone wrong leaves two con artists (Ben Cross and Cathy Moriarty) to trick their victim's blind wife into conducting a séance for her murdered husband (John Vernon). A spooky atmosphere builds as the mock séance progresses. And who knows, maybe they will get the dead to rise once again… (25 minutes)

---



What do YOU want to see on the big screen?

The Paley Center is now offering all Members the opportunity to program our giant-screen theater. You tell us what to screen (provided it is included in our collection of 160,000 programs—we're sure you'll find something you like!) and all you have to do is invite your friends, family, officemates, band members, and more to join the fun! You can even request that one of our Curators (aka Television Experts) be available to take questions from the audience.

Members Choice Screenings are open to the public, so swing by and discover hidden treasures!

How do you choose?
Need ideas? Here are some of the awesome programs in the Paley Archive. Let these spark your imagination!
• David Bowie screenings
• Nickelodeon classics (Pete & Pete, Clarissa, Hey Arnold)
• MTV classics (The very 1st hour of programming, Unplugged, Daria)
• Classic Disney animation (Man in Space, Adventures in Fantasy)
• Classic Doctor Who episodes
• Jim Henson on TV (The Muppet Show, The Tonight Show, The Ed Sullivan Show)
• Comedy Cult Classics (Get a Life, SCTV, Mystery Science Theater 3000, Your Show of Shows)

Important Details
• Members Choice Screenings are on Sundays only.
• Current Paley Members can request programming from the Paley Archive to be shown in the theater.
• Requests must be submitted in writing by emailing memberschoice@paleycenter.org.
• Requests must be submitted at least two weeks in advance. Please give us your top three choices for Sunday screening dates.
• Please make sure we have the program you are requesting first by searching the Paley Archive catalog.
• Not all dates are available; some Sundays may not be available for screenings.
 
Feeling left out? If you are not a Member, you can JOIN NOW and submit your screening request. But remember, you must be a Member to program a screening.