Watch Your Favorite Shows on the Big Screen!
Saturdays and Sundays in New York and Los Angeles
12:15 to 5:00 pm local time • FREE Admission
Visit New York  |  Visit Los Angeles
Weekend Screenings from the Paley Archive on the Big Screen in NY & LA offer great family entertainment, PLUS programming selected by our Members and screened for the public. You haven't really experienced TV until you've seen it on a movie-size screen with fellow fans.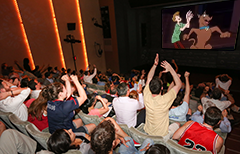 Black History Month 
Saturdays and Sundays in February 2018
Starting at 12:15 pm
In New York and Los Angeles, on Saturdays and Sundays in February, enjoy free screenings from the African-American Collection of the Paley Archive, including a tribute to Ella Fitzgerald, classic comedy programs, a Scandal marathon, and previews of two new documentaries. Also on Saturdays, we offer Black History Month programming for families. These screenings are part of the Paley Center's multifaceted Black History Month celebration, African-American Achievements in Television: A Black History Spotlight Presented by Citi.

Saturday and Sunday
February 3 & 4, 2018
Black History Month: Ella Fitzgerald Centennial Celebration
The Paley Center celebrates the centennial of "The First Lady of Song," the beloved American jazz singer Ella Fitzgerald (who was born on April 25, 1917, and died on June 15, 1996) with screenings of rare television programs from the Paley Archive. At the First Annual Grammy Awards in 1959, which honored musical accomplishments for 1958, Fitzgerald became the first African-American woman to win a Grammy and the first woman to win multiple Grammys—receiving awards for Best Female Vocal Performance for Ella Fitzgerald Sings the Irving Berlin Song Book and Best Individual Jazz Performance for Ella Fitzgerald Sings the Duke Ellington Song Book.
12:15 pm
Essence: Ella on Ella: A Personal Portrait
In this portrait of Fitzgerald, hosted by Essence magazine editor-in-chief Susan L. Taylor, the singer reflects on her life and her work with Chick Webb, Duke Ellington, Count Basie, and Louis Armstrong—while colleagues including Dizzy Gillespie and Quincy Jones praise Fitzgerald's natural talent and her radiant artistry. Included are clips of Fitzgerald performing alone and with Ellington, Frank Sinatra, and Peggy Lee. (1986; 23 min.)

12:40 pm
Previn and the Pittsburgh
Fitzgerald performs with an instrumental trio (pianist Paul Smith, drummer Jimmie Smith, and bassist Keter Betts) and talks to pianist and conductor André Previn about her early career and her acclaimed series of American Songbook recordings. Selections include "Lady Be Good" (in two versions, one up tempo and the other in a slow ballad style), "I'm Just a Lucky So and So," "I Won't Dance," "Hard Hearted Hannah," "Glad to Be Unhappy," "They Can't Take That Away from Me," and "It's All Right with Me." (1979; 59 min.)

1:40 pm
The Nat King Cole Show
Highlights include Fitzgerald singing "The Lady Is a Tramp" and "Perdido," Fitzgerald performing "Dancing on the Ceiling" accompanied by a sand-dance; Cole and Fitzgerald singing "Too Close for Comfort," and Cole performing "Unforgettable." (1957; 26 min.)

2:05 pm
The Jo Stafford Show (segment)
From a British ATV program, Stafford and guest Fitzgerald perform a medley of songs about love including "But Not for Me," "Love Is a Simple Thing," "I'm Through with Love," "Falling in Love with Love," and "They Say It's Wonderful." (1961; 13 min.)

2:20 pm
The Dinah Shore Show
Shore's guests on this broadcast from Studio 8H at Rockefeller Center are Fitzgerald and opera singer Joan Sutherland. The three women perform solo numbers (including Fitzgerald's rendition of "Body and Soul" and Sutherland's performance of "Sempre libera" from La Traviata) and join forces for an infectious rendition of "Three Little Maids from School Are We" from Gilbert & Sullivan's operetta The Mikado. (1964; 59 min.)

3:20 pm
Soundstage: Ella Fitzgerald
Ella Fitzgerald shares the stage with a lineup of musicians including Count Basie, Joe Pass, Roy Eldridge, Zoot Sims, Paul Smith, Keter Betts, and Mickey Roker. Selections include "Am I Blue?" "Honeysuckle Rose," "Let's Do It," "I've Got My Love to Keep Me Warm," "Mountain Greenery," "Love Is Here to Stay," "Blues in the Night," a Duke Ellington medley, "I Can't Get Started," and "Lady Be Good." (1979; 90 min.)
---
Saturday and Sunday
February 10 & 11, 2018
Black History Month: Comedy
A celebration of some of the great African-American pioneers in the field of comedy features a quartet of rarely seen programs: two all-star specials filled with iconic performers and episodes from the last great era of variety shows, hosted by a pair of comedy legends.


12:15 pm
ABC Stage 67: A Time for Laughter
Hosted by Sidney Poitier, this light-hearted special examines the history of African-American humor in songs and sketches, with appearances by some of the most celebrated names in show business, including Harry Belafonte, Diahann Carroll, Moms Mabley, Dick Gregory, Godfrey Cambridge, and many others. (1967; 60 min.)

1:20 pm
The Flip Wilson Show
The comedian's enormously popular variety series ran for four seasons on NBC, making him the first black performer to star in a long-running program in this genre. On this episode, Flip is joined by Ray Charles, Leslie Uggams, and Don Rickles in sketches that include an appearance by his most popular character, sassy "Geraldine." (1971; 55 min.)

2:20 pm
The Redd Foxx Show
Following his success on the sitcom Sanford and Son, Foxx tried the variety format for this short-lived series, which has not circulated since. Rodney Dangerfield and Pat Morita guest star, while Redd is seen in a parody of To Tell the Truth and portrays a private eye called "Blackjack." (1977; 50 min.)

3:15 pm
A Party for Richard Pryor
Eddie Murphy hosts an all-star tribute to one of the groundbreaking names in black stand-up comedy. In addition to showing clips from Pryor's career, there are musical highlights with Stevie Wonder, Patti LaBelle and the Pointer Sisters, and testimonials from such performers as Marsha Warfield, Danny Glover, Arsenio Hall, Burt Reynolds, Keenan Ivory Wayans, and Gene Wilder. (1991; 95 min.)
---
Saturday and Sunday
February 17 & 18, 2018
Black History Month: Scandal Marathon
Gladiators, rejoice: two days of Scandal screenings! Join us to celebrate "Olivia's Swan Song," as creator Shonda Rhimes has labeled this seventh and final season, with these ten episodes beloved by fans.
Saturday, February 17
12:15 pm
Sweet Baby
In the pilot episode, we meet the sharp and charismatic Olivia Pope and her team of "gladiators in suits" as they navigate secrets, love, and betrayal in two very public cases: a handsome and publicly beloved war hero is charged with the murder of his girlfriend, and White House assistant Amanda Tanner threatens the president's reputation with her claim that they are in love. (2012; 58 min.)

1:15 pm
The Trail
When client Amanda Tanner is found dead – and pregnant -- Gideon undertakes an investigation to uncover the identity of the baby's father. Meanwhile, a series of flashbacks reveals the beginnings of Olivia's relationship with Fitz. (2012; 58 min.)

2:15 pm
Defiance
The team takes on a billionaire client who may or may not be sane; Olivia manages a sex scandal involving a U.S. senator; James investigates allegations of rigged voting. (2012; 58 min.)

3:15 pm
Happy Birthday, Mr. President
With Fitz shot and badly injured, Vice President Sally Langston clamors for his position, and Olivia has some painful memories of the first few days of Fitz's presidency, when the two of them had to make a difficult decision about their relationship. (2012; 58 min.)

4:15 pm
Seven Fifty-Two
Fitz visits Olivia in the hospital, where she's recuperating after being attacked. After suffering a breakdown, Huck recalls his past and how he met Olivia. (2013; 60 min.)

Sunday, February 18
12:15 pm
Nobody Likes Babies
Olivia unravels the mystery of who tried to kill Fitz; Mellie and Fitz consider divorce soon after the birth of their son. (2013; 60 min.)

1:15 pm
Everything's Coming Up Mellie
As Mellie works to save her family's public image during the campaign for Fitz's second term, she remembers the hopeful beginnings of Fitz's political career, when their marriage was more naively happy. Meanwhile, Olivia deals with a case that couldn't be more personal: her mother is killed in a plane crash, and her father is the one who gave the order that caused it. (2013; 60 min.)

2:15 pm
The Price of Free and Fair Elections
When Sally makes a public relations maneuver after a church bombing, it looks like Fitz will lose his bid for re-election. In a whirlwind leading up to Election Day, Fitz's son Jerry is killed, which means he might stand a better chance of winning, and Olivia is considering leaving the country with Jake Ballard to begin a new identity and a new life. (2014; 60 min.)

3:15 pm
Randy, Red, Superfreak and Julia
Olivia returns reluctantly from her secret life on paradise island to find things drastically changed: Fitz seems to have become liberal, Mellie is not coping well at all with the death of her son, and Olivia's team of lawyers is all over the place in the absence of its leader. (2014; 60 min.)

4:15 pm
Watch Me
In this Shonda Rhimes-penned season-seven opener, busy-bee Olivia maneuvers to win passage of a free-college bill, argues with Jake, negotiates the release of a hostage, and hooks up with Curtis Pryce. Plus drinks lots of wine. (2017; 60 min.)
---
Saturday and Sunday
February 24 & 25, 2018
Black History Month: News/Documentary
The Paley Center is pleased to preview two significant new documentaries that dramatically immerse the viewer into 1970 school life in Harlem and pivotal moments in Malcolm X's life.

2:00 pm
Premiere: Harlem School 1970
What was school life like in 1970? In this astonishing documentary we experience a typical day in the life of Community School 30, during its first year of operation. Phil Gries was a young teacher who decided to document life then, shooting and editing the film independently. The documentary is a perfect realization of fly-on-the-wall filmmaking, without narration or interviews. Just school life itself, students interacting with themselves and teachers. It is a true time capsule of Harlem life in 1970, the only known NYC school portrait of the sixties or seventies. Harlem School has never been released to the public and the Paley Center is hosting special screening before it hits the festival circuit. Producer/director Gries will introduce the film on Saturday (2/24) and subjects in the film have been invited to attend. (50 min.)

4:00 pm
Preview: The Lost Tapes: Malcolm X
A special preview of the Smithsonian Channel's new special on Malcolm X, which brings to life the pivotal years of this influential activist employing rarely seen footage and audio tapes, including never-before-seen footage of Nation of Islam rallies and recordings made at the Audubon Ballroom on the day of his assassination. We experience moments that helped to shape Malcolm's legacy as one of the most important figures in American history. Like other episodes in this critically acclaimed Smithsonian series, The Lost Tapes relies solely on media reports from the time—no interviews or re-enactments—allowing viewers to relive the power of Malcolm's story as it unfolded. This documentary, which will be seen on the Smithsonian Channel starting February 26, is produced by Tom Jennings of 1895 Films, the same team behind the Peabody Award–winning MLK: The Assassination Tapes. (48 min.)
---

 
The Paley Center presents a fabulous afternoon of fun-filled, family-friendly fare.
Members can reserve seats by emailing in NY: membership@paleycenter.org or in LA: lamembers@paleycenter.org at least 24 hours in advance.
Saturdays
February 2018
Black History Month: Family Screenings
We all know how powerful media portrayals can be for young audiences. In honor of Black History Month, join us for screenings that celebrate the African American experience through the historical figures, characters, and performers who inspire us! Check out the full schedule below to see the featured programs in genres such as Superheroes, Music, Comedy, Drama, and News/Nonfiction.
Saturday, February 3

12:15 to 2:15 pm – Superheroes (Ages 6-13)
Teen Titans: "Divide and Conquer"
Teen Titans: "Only Human"
Justice League: "In Blackest Night Parts 1 & 2"
Static Shock: "Shock to the System"

2:15 to 4:15 pm – Music (Ages 14-17)
Video Music Box: "Live at the Marc Ballroom: Old School Monday"
Soul Train: "Featuring Michael Jackson"

Saturday, February 10

12:15 to 2:15 pm –Superheroes (Ages 6-13)
Teen Titans: "Divide and Conquer"
Teen Titans: "Only Human"
Justice League: "In Blackest Night Parts 1 & 2"
Static Shock: "Shock to the System"

2:15 to 4:15 pm – Comedy (Ages 14-17)
That's So Raven: "Test of Friendship"
Moesha: "Pilot"
The Fresh Prince of Bel Air: "Get a Job"
Everybody Hates Chris: "Pilot"
Black-ish: "Hope"

Saturday, February 17

12:15 to 2:15 pm – Superheroes (Ages 6-13)
Teen Titans: "Divide and Conquer"
Teen Titans: "Only Human"
Justice League: "In Blackest Night Parts 1 & 2"
Static Shock: "Shock to the System"

2:15 to 4:15 pm – Drama (Ages 14-17)
I'll Fly Away: "Series Premiere"
Dear America: A Picture of Freedom

Saturday, February 24

12:15 to 2:15 pm – Superheroes (Ages 6-13)
Teen Titans: "Divide and Conquer"
Teen Titans: "Only Human"
Justice League: "In Blackest Night Parts 1 & 2"
Static Shock: "Shock to the System"

2:15 to 4:15pm – News/Non-Fiction (Ages 14-17)
MTV BioRhythm: "Martin Luther King, Jr"
True Life: "I'm a Candidate"
The Real World: New York: "Julie Thinks Kevin is Psycho!"


---
March 2018
50th Anniversary of Mister Rogers' Neighborhood Screenings
Saturdays from 12:15 to 4:00 pm
In New York and Los Angeles
Saturdays, March 3, 10, 17, and 24

It's a beautiful month at Paley! Come celebrate the 50th anniversary of Mister Rogers' Neighborhood's US network premiere with special screenings of Mr. Rogers' Neighborhood, Daniel Tiger, Peg + Cat, Odd Squad, and Into the Woods every Saturday in March!  

Mister Rogers' Neighborhood premiered on PBS on February 19, 1968, and continues to air on many PBS stations throughout the country. The series is also available for streaming on pbskids.org and Amazon. In each of the show's nearly nine hundred episodes, Mister Rogers creates a safe place for children to learn about themselves and the world around them, speaking directly to the series' young audience with his unique one-to-one affirmation of their self-worth. Celebrity guest stars over the years have included Tony Bennett, Julia Child, Margaret Hamilton, Michael Keaton, Yo-Yo Ma, Wynton Marsalis, Rita Moreno, and Bill Nye.

Members can reserve seats by emailing in NY: membership@paleycenter.org or in LA: lamembers@paleycenter.org at least 24 hours in advance.


MUSIC
Saturdays at 12:15 pm
Mister Rogers' Neighborhood: "The First Episode"
This originally aired on February 19, 1968. (29 min.)

Mister Rogers' Neighborhood: "Mister Rogers Talks about Music"
Cellist Yo-Yo Ma comes to visit Mister Rogers. They talk about music and feelings, and Yo-Yo Ma plays cello music that can express different emotions. And there's a video of how people make bass violins. In the Neighborhood of Make-Believe, Lady Aberlin tries in vain to learn to play the bass violin. Lady Elaine Fairchilde has a clever solution and disguises her accordion as a bass violin. (1985; 29 min.)

Daniel Tiger's Neighborhood: "Katerina Gets Mad"
It's New Instrument Day at Music Man Stan's Music Shop. Everyone is excited, but Katerina Kittycat gets mad when someone else picks the instrument she wants to play. Music Man Stan helps guide Katerina through her mad feelings by teaching everyone how to dance, stomp, and sing their mad feelings away. (13 min.)
 
Peg + Cat: The Beethoven Problem
Vienna, circa 1800. When Peg and Cat are helping their pal Ludwig Van Beethoven write a symphony, Cat laughs in a certain pattern that gives Beethoven a great idea. (13 min.)

Odd Squad: Soundcheck 
Olive and Otto must figure out how and why things are disappearing around town when all Otto wants to do is listen to a song by his favorite band, Soundcheck. (13 min.)

Through the Woods: A Froggy Day
A symphony of sounds greets Rider and Wolfie as they walk through the woods on a spring day. It's an orchestra of little frogs called peepers! (3 min.)

Through the Woods: Rider and The Woodpecker
Rider and Wolfie investigate a strange tapping sound in the trees. What could it be? (3 min.)


NATURE
Saturdays at 2:00 pm
Mister Rogers' Neighborhood: Mister Rogers Talks about the Environment
Mister Rogers and Mr. McFeely sort their garbage and take it to a recycling center to see what happens to discarded bags, bottles, and cans. In Make-Believe there are garbage cans everywhere, and all the dumps are full. Mister Rogers talks about the good feelings we get from taking care of others. (1990; 29 min.)

Daniel Tiger's Neighborhood: Daniel's Nature Walk
There's so much to explore when you're outside! Daniel is going on a nature walk in the forest with O the Owl and Uncle X. They see frogs, worms and even spot a rainbow in the sky! (13 min.)

Peg + Cat: The Parade Problem
Peg and Cat need to sort out recyclables to clean up the park in time for the nursery school's Halloween Parade. (13 min.)

Odd Squad: Not So Splash
In the middle of summer, Olive and Otto must figure out why parts of the town are turning snowy and cold. (13 min.)

Through the Woods: Hiya, Butterfly
As Rider and Wolfie watch a butterfly drink from a flower, they wonder about that skinny, pointy thing coming from its mouth. (3 min.)

Through the Woods: Fairies & Fireflies
Rider, Dad, and Wolfie discover glowing "fairies" while walking to Grammie's house on a beautiful summer evening. But there's no such thing as fairies! (3 min.)

Through the Woods: A Snowy Morning
On their way to Grammie's, Rider and Wolfie find animal tracks in the snow. Some are bigger than Wolfie's! What could have made them? (3 min.)
---
Members can reserve seats by emailing in NY: membership@paleycenter.org or in LA: lamembers@paleycenter.org at least 24 hours in advance.
UPCOMING SCREENINGS
1968/Television 

In New York and Los Angeles
Sundays, March 4, 11, 18, and 25, 2018
12:15 to 5:00 pm

As part of the Carnegie Hall citywide festival The '60s: The Years That Changed America, the Paley Center is presenting screenings of 1968 television programs from our archives—including an historic special report from Vietnam by Walter Cronkite and an episode of The Smothers Brothers Comedy Hour with Pete Seeger—that will look at how the medium reported the news and how it adapted to the changing national mood. Among the other programs to be screened are James Brown: Live in Boston, the complete concert by James Brown and his band that was broadcast on April 5, 1968—the day after the assassination of Martin Luther King, Jr.; a segment on pianist Glenn Gould from the magazine-program Public Broadcasting Laboratory; episodes of Rowan & Martin's Laugh-In and Get Smart; and the series premiere of 60 Minutes.

Sunday, March 4, 2018
12:15 pm

Who? What? When? Where? Why?: Report from Vietnam by Walter Cronkite
In early 1968, CBS Evening News anchor Walter Cronkite traveled to Vietnam. What he saw there convinced him that he had been misinforming the public about the progress of that war—resulting in this February 26, 1968, special report. (CBS, 30 min.)

12:45 pm
The Smothers Brothers Comedy Hour (guest Pete Seeger)
The highlight of this installment of the weekly comedy-variety show is folk music legend Pete Seeger's powerful rendition of his anti-war song "Waist Deep in the Big Muddy." Seeger had originally performed it on a Smothers Brothers show the previous September, but CBS censored the song prior to its broadcast. (CBS, 60 min.)

1:45 pm
Experiment in Television: Youth '68 – Everything's Changing or Maybe It Isn't
Jim Henson wrote and produced this experimental documentary which aired on April 21 and blends film montages, interviews, and rock music to create a portrait of contemporary American youth—and their changing attitudes toward patriotism, sex, and mortality. (NBC, 60 min.)

2:35 pm
James Brown: Live in Boston
This special concert by James Brown and his band, broadcast live from the Boston Garden on April 5, 1968, was booked on extremely short notice less than twenty-four hours after the assassination of Martin Luther King, Jr. (WGBH, 110 min.)

Sunday, March 11, 2018
12:15 pm
The Tonight Show Starring Johnny Carson: Robert F. Kennedy Tribute
Johnny Carson discusses the legacy of Robert F. Kennedy with Orson Bean, Jimmy Breslin, Louis Nizer, Sander Vanocur, and Alan King. This program aired on June 7, 1968, a day after RFK's death. (NBC, 80 min.)

1:35 pm
Inside Bedford-Stuyvesant and a clip from The 1968 Tony Awards
This installment of the WNEW-TV public affairs program Inside Bedford-Stuyvesant includes interviews with violinist Sanford Allen of the New York Philharmonic, painter Nathaniel Pinckney, and singer-dancer Winston DeWitt Hemsley. Plus a clip from the 1968 Tony Awards on which DeWitt Hemsley plays the role of Barnaby in the Broadway production of Hello, Dolly! starring Pearl Bailey. (WNEW, 25 min.; NBC, 5 min.)


2:05 pm
Petula
This television special, which aired on April 2, stars UK pop singer Petula Clark, who had become a star in the US with her signature song "Downtown," and her guest Harry Belafonte. The two perform solos and join forces for the anti-war song "On the Path of Glory." Sponsors panicked when Clark—who is white―warmly touched the African-American Belafonte's arm at the end of the song, but Clark refused to "edit out" the moment. (NBC, 60 min.)

3:05 pm
Glenn Gould on Public Broadcasting Laboratory
This controversial segment (entitled "How Mozart Became a Bad Composer") from the WNET newsmagazine program aired one time only (April 28, 1968) and has never been released commercially. It begins with Gould's satirical analysis of the music of Mozart and ends with the pianist performing the complete Mozart Piano Sonata in B-flat Major, K. 333. (WNET, 40 min.)

3:45 pm
Bell Telephone Hour: Man Who Dances: Edward Villella
This portrait of New York City Ballet star Edward Villella, which aired on March 8, 1968, was filmed the previous November and follows the dancer on and offstage during an especially grueling day during which he must overcome physical pain and dance three major roles. Produced by Robert Drew and Mike Jackson. (NBC, 60 min.)

Sundays, March 18 and 25, 2018
12:15 pm
Rowan and Martin's Laugh-In
This complete episode from September 16, 1968, includes a cameo appearance by Richard M. Nixon two months before he won the presidential election. (NBC, 60 min.)
1:10 pm
Get Smart: "Snoopy Smart vs. The Red Baron"
On this episode from September 28, 1968, the bumbling secret agent Maxwell Smart (Don Adams) meets his future mother-in-law. (NBC, 30 min.)
1:35 pm
The Mod Squad: "The Teeth of the Barracuda"
(Series Premiere – September 24, 1968)
On the premiere of this series about three societal drop-outs who become undercover police agents, Pete (Michael Cole), Linc (Clarence Williams III), and Julie (Peggy Lipton) investigate a policeman's murder. The murderers are exploiting Pete's exgirlfriend in a blackmail scheme aimed at her father, a wealthy gubernatorial candidate. (ABC, 70 min.)
2:45 pm               
60 Minutes (Series Premiere – September 24, 1968)
The news magazine program begins with a look at the presidential candidates' campaign headquarters in Miami and Chicago during the Republican and Democratic Conventions and also includes an interview with Attorney General Ramsey Clark that focuses on the relationship between the police and the community. Plus an appearance by Art Buchwald and a short film by Saul Bass. (CBS, 60 min.)
3:45 pm               
That's Life: "How We Met" (Series Premiere – September 24, 1968)
Robert Morse and E.J. Peaker star in this quirky hour-long musical comedy series that follows the romance and marriage of a young couple in the fictional town of Ridgeville. This first episode includes appearances by George Burns, Tony Randall, and the popular rock group the Turtles. (ABC, 60 min.)

---


What do YOU want to see on the big screen?

The Paley Center is now offering all Members the opportunity to program our giant-screen theater. You tell us what to screen (provided it is included in our collection of 160,000 programs—we're sure you'll find something you like!) and all you have to do is invite your friends, family, officemates, band members, and more to join the fun! You can even request that one of our Curators (aka Television Experts) be available to take questions from the audience.

Members Choice Screenings are open to the public, so swing by and discover hidden treasures!

How do you choose?
Need ideas? Here are some of the awesome programs in the Paley Archive. Let these spark your imagination!
• David Bowie screenings
• Nickelodeon classics (Pete & Pete, Clarissa, Hey Arnold)
• MTV classics (The very 1st hour of programming, Unplugged, Daria)
• Classic Disney animation (Man in Space, Adventures in Fantasy)
• Classic Doctor Who episodes
• Jim Henson on TV (The Muppet Show, The Tonight Show, The Ed Sullivan Show)
• Comedy Cult Classics (Get a Life, SCTV, Mystery Science Theater 3000, Your Show of Shows)

Important Details
• Members Choice Screenings are on Sundays only.
• Current Paley Members can request programming from the Paley Archive to be shown in the theater.
• Requests must be submitted in writing by emailing memberschoice@paleycenter.org.
• Requests must be submitted at least two weeks in advance. Please give us your top three choices for Sunday screening dates.
• Please make sure we have the program you are requesting first by searching the Paley Archive catalog.
• Not all dates are available; some Sundays may not be available for screenings.
 
Feeling left out? If you are not a Member, you can JOIN NOW and submit your screening request. But remember, you must be a Member to program a screening.