What Girls Want: Seventy Years of Pop Idols and Audiences
By Claudia Calhoun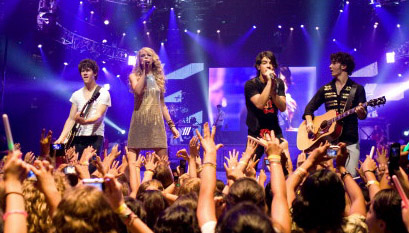 Whatever else happens at the Grammy Awards on January 31, one thing is certain: Girls will be screaming. The mass media has broadcast myriad different noises since the spread of radio as a consumer commodity after World War I, but one of the more constant sounds has been the high-pitched wails of young girls screaming with abandon at the sights and sounds of their chosen idols. The Grammys have paid attention to these audiences; last year's telecast gave due deference to the juggernaut of teen-pop through performances by the Jonas Brothers, Miley Cyrus, and Taylor Swift. Swift may end up the crown princess of this year's awards; she is almost certain to cap off an extraordinary year—during which she has sold 2.6 million copies of Fearless—with at least one win among her album's eight nominations.
Seventy Years of Pop Idols and Audiences Continues...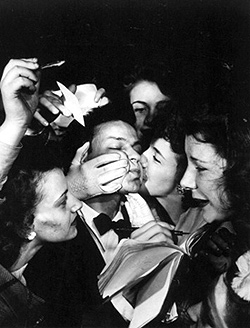 Music that appeals to girls is often viewed with derision by outsiders—like adults, and boys. But since World War II, when a distinct teen girls' culture began to emerge, the entertainment industry has followed where adolescent and teenage girls have led, whether to express incredulousness and confusion at the objects of their affection, or to seek them out as target audiences. Girls in turn have used pop idols to express themselves, making their desires visible in a society that often patronizes them. In the age of mass media, the world of popular music has come to be an important social space for girls; and pop idolatry, which began as a series of bizarre public disturbances in the 1940s, has turned into a requisite adolescent ritual. And believe it or not, it started with bobby socks.
"What Girls Want: Seventy Years of Pop Idols and Audiences" pages: 1 | 2 | 3 | 4 | 5
About the Author
Claudia Calhoun is pursuing a PhD in American Studies and Film Studies at Yale University, where her research focuses on the history of popular media in the United States. Claudia's interest in pop idolatry as a musical subgenre and a social phenomenon can be traced back to 1991, when her second-grade friends introduced her to the transportive power of New Kids on the Block.