The World Cup Live at the Paley Center
World Cup Live Game Schedule • New York
AT THE PALEY CENTER FOR MEDIA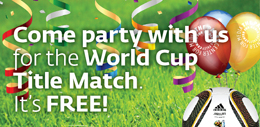 See the Games for Free on the Big Screen
Through partnerships with ESPN and ABC, the Paley Center in New York will be screening many of the games LIVE and be a meeting place where fans can gather and watch together. We will screen the games at 9:30 am and 2:00 pm ET everyday, beginning June 11, through the final match on July 11.
The screenings are FREE courtesy of The Coca-Cola Company, an official sponsor of the FIFA World Cup™ since 1978.
Come one, come all.
All times EASTERN. Schedule is subject to change.
The World Cup Live at the Paley Center CONTINUES...
– World Cup Live Game Schedule • New York
Winner = red

Tie = blue

1st Stage

Date
Time (ET)
Match

---

Fri 6/11
9:30 am

South Africa vs. Mexico

2:00 pm

Uruguay vs. France

---

Sat 6/12
9:30 am
Argentina vs. Nigeria
2:00 pm

England vs. USA

---

Sun 6/13
9:30 am
Serbia vs. Ghana
2:00 pm
Germany vs. Australia

---

Mon 6/14
9:30 am
Japan vs. Cameroon
2:00 pm

Italy vs. Paraguay

---

Tue 6/15
9:30 am

Ivory Coast vs. Portugal

2:00 pm
Brazil vs. Korea DPR

---

Wed 6/16
9:30 am
Spain vs. Switzerland
2:00 pm
South Africa vs. Uruguay

---

Thu 6/17
9:30 am
Greece vs. Nigeria
2:00 pm
France vs. Mexico

---

Fri 6/18
9:30 am

Slovenia vs. USA

2:00 pm

England vs. Algeria

---

Sat 6/19
9:30 am

Ghana vs. Australia

2:00 pm
Cameroon vs. Denmark

---

Sun 6/20
9:30 am

Italy vs. New Zealand

2:00 pm
Brazil vs. Ivory Coast

---

Mon 6/21
9:30 am
Chile vs. Switzerland
2:00 pm
Spain vs. Honduras

---

Tue 6/22
9:30 am
Mexico vs. Uruguay
9:30 am
France vs. South Africa
2:00 pm

Nigeria vs. Korea Republic

2:00 pm
Greece vs. Argentina

---

Wed 6/23
9:30 am
Slovenia vs. England
9:30 am
USA vs. Algeria
2:00 pm
Ghana vs. Germany
2:00 pm
Australia vs. Serbia

---

Thu 6/24
9:30 am
Slovakia vs. Italy
9:30 am

Paraguay vs. New Zealand

2:00 pm
Denmark vs. Japan
2:00 pm
Cameroon vs. Netherlands

---

Fri 6/25
9:30 am

Portugal vs. Brazil

9:30 am
Ivory Coast vs. Korea DPR
2:00 pm
Chile vs. Spain
2:00 pm

Switzerland vs. Honduras

2nd Stage – Round of 16

Date
Time (ET)
Match

---

Sat 6/26
9:30 am
Uruguay vs. Korea Republic
2:00 pm
USA vs. Ghana

---

Sun 6/27
9:30 am
Germany vs. England
2:00 pm
Argentina vs. Mexico

---

Mon 6/28
9:30 am
Netherlands vs. Slovakia

2:00 pm
Brazil vs. Chile


---

Tue 6/29
9:30 am
Paraguay vs. Japan
2:00 pm
Spain vs. Portugal

Date
Time (ET)
Match

---

Fri 7/2
9:30 am
Netherlands vs. Brazil

2:00 pm
Uruguay vs. Ghana

---

Sat 7/3
9:30 am
Argentina vs. Germany
2:00 pm
Paraguay vs. Spain

2nd Stage – Semifinals

Date
Time (ET)
Match

---

Tue 7/6
2:00 pm
Uruguay vs. Netherlands
Wed 7/7
2:00 pm
Germany vs. Spain




Third Place Match

Date
Time (ET)
Match

---

Sat 7/10
2:00 pm
Uruguay vs. Germany




2010 FIFA World Cup Title Match

Date
Time (ET)
Match

---

Sun 7/11
1:30 pm
Netherlands vs. Spain





Photos courtesy ESPN
Photo Credits (top to bottom): Rob Tringali, Steve Lawrence, Valerie Fischler, Scott Clarke, Scott Clarke, Amy Gutierrez, Joe Faraoni, Joe Faraoni, Rob Tringali