Next Big Thing
Artificial Intelligence: How AI Is Changing Our World
Feb 6, 2018
6:30 – 8:00 PM
New York
Take a look back by checking out event photos.
Businesses worldwide are making deep investments in artificial intelligence, seeing it as a key ingredient in the emerging economy. AI is heralded as the strategy of the future, and will change the way we work and live.
While many extol the virtues of AI, others are deeply concerned about the possible ramifications.
Join us for an eye-opening exploration of the issues and a discussion about the innovative strategies and practical examples of how AI is changing our world.
Garry Kasparov
AI Scholar, Humanitarian, and Former World Chess Champion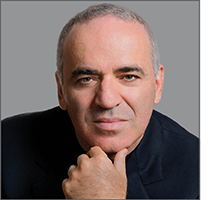 Garry Kasparov is widely regarded as the greatest chess player in history, becoming the youngest world champion ever at 22 in 1985. He retired in 2005 to become a leader of the Russian pro-democracy movement against the rising dictatorship of Vladimir Putin. He is the chairman of the New York-based Human Rights Foundation, succeeding Vaclav Havel. He writes on politics and human rights for dozens of publications and lectures regularly on decision-making, strategic thinking, and the human-machine relationship. He is a member of the Executive Board of the Foundation for Responsible Robotics, a Security Ambassador for Avast Software, and a Senior Visiting Fellow at the Oxford Martin School. In 2015, Kasparov wrote the prescient book Winter Is Coming: Why Putin and the Enemies of the Free World Must Be Stopped. His latest book is Deep Thinking: Where Machine Intelligence Ends and Human Creativity Begins. He lives in New York.
Francesca Rossi
AI Ethics Global Leader, Distinguished Research Staff Member, IBM Research AI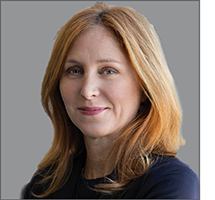 Francesca Rossi is AI Ethics Global Leader, Distinguished Research Staff Member at IBM Research AI and professor of computer science at the University of Padova, Italy, currently on leave.

Her research interests focus on artificial intelligence, specifically they include constraint reasoning, preferences, multi-agent systems, computational social choice, and collective decision making. She is also interested in ethical issues in the development and behaviour of AI systems, in particular for decision support systems for group decision making. She has published over 170 scientific articles in journals and conference proceedings, and as book chapters. She has co-authored a book. She has edited 17 volumes, between conference proceedings, collections of contributions, special issues of journals, as well as the Handbook of Constraint Programming. She has more than 100 co-authors.

She is a AAAI and a EurAI fellow, and a Radcliffe fellow 2015. She has been president of IJCAI and an executive councillor of AAAI. She is Editor in Chief of JAIR and a member of the editorial board of Constraints, Artificial Intelligence, AMAI, and KAIS. She co-chairs the AAAI committee on AI and ethics and she is a member of the scientific advisory board of the Future of Life Institute and of the Leverhulme Centre for the Future of Intelligence. She is in the executive committee of the IEEE global initiative on ethical considerations on the development of autonomous and intelligent systems and she belongs to the World Economic Forum Council on AI and robotics. She is a member of the board of directors of the Partnership on AI, where she represents IBM as one of the founding partners.
Moderator:
Jason Tanz
Site Director, WIRED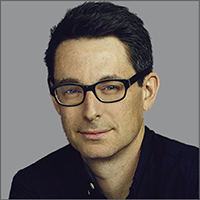 Jason Tanz is the site director at WIRED, where he oversees digital strategy. He has been at WIRED since 2007, where he has written dozens of stories about technology, business and culture, and he has appeared on Good Morning America, Today, CNN, the NBC Nightly News, and others. Before WIRED he worked at Fortune Small Business, Fortune, and SmartMoney magazines, and his writing has also appeared in The New York Times, Esquire, and Spin, among many other publications. He received a Knight-Wallace Fellowship at the University of Michigan in 2005, and is the author of the 2007 book Other People's Property: A Shadow History of Hip-Hop in White America.
Media Council Members can livestream this event at 7:00 pm EST on Tuesday, February 6.
---
This event is exclusive to Media Council Members and other invited guests. To find out more about Media Council Membership, contact mediacouncil@paleycenter.org
Media Council
Featuring candid conversations with the best minds in the industry, the Paley Media Council offers events covering the full spectrum of media businesses for an exclusive membership audience.
International Council Summit
Co-chaired by Frank A. Bennack, Jr. and Henry A. Kissinger, this is an invitation-only membership community comprised of the world's most important entertainment, media, and technology executives.