PALEY DIALOGUE
A Conversation with Rob Manfred, Commissioner of Baseball
Mar 27, 2019
7:30 – 9:00 AM ET
New York
Twenty-four hours before all thirty Major League Baseball teams take the field for Opening Day of the 2019 season, join us as we welcome Commissioner of Baseball Rob Manfred, who will sit down with the New York Yankee's Play-by-Play Announcer Michael Kay, for a one-on-one fireside chat that you won't want to miss!
Rob Manfred
Commissioner of Baseball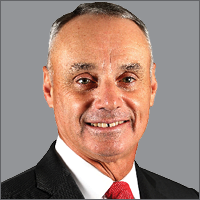 Robert D. Manfred, Jr. was elected as the 10th Commissioner in the history of Major League Baseball on August 14, 2014 by vote of the 30 Major League Clubs. He officially became the sport's leader on January 25, 2015. On November 15, 2018, Club owners re-elected Manfred to another five-year term through the 2024 season.

Since Manfred began as Commissioner, MLB has concluded a new five-year collective bargaining agreement, continuing the sport's unprecedented era of 26 consecutive years of labor peace through 2021, and a landmark transaction in which The Walt Disney Company acquired a 75% stake in BAMTech, a leading technology services and video streaming company created by MLB. Manfred's goals for the industry include the expansion of youth participation, international growth, improved pace of game, the infusion of technology into the game, increased marketing of the game's young stars and furtherance of the game's diversity goals.

Manfred has overseen the development of closer relationships with youth baseball and softball organizations and has allocated new resources toward improving MLB's presence in the amateur ranks. He began MLB's signature youth participation program, PLAY BALL, a partnership with USA Baseball and USA Softball that encourages both traditional and casual play. PLAY BALL has resulted in meaningful
increases in baseball and softball participation, per the Sports & Fitness Industry Association (SFIA). Over the last three years, baseball has added 2.5 million new participants, a 49.1% increase in casual participation, and overall, baseball saw the highest growth of any of the major sports (6.0%).

Manfred has prioritized sustaining the game's international growth. In 2016, MLB returned to Cuba for the first time since 1999 as the Tampa Bay Rays played an historic exhibition game vs. the Cuban National Team on March 22nd at Estadio Latinoamericano in Havana, jointly attended by President Barack Obama and Cuban President Raúl Castro. In 2018, MLB staged regular season games in Puerto Rico and Mexico. In 2019, MLB will open its regular season in Japan, will play multiple series in Mexico and will hold a June series in London, which will be the sport's first games ever played in Europe. Under Manfred's leadership, MLB has also taken the game to non-traditional domestic locations with groundbreaking events in recent seasons at Fort Bragg, North Carolina and in Williamsport, Pennsylvania, home of the Little League World Series, with another slated in Omaha, Nebraska, home of the NCAA's College World Series, in June 2019.

Prior to being elected Commissioner, Manfred had served as MLB's Chief Operating Officer since 2013, managing the Commissioner's Office in New York on behalf of Commissioner Allan H. (Bud) Selig. From 1998-2013, Manfred served as Executive Vice President, overseeing labor relations, economics and league affairs and directing all collective bargaining with the MLBPA. Manfred also represented MLB on all upgrades to the game's Joint Drug Prevention and Treatment Program, the toughest in American professional sports.

Under Manfred's leadership, MLB has formed core partnerships with Boys & Girls Clubs of America, the Jackie Robinson Foundation and Stand Up To Cancer. Manfred has served as a member of the Board of Directors of the Sports Lawyers Association and the Partnership for Clean Competition. In April 2016, Manfred received the Judge William B. Groat Award from his alma mater, honoring outstanding professional achievement and service to Cornell's ILR. In November 2017, Manfred received the Jacob K. Javits Lifetime Achievement Award from the Greater New York Chapter of the ALS Association for MLB's efforts against Lou Gehrig's Disease.

Manfred is a 1980 graduate of the School of Industrial and Labor Relations (ILR) at Cornell University. In 1983, he received his law degree magna cum laude from Harvard Law School, where he was an articles editor of the Harvard Law Review. Manfred was a part of the Labor and Employment Law Section of Morgan, Lewis & Bockius, LLP, and became a partner in the firm in 1992.

Manfred, a native of Rome, New York who was born in 1958, has been married to his wife Colleen since 1982. The New York residents have four adult children.
Michael Kay
YES Network's New York Yankees Play-by-Play Announcer
Host, YES Network's CenterStage
Cohost, The Michael Kay Show on ESPN Radio New York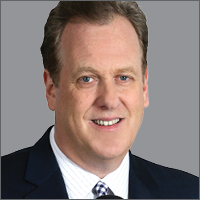 Michael Kay is the Emmy Award-winning Yankees play-by-play announcer for the YES Network who also hosts the network's CenterStage series and its various programming specials. The 2019 season is his 28th year broadcasting Yankees baseball: the first 10 years on radio, the latter 18 on YES.
The YES Network, the most-watched regional sports network in the country 14 of the last 16 years, is the exclusive local television home of the 27-time World Champion New York Yankees, the Brooklyn Nets, and MLS' New York City FC. The network has won 105 New York Emmy Awards since its 2002 launch.
Kay won the 2015 New York Emmy Award as the best play-by-play announcer for his work on YES' Yankees telecasts, and won a 2017 New York Emmy for his CenterStage hosting duties. He was a part of the YES Network's Emmy-winning seasonal Yankee coverage in 2017. In total, Kay has earned 10 Emmy wins and 36 Emmy nominations while at YES. He also won CableFAX Program Awards in 2011 and 2013 for his hosting duties on CenterStage.
In addition, The Michael Kay Show, a sports talk show heard weekdays on ESPN Radio 98.7 FM in New York which Kay co-hosts with Don LeGreca, has been simulcast live weekday afternoons on YES since February 2014.
In November 2016, Kay was inducted into the New York State Baseball Hall of Fame. He was inducted into the New York State Broadcasters Association Hall of Fame in October 2018. The following month, he was awarded the Lou Gehrig Sports Award by the Greater New York Chapter of the A.L.S. Association.
Kay received the Vin Scully Award for Excellence in Sports Broadcasting from WFUV Radio in November 2018; WFUV is the radio station for Fordham University, Kay's alma mater. Previous recipients of the Vin Scully Award include Dick Enberg, Ernie Harwell, Bob Costas, Al Michaels, Verne Lundquist, Pat Summerall and Mike "Doc" Emrick.
He was inducted into the inaugural Hall of Fame class of the prestigious Bronx High School of Science in February of 2018. In 2005, Kay was honored in his home borough of the Bronx, having an honorary street sign in his name erected on the Grand Concourse.
Kay handled play-by-play duties for the ESPN Radio Network for the 2016 Blue Jays-Rangers American League Division Series, the 2013 Tigers-Athletics American League Division Series and the 2008 Phillies-Brewers National League Division Series. He has also been a frequent contributor to ESPN's Emmy Award-winning Sports Reporters television show airing on Sunday mornings.
Prior to joining the YES Network in 2002, Kay worked at the MSG Network since 1989 as a Yankees reporter. In 1992, he added Knicks locker room reporter to his responsibilities, and continued in that role until the 1998-99 season.
Kay was awarded the Dick Young Award for Excellence in Sports Media by the New York Pro Baseball Scouts in 1995. In 1998, he was on the MSG Network team that won a New York Emmy for "Outstanding Live Sports Coverage – Series." In 1996 and 1997 he was a member of the MSG Network team that won New York Emmys for "Outstanding Live Sports Coverage - Single Program" for Dwight Gooden's no-hitter and "The Battle for New York: Yankees vs. Mets." He was also a part of the Yankees/MSG Network production team that was nominated for New York Emmy Awards for six consecutive years.
In addition to his television work, the Bronx, NY, native worked as Yankees analyst on WABC Radio from 1992 through the 2001 season which concluded with the classic Yankees-Diamondbacks World Series.
Kay was a winner of "Best Sports Reporter" honors at the 2000 New York Metro Achievement in Radio Awards. In 1998, Kay also began co-hosting Sports Talk with John Sterling and Michael Kay, a nightly sports radio call-in show which aired on WABC Radio during the winter months.
Shortly after graduating from Fordham University in 1982 with a B.A. in Communications, Kay worked at SportsPhone and as the public address announcer for the New York Pro Summer Basketball League.
In 1982, Kay landed the job as general assignment writer for the New York Post. Two years later, he began covering college basketball (1984-85) and then spent two years as the writer covering the New Jersey Nets. In 1987, he moved to baseball at the Post, serving as the Yankees beat reporter. While he was in that position, he got his first television job with MSG Network as host of the Hot Stove League segment of MSG's SportsNight.
In 1989, Kay moved to the New York Daily News, where he was the Yankees beat reporter before taking the job as a Yankees broadcaster on WABC Radio in 1992. With that jump, Kay became the first newspaper reporter in any sport to make the move into the broadcast booth full-time, performing both play-by-play and analysis.
Kay stayed on the radio for 10 years, broadcasting the Yankees' four World Series championships during that time, before moving to the television side to become the lead play-by-play man for YES in 2002.
Kay has been involved in the Baseball Assistance Team (B.A.T.), a charitable organization whose mission is to provide assistance to members of the baseball community. He co-hosted the 2013 B.A.T. fundraising dinner in New York. Kay also was master of ceremonies at the 2013 Thurman Munson Awards fundraising dinner in New York.
Kay is active with the Alzheimer's Association in memory of his mother, Rose, who passed away from the disease in 2006. He also teamed up with former Yankees manager Joe Girardi and Girardi's Catch 25 Foundation to organize annual charity dinners to raise money for Alzheimer's research.
Kay and his wife Jodi Applegate have a daughter, Caledonia Rose Kay, born in January 2013, and a son, Charles Applegate Kay, born in November 2014.
Media Council Members can view the live stream of this event beginning at 8:00 am ET on Wednesday, March 27.
---
This event is exclusive to Media Council Members and other invited guests. To find out more about Media Council Membership, contact mediacouncil@paleycenter.org
Media Council
Featuring candid conversations with the best minds in the industry, the Paley Media Council offers events covering the full spectrum of media businesses for an exclusive membership audience.
International Council Summit
Co-chaired by Frank A. Bennack, Jr. and Henry A. Kissinger, this is an invitation-only membership community comprised of the world's most important entertainment, media, and technology executives.