PALEY DIALOGUE
A Conversation with Jimmy Pitaro, President, ESPN & Co-Chairman, Disney Media Networks
Sep 12, 2019
7:30 – 9:00 AM ET
New York
President of ESPN and Co-Chairman of Disney Media Networks, Jimmy Pitaro will sit down for a conversation with ESPN and Amazon Prime Video's Hannah Storm to discuss ESPN's content strategy. Touching upon new storytelling concepts, changes coming to college football and Monday Night Football, ESPN+'s content efforts, the impact of live sports, the importance of shoulder programming, building a brand through social channels, and a focus on audience expansion, this will be an insightful conversation about the sports media landscape that you will not want to miss!
Jimmy Pitaro
President, ESPN
Co-Chairman, Disney Media Networks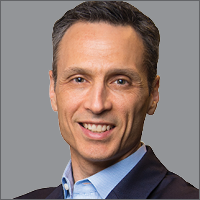 Jimmy Pitaro was named ESPN president and co-chair, Disney Media Networks, on March 5, 2018, after serving eight years as a top Disney executive. In making the announcement, Bob Iger, The Walt Disney Company chairman and chief executive officer, said, "Jimmy's appointment was the result of more than 20 years spent at the intersection of technology, sports and media."

Pitaro's record of success leading businesses focused on consumer products, digital initiatives and sports made him the quintessential selection for ESPN at a pivotal point in its then 38-year history: a time of unprecedented technological advancements and rapidly changing consumer habits.

A visionary leader, Pitaro has identified and consistently communicated internally and externally four business priorities — Innovation, Storytelling and Programming, Audience Expansion and Direct to Consumer — to keep ESPN poised for future success.

In Pitaro's short time as President, his collaborative leadership style has led to impressive results, including reaching creative new rights agreements with the NFL and UFC encompassing Disney-wide assets; ratings successes with a variety of shows and series, including ESPN's signature show, SportsCenter; and the April launch and consistent growth of ESPN+, the multi-sport, direct-to-consumer video service from The Walt Disney Company's Direct-to-Consumer and International (DTCI) segment and ESPN.

Since February 2016, Pitaro had served as chairman of Disney's consumer products and interactive media division, the world's largest licenser of consumer products. Among his many responsibilities, he oversaw the creation of branded digital and physical products, including a robust digital game slate. He and his team brought to life the characters and stories of four iconic brands – Disney, Pixar, Star Wars and Marvel – across toys, apparel, home goods, the world's largest children's publisher, hundreds of Disney store locations worldwide, the e-commerce destination ShopDisney, and the Disney Digital Network of social and digital channels that reach one out of every three U.S. social media accounts.

Pitaro originally joined The Walt Disney Company in 2010 as co-president, Disney Interactive, where he successfully led the turnaround of the digital media and gaming division.

Pitaro came to Disney from Yahoo, where he rose to head of media. He was in charge of, and set strategy and executed growth-driving initiatives for, Yahoo's media properties, including Yahoo Sports and Yahoo Music. In 2009, he was named to Sports Business Journal's "Forty Under 40" annual list of top achievers in sports for his dynamic leadership and "breathless flurry of market-moving pacts" with major sports rightsholders and media companies. Pitaro was also honored as 2018's Multichannel News Sports Executive of the Year.

He serves on a variety of industry and charitable boards, including the NCTA, the Paley Center for Media, The V Foundation, Pacer and CoachArt. Pitaro also serves as Co-Committee Chair of the March of Dimes.

Pitaro earned a bachelor of science degree in economics in 1991 from Cornell University. He earned his Juris Doctor from St. John's Law School in 1994. After practicing law in New York for five years, he was named head of business affairs for Launch.com in 1999 before joining Yahoo.

A native of Westchester County, N.Y., Pitaro, 49, is ESPN's eighth president.
Moderator:
Hannah Storm
Anchor, ESPN
NFL Play-by-Play, Amazon Prime Video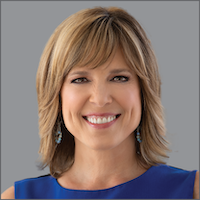 Award-winning journalist, producer and director Hannah Storm is a pioneer in the field of sports broadcasting for women, a published author, an advocate for children suffering from debilitating vascular birthmarks, and most importantly, a mother of three.

In 2018, Storm made sports broadcasting history once more when she, along with veteran sports broadcaster, Andrea Kremer, became the first female duo to provide commentary and analysis for Amazon's live streaming coverage of 11 Thursday Night Football games on Prime Video.

Storm joined ESPN in 2008, where she is currently the co-host of SportsCenter, the network's flagship program. Throughout her years at ESPN, Storm has served in a variety of roles including: co-host of the weekday edition of SportsCenter, host and executive producer of ESPN's primetime interview specials, In Focus with Hannah Storm, and Face to Face with Hannah Storm, where she interviewed various newsmakers in sports.

Storm routinely hosts major events around the world, such as Wimbledon, the U.S. Open, the New York City Marathon, Veterans Day special programming, the Super Bowl, the NCAA College Football Playoff National Championship, the Rose Parade on ABC, the ESPY Awards, and 2018 she was a contributor for the Bachelor Winter Games on ABC. Throughout her career, she has interviewed many notable figures, including: NFL Commissioner Roger Goodell, Patriots' owner Robert Kraft, Rex Ryan, Tony Romo, Peyton Manning, Eli Manning, Michael Phelps, Kobe Bryant, Tim Tebow, David Beckham, Michael Jordan, LeBron James, Derek Jeter, and Beyoncé.

In addition, Storm has co-hosted the network's The Sports Reporters as well as contributed reports to E:60 and Outside the Lines. She is also an original member of the Board of Advisors for espnW. In 2012, Storm co-anchored ABC's "Walk the Wire," which depicts the story of daredevil Nik Wallenda's unprecedented live Niagara Falls tightrope walk and also served as a correspondent for ABC's 20/20, where she's done pieces with Shark Tank stars Robert Herjavec and Kevin O'Leary.

Prior to joining ESPN, Storm served as a host of The Early Show on CBS from 2002-2007. There, she covered numerous key national and global events, including the 2004 U.S. presidential election, the Iraq war, Hurricane Katrina, Super Bowls XLI and XXXVIII, the 2004 Democratic National Convention, the 2004 and 2008 presidential campaigns, and the London terror bombings. Storm conducted interviews with many newsmakers and pop culture icons, including: former president Barack Obama, former Secretary of State Hillary Clinton, former president and first lady George W. Bush and Laura Bush, former Secretary of State Condoleezza Rice, the late Senator John McCain, Elton John, Paul McCartney, Tiger Woods, Jamie Foxx, Justin Timberlake, Halle Berry, and Jennifer Aniston. Storm also hosted episodes for the award-winning CBS newsmagazine, 48 Hours, and co-hosted the network's coverage of the Macy's Thanksgiving Day Parade.

Storm previously covered sports for CNN from 1989-1992, where she was the first ever female host of Sports Tonight. In 1992, Storm went on to work for NBC Sports, where she hosted the network's coverage of four Olympic games – Barcelona (1992), Atlanta (1996), Sydney (2000), and Salt Lake City (2002) – as well as Wimbledon, Notre Dame football, NBC SportsDesk, and NBA on NBC. At NBC, Storm became the first woman in American television history to solo host a broadcast network's sports series when she hosted its Major League Baseball coverage, including that of three World Series. In 1997, Storm also became the first play-by-play announcer for the WNBA.

In 2008, Storm pursued an additional passion of hers outside of the broadcasting world: film production. She founded Brainstormin' Productions, through which she has produced, executive produced and directed award-winning documentary films and branded content. Film projects include: Rowdy, a documentary chronicling the life of Rowdy Gaines, 1984 US Olympian, and one of the most recognizable voices in swimming; Danica, a documentary in conjunction with EPIX, where the racing superstar revealed herself like never before: as a competitor eagerly preparing for her next race; a woman confidently reflecting on when she wants to start a family; a budding mogul carefully considering her next steps; Love & Payne, the inaugural espnW Nine for IX short film about Payne Stewart as told by his wife, Tracey, in one of her first interviews since his tragic death 14 years ago; Shaq & Dale, a documentary following former basketball great, Shaquille O'Neal as he returned to LSU to visit with Dale Brown, the coach who made it all possible. This film was part of the SEC Storied franchise that focuses on the people, teams, moments and events that tell the ongoing story of the Southeastern Conference; Swoopes, the documentary for ESPN's Nine for IX series in celebration of Title IX's 40th anniversary; Storm's directorial debut of Moving the Goal, the story of Kelly Smith, England's premier women's soccer star and her previously untold story of her battle with alcoholism for espnW's HERoics, part of the 2011 FIFA Women's World Cup coverage; and Unmatched, a documentary chronicling the famous rivalry between Chris Evert and Martina Navratilova, for ESPN's Peabody Award-winning 30 for 30 film series. Branded content and digital series include: I WILL WHAT I WANT, an original digital series for espnW sponsored by Under Armour celebrating women who will what they want and define success on their own terms; Web series for espnW including the 2012 Oakley's Beyond Reason campaign, vignettes of first-person video spots of inspiring females; and the 2011-2012 Proctor and Gamble's Journeys & Victories, an original digital series designed to motivate and inspire women through inspirational stories and compelling personal journeys.

Storm has won several awards for her work in conjunction with Brainstormin' Productions including: the 2018 New York Film Festival's World Media Sports & Recreation & Biography/Profiles International Television Awards for Danica for EPIX; the 2013 Gracie Award® for Outstanding Web Site – Information/Entertainment, the 2012 Gracie Award® for Outstanding Individual Achievement – Producer – Entertainment, and the 2011 Gracie Award® for Outstanding Producer – News/Non-fiction for Unmatched.

In 2008, Storm also founded the Hannah Storm Foundation, which advocates for children and parents of children suffering from debilitating vascular birthmarks. Storm's passion for this cause stems from her personal experience with it: she was born with a port wine stain underneath her left eye. Since its start in 2008, the Hannah Storm Foundation has provided funding for critical surgeries to children from the United States, China, the Republic of Georgia, Slovenia, India and South Africa. The Hannah Storm Foundation also funds the Hannah Storm Journalism Internship at Notre Dame, Storm's alma mater, empowering the next generation to pursue their dreams in journalism and broadcasting.

Storm is also an award-winning author having penned two books: "Notre Dame Inspirations" (Doubleday, 2006), and "Go Girl!: Raising Healthy, Confident and Successful Daughters through Sports" (Sourcebooks, 2002; 2011 re-release). For her literary work, Storm was honored by the Literacy Advance of Houston as its "Champion of Literacy." Storm has also contributed to various publications, including Cosmopolitan, The Hollywood Reporter, Nick Jr., Family Circle, Child, and Notre Dame Magazine.

In addition to her regular roles in television, Storm has appeared in several films and television shows, including Like Mike, Valentine's Day, Creed, Arli$$, Scrubs, and As the World Turns. She also lent her voice to a Hoover Vacuum ad campaign.

Storm has received numerous awards for her work in media and other pursuits, including the 2018 "Woman of Influence" by Multichannel News; the 2017 Lifetime Excellence in Sports Communications Award from Marist College; the 2000 Gracie Award® for Pioneering work as a female in the world of sports broadcasting; the 2005 Gracie Award® for Outstanding Anchor, News; the University of Notre Dame's Distinguished Alumni Award; the March of Dimes Sports Legend Award, the YWCA Brava Award; and the Traditional Home Classic Woman Award. Storm was also named to The Paley Center for Media's "She Made It, Women Creating Television and Radio" Hall-of-Fame in 2007 as well as to Family Circle's "Most Influential Moms" list.

Storm graduated the University of Notre Dame in 1983, where she received degrees in communications and political science. She currently resides in Connecticut with her husband, Dan Hicks, and their three daughters.
Media Council Members can view the live stream of this event beginning at 8:00 am ET on Thursday, September 12.
---
This event is exclusive to Media Council Members and other invited guests. To find out more about Media Council Membership, contact mediacouncil@paleycenter.org
Media Council
Featuring candid conversations with the best minds in the industry, the Paley Media Council offers events covering the full spectrum of media businesses for an exclusive membership audience.
International Council Summit
Co-chaired by Frank A. Bennack, Jr. and Henry A. Kissinger, this is an invitation-only membership community comprised of the world's most important entertainment, media, and technology executives.