Paley Archive Screenings
NY Only: Robert Herridge: TV's Forgotten Auteur
Jan 17 – 25, 2015
2:00 PM
New York
TICKET INFO
FREE for Paley Center Members
Only screening in New York; Included with general admission (Visit New York)
No advance ticketing; purchase at the door.
Become a Member! Join us online or contact Membership at 212.621.6780.
---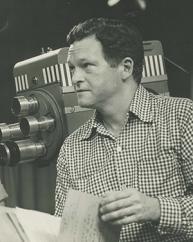 Robert Herridge (pictured right) was one of television's visionaries, creating programs in many genres, always with a signature style. Throughout the fifties and sixties the truly revolutionary Herridge produced landmark dramatic and musical specials for network television. But sadly his remarkable career is all but forgotten today. To inspire a fresh look at Herridge's legacy the Paley Center, the Anthology Films Archives, and the New York Public Library for the Performing Arts, along with guest curator John Sorensen, have combined forces to present a first-ever retrospective. The Paley Center spotlights Herridge's musical achievements in jazz, folk, and blues, which continue to haunt the imagination of those who originally viewed the shows, most notably Bob Dylan.
This is a rare opportunity to see some of the greatest performing arts on television of all time.
---
Robert Herridge: Jazz on TV
January 17 & 18, 2015
2:00 pm
The Sound of Jazz (1957)
See some of jazz's greatest musicians, including the Thelonious Monk Trio playing "Blue Monk"; Count Basie and his band, with vocalist Jimmy Rushing, performing "Kansas City Blues"; and Billie Holiday singing "Fine and Mellow," accompanied by Lester Young, Roy Eldridge, Coleman Hawkins, Gerry Mulligan, and Ben Webster.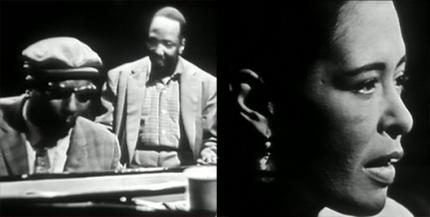 Eric Larrabee wrote in Harper's magazine that The Sound of Jazz was "the best thing that ever happened to television."

Nat Hentoff says, "In the permanent history of jazz, there will never be a more important program than The Sound of Jazz, with so many legendary figures who are no longer with us. Billie Holiday, Thelonious Monk, Lester Young, Coleman Hawkins, Count Basie, I could go on and on—all of them free to be entirely themselves. It's a world treasure." (60 minutes)


3:05 pm
The Sound of Miles Davis (1959)
Be transported by amazing performances from Miles Davis with John Coltrane and the Gil Evans Orchestra. Includes "So What," "The Duke," "Blues for Pablo," and "New Rhumba." (27 minutes)
Nat Hentoff recalls that "After The Sound of Jazz, Herridge wanted to do a program with Miles Davis. Davis a man of strong views and language, had told me he would never do television again. But I talked him into meeting with Herridge, in whom Miles found somebody he could curse and respect. The result was The Sound of Miles Davis, with John Coltrane and Gil Evans." Jazz scholar Dan Morgenstern states "the music is brilliant and the camera work is fluid and natural," the perfect environment for jazz on TV.
3:40 pm
Frankie and Johnny (1959)
Mingus meets Balanchine in this rare treasure of music and dance. Jazz composer Charles Mingus's only ballet score is the basis for a modern dance interpretation (featuring Balanchine ballerina, Melissa Hayden) of the American folk/love story about a woman named Frankie who kills her two-timing lover, Johnny. Vocals by Jimmy Rushing. Directed by Karl Genus. (26 minutes)
4:10 pm
Jazz from Sixty-One (1959)
The Ben Webster Sextet and the Ahmad Jamal Trio perform brilliantly from CBS's Studio Sixty-One. The program opens with Webster and his combo (Ben Webster, sax; Hank Jones, piano; Buck Clayton, trumpet; George Duvivier, bass; Jo Jones, drums; Vic Dickenson, trombone) playing "Mop, Mop." Next, pianist Ahmad Jamal's Trio plays "Darn that Dream" and Jamal's "Excerpts from the Blues." Webster and his combo play "Chelsea Bridge" by Billy Strayhorn and Duke Ellington's "C Jam Blues." The program closes as the Jamal Trio plays "Jim Loves Sue." (26 minutes)
---
Robert Herridge: Folk & Blues on TV
January 24 & 25, 2015
2:00 pm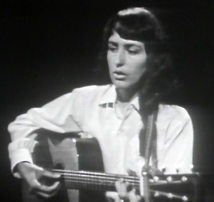 Folk Sound, U.S.A. (1960)
This is one of the shows of American folk and blues music that had a major impact on the teenaged Bob Dylan, who was still living in Minnesota when he saw nineteen-year-old Joan Baez (pictured right) in her first national television appearance. Performers include Baez, Cisco Houston, Peter Yarrow, John Jacob Niles, John Lee Hooker, and Lester Flatt and Earl Scruggs and the Foggy Mountain Boys. (60 minutes)
3:05 pm
A Pattern of Words and Music (1960)
Bob Dylan remembers seeing Joan Baez on Folk Sound, U.S.A., broadcast nationwide on CBS from New York. "Joan sang some ballads on her own and then sat side by side with Lightnin' Hopkins and sang a few things with him. I couldn't stop looking at her, didn't want to blink. She was wicked looking-shiny black hair that hung down over the curve of slender hips, drooping lashes, partly raised, no Raggedy Ann doll. The sight of her made me high. All that and then there was her voice. A voice that drove out bad spirits. It was like she'd come down from another planet." (54 minutes)