The World Cup Live at the Paley Center
Africa Celebrates the World Cup! Photographs, Collages, and Multimedia by Joseph Peter
In NY and LA through September 12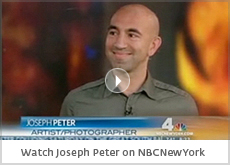 Fans will see a unique side of the World Cup in this multimedia, immersive exhibit of handcrafted collage and authentic African art. Joseph Peter journeyed across the African Continent on the biggest-ever FIFA World Cup Trophy Tour with The Coca-Cola Company, capturing the love and passion of its diverse people for soccer. This unique selection of images translates how the world's greatest sporting event promotes happiness, unity, and peace while building bridges around the world through the communal interaction and development of sport. From a broader angle, Africa Celebrates The World Cup! portrays the positive heart and soul of a continent often associated with challenges.
In New York, African art, sculptures, and textiles on loan from Hemingway African Gallery, Brian Gaisford, owner. For further information on Joseph Peter, please visit his website at www.JOSEPHPETER.com.
The World Cup Live at the Paley Center CONTINUES...
– Africa Celebrates the World Cup! Photographs, Collages, and Multimedia by Joseph Peter
Photos from New York exhibit