PALEY DIALOGUE
A Conversation with FCC Chairman Ajit Pai
Thursday, June 20, 2019
12:30 pm to 2:00 pm ET
New York
Ajit Pai
Chairman
Federal Communications Commission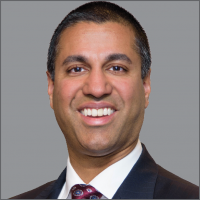 Ajit Pai was nominated to the Federal Communications Commission by President Obama. He was unanimously confirmed by the U.S. Senate and took office in 2012 for a term concluding in 2016.

Chairman Pai has wide experience in the public and private sectors. His public sector career spans all branches of the federal government. He served in the FCC's Office of General Counsel; at the U.S. Department of Justice's Antitrust Division and Office of Legal Policy; at the U.S. Senate Judiciary Committee; and as a law clerk to a federal judge. With respect to the private sector, he was a Partner in the communications practice of the law firm Jenner & Block and worked as Associate General Counsel at Verizon Communications Inc.

Chairman Pai graduated with honors from Harvard University and from the University of Chicago Law School, where he served on the University of Chicago Law Review. 
Moderator:
Theodore Rappaport
Founder & Director, NYU WIRELESS
Professor, NYU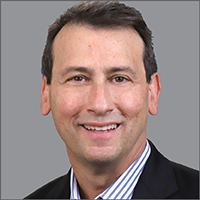 Theodore (Ted) Rappaport is the David Lee/Ernst Weber Professor at New York University (NYU) and holds faculty appointments in the Electrical and Computer Engineering department of the NYU Tandon School of Engineering, the Courant Computer Science department, and the NYU Langone School of Medicine. He is the founder and director of NYU WIRELESS, a multidisciplinary research center focused on the future of wireless communications and applications.

His research has led the way for modern wireless communication systems. In 1987, his Ph.D. at Purdue University provided fundamental knowledge of indoor wireless channels used to create the first Wi-Fi standard (IEEE 802.11), and he conducted fundamental work that led to the first U.S. digital cellphone standards, TDMA IS-54/IS-136 and CDMA IS-95. He and his students engineered the world's first public Wi-Fi hotspots, and more recently, his work proved the viability of millimeter waves for mobile communications. The global wireless industry adopted his vision for 5th generation (5G) cellphone networks.

He founded three academic wireless research centers at Virginia Tech, University of Texas, and NYU that have produced thousands of engineers and educators since 1990, and has co-authored over 300 papers and twenty books, including the most cited books on wireless communications, adaptive antennas, wireless simulation, and millimeter-wave communications.

He co-founded two wireless companies, TSR Technologies and Wireless Valley Communication, which were sold to publicly traded companies, and has advised many others. He co-founded the Virginia Tech Summer School and Wireless Symposium in 1991, the Texas Wireless Summit in 2003, and the Brooklyn 5G Summit (B5GS) in 2014.

He has more than 100 patents, and serves on the Technological Advisory Council of the Federal Communications Commission (FCC). He is Fellow of the IEEE, Fellow of the Radio Club of America, Fellow of the National Academy of Inventors, a life member of the American Radio Relay League, a licensed professional engineer in Texas and Virginia, and an amateur radio operator (N9NB). He has received ASEE's Terman award, the IEEE Vehicular Technology Society's James R. Evans Avant Garde and Stu Meyer awards, the IEEE Education Society William E. Sayle award for achievement in education, the IEEE Communications Society Armstrong award, the Sir Monty Finniston Medal from the Institute of Engineering and Technology (IET), and the Armstrong medal from the Radio Club of America.
Media Council Members can view the live stream of this event beginning at 1:00 pm ET on Thursday, June 20.
---
This event is exclusive to Media Council Members and other invited guests. To find out more about Media Council Membership, contact mediacouncil@paleycenter.org